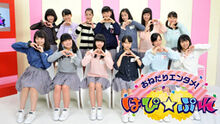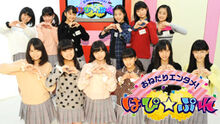 ~Onedari Entame!~ Hapi★Pure (~おねだりエンタメ!~はぴ★ぷれ) is a variety show featuring members of Hello Pro Kenshuusei, the first episode aired on October 5, 2013.
There will be a new episode every other Saturday night at 23:30-24:00 JST, and there will be re-runs every Sunday afternoon 17:30-18:00 JST.
Every episode begins with the cast introducing themselves, then the episode breaks up into two "themes", or activities.
Members Featured
Episode List
#
Members Featured
Information
Host
Original Air date
01
Kaneko, Tanabe, Yoshihashi, Hamaura, Taguchi, Ogawa, Kosuga, Murota, Yamagishi, Nomura, Ichioka, Kaga, Sasaki
Jet coaster challenge in Hanayashiki, Sneaking into the rehearsals for a play.
Kaneko Rie
October 5, 2013
02
Kaneko, Tanabe, Yoshihashi, Hamaura, Taguchi, Ogawa, Kosuga, Murota, Yamagishi, Nomura, Ichioka, Kaga, Sasaki, Miyazaki, Kanazawa, Takagi, Miyamoto, Uemura
Milking a cow and making butter at Narita Yume Bokujo,  Juice=Juice fall tour rehearsal coverage.
Kaneko Rie
October 19, 2013
03
Kaneko, Tanabe, Yoshihashi, Hamaura, Taguchi, Ogawa, Kosuga, Murota, Yamagishi, Nomura, Ichioka, Kaga, Sasaki
Kart racing, visit to CEATEC JAPAN.
Kaneko Rie
November 3, 2013
04
Kaneko, Tanabe, Yoshihashi, Hamaura, Ogawa, Kosuga, Murota, Nomura, Ichioka, Kaga, Sasaki
Making glass, going to a soy sauce factory.
Kaneko Rie
November 16, 2013
05
Kaneko, Tanabe, Yoshihashi, Hamaura, Taguchi, Ogawa, Kosuga, Murota, Yamagishi, Nomura, Ichioka, Kaga, Sasaki

P League bowling, going to a book publishing company.

Kaneko Rie
November 30, 2013
06
Kaneko, Tanabe, Yoshihashi, Hamaura, Taguchi, Ogawa, Kosuga, Murota, Yamagishi, Nomura, Ichioka, Kaga, Sasaki

Going to Kawagoe's "Kashiyoko" and making confections. Training for bicycle racing.

Kaneko Rie
December 14, 2013
07

Tanabe, Yoshihashi, Hamaura, Taguchi, Ogawa, Kosuga, Murota, Yamagishi, Nomura, Ichioka, Kaga, Sasaki

Creating a Joint App, Learning about projection mapping. Going to the Hello! Project shop.

Tanabe Nanami
December 28, 2013
08

Tanabe, Yoshihashi, Hamaura, Taguchi, Ogawa, Kosuga, Murota, Yamagishi, Nomura, Ichioka, Kaga, Sasaki

Going to Shinagawa Aquarium.  Learning about Kendo and having Kendo matches.

Yoshihashi Kurumi
January 11, 2014
09

Tanabe, Yoshihashi, Hamaura, Taguchi, Ogawa, Kosuga, Murota, Yamagishi, Nomura, Ichioka, Kaga, Sasaki

Going to Kadokawa Daiei Studio, Making pottery. Going to Cycle Sports Center.

Taguchi Natsumi
January 25, 2014
10

Tanabe, Yoshihashi, Hamaura, Taguchi, Ogawa, Kosuga, Murota, Yamagishi, Nomura, Ichioka, Kaga, Sasaki

Promoting Amino Vital. going to JAF, bicycle riding challenge.

Hamaura Ayano
February 8, 2014
11

Tanabe, Yoshihashi, Hamaura, Taguchi, Ogawa, Murota, Yamagishi, Nomura, Ichioka, Kaga, Sasaki

Eating Jindaiji soba, learning how it's made. Going to the Honjo disaster prevention center, experiencing earthquake and rainstorm simulations.  Making lanterns.

Ogawa Rena
February 22, 2014
12

Tanabe, Yoshihashi, Hamaura, Taguchi, Ogawa, Murota, Yamagishi, Nomura, Ichioka, Kaga, Sasaki

Making bread in Motomachi. Indoor rock climbing. (Episode aired 24:30-25:00 JST)

Murota Mizuki
March 8, 2014
13

Tanabe, Yoshihashi, Hamaura, Taguchi, Ogawa, Murota, Yamagishi, Nomura, Ichioka, Kaga, Sasaki

Going to Legoland Discovery Center. Going to Toshiba Science Museum.

Yamagishi Riko
March 22, 2014
14

Tanabe, Yoshihashi, Hamaura, Taguchi, Ogawa, Murota, Yamagishi, Nomura, Ichioka, Kaga, Sasaki, Yamaki, Oura

Ogawa and Yoshihashi go backstage of a Wicked musical, Murota and Hamaura getting massages.
Nomura Minami
April 5, 2014
15

Tanabe, Yoshihashi, Hamaura, Taguchi, Ogawa, Murota, Yamagishi, Nomura, Ichioka, Kaga, Sasaki, Yamaki, Oura

Taguchi and Nomura go to a shop and pick out gifts.
Woman from Uilani Hawaii comes and teaches everyone how to make a bag charm.
Ichioka Reina
April 19, 2014
16

Tanabe, Yoshihashi, Hamaura, Taguchi, Ogawa, Murota, Yamagishi, Nomura, Ichioka, Kaga, Sasaki, Yamaki, Oura

Discussing the movie Momose, Kocchi wo Muite with Takeuchi Taro and Hayami Akari.
Neko Pitcher no. 1 animation.
Kaga Kaede
May 3, 2014
17

Tanabe, Yoshihashi, Hamaura, Taguchi, Ogawa, Murota, Yamagishi, Nomura, Ichioka, Kaga, Sasaki, Yamaki, Oura

Murota and Ichioka meet enka singer Shimizu Mariko, she performs her newest single "Keshou Kuzure".
Nomura and Oura go to Inokashira Imperial Gift Park for a carnival.
Neko Pitcher no. 2 animation

Sasaki Rikako
May 17, 2014
18

Tanabe, Yoshihashi, Hamaura, Taguchi, Ogawa, Murota, Yamagishi, Nomura, Ichioka, Kaga, Sasaki, Yamaki, Oura

Ichioka Reina gets her makeup done by Shimada Chiaki.

Neko Pitcher no. 3 animation. Kaga Kaede and Yamaki Risa meet Miitaro from Neko Pitcher.

Tanabe Nanami
May 31, 2014
Gallery
Trivia
External Links