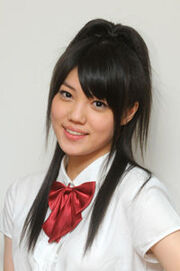 Zhào Guóróng (趙國蓉), also known as Youko (ヨウコ), is a former member of the Hello Pro Taiwan group Ice Creamusume.
History
Youko was one of the finalists of the Taiwan Hello! Project NEW STAR Audition chosen to become Ice Creamusume. Tsunku commented that despite the fact that Matsuura Aya songs are harder to sing than it would seem, she got the melody and Japanese correct. He was also impressed at the fact that she had lost a lot of weight during the auditions. Youko got her nickname "Dēngpào" (light bulb) from her tendency to zone out during the auditions, a tendency she kept up during Ice Creamusume's television appearances.
Profile
Japanese Stage Name: Youko (ヨウコ)
Birth Name: Zhào Guóróng (趙國蓉)
Taiwanese Nickname: Dēngpào (燈泡; light bulb)
Birthdate: August 28, 1992
Western Zodiac: Virgo
Eastern Zodiac: Monkey
Blood Type: A
Flavor (Member Color):

    

Strawberry
Hello! Project Groups:
Discography Featured In
Ice Creamusume
Hello! Project
Trivia
She has a younger sister.
She gained her nickname "Dēngpào" because of the way she answered questions and acted on New Star, turning "on" and "off" like a light bulb.
Youko is part of a "family" (started on the girl's blogs) consisting of her (Mother, Minnie), Peipei (Father, Shin-chan), Reirei (Daughter, Positive), and sometimes Aiko (another Daughter).
Youko's favorite Disney movie is The Little Mermaid. She also loves the Disney character Minnie Mouse.
She attended Junior High in Canada.
Her favorite food is custard.
She is afraid of being alone, and house-sitting.
Community content is available under
CC-BY-SA
unless otherwise noted.