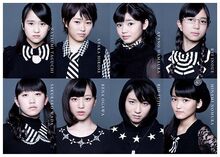 Week End Survivor is an Engeki Joshibu musical based on a popular digital novel starring Sudo Maasa and the members of Kobushi Factory. The musical ran from March 26 to April 5, 2015 at BIG TREE THEATER, performing a total of 18 performances.
The DVD was released on August 5, 2015 and charted #90 at Oricon weekly DVD chart.[1]
Eight strangers awaken in a basement and have no means of external communication. Who is the perpetrator and what is their purpose?
On a weekend, behind closed doors, psychological warfare takes place.
From Kobushi Factory
From Engeki Joshibu
Producer: Niwa Tamon Andrew
Screenplay: Ota Yoshinari
Director: Oiwa Michiko
Music: Wada Shunsuke
Choreography: YOSHIKO
DVD Tracklist
Edit
Prologue (プロローグ)
♪Survivor (サバイバー)
chapter 1
♪Koko Kara Dashite (ここから出して)
chapter 2 ♪Uzumaku Omoi (渦巻く思い)
♪Memory (メモリー)
♪Sayuri (サユリ)
chapter 3
♪Sagashidase (探し出せ)
chapter 4
♪Koukai (後悔)
chapter 5
♪Sayounara (さようなら)
Epilogue (エピローグ)
♪Survivor
♪Nen ni wa Nen (念には念)
Survivor (サバイバー)
Nemuri no Rondo-Introduce (眠りのロンド-Introduce; Rondo of Sleep-Introduce)
Koko Kara Dashite (ここから出して;Get Me Out of Here)
Nemuri no Rondo-Doubt (眠りのロンド-Doubt; Rondo of Sleep-Doubt)
Uzumaku Omoi (渦巻く思い; Swirling Thoughts)
Memory (メモリー) - Natsu & Yuuto
Sayuri ~Prelude~ (サユリ~プレリュード~) - Takeshi
Nemuri no Rondo-Fluctuations (眠りのロンド-Fluctuations; Rondo of Sleep-Fluctuations)
Sayuri (サユリ)
Sagashidase (探し出せ; Find Out) (Keiko with Urara and Chiaki)
Nemuri no Rondo-Lost (眠りのロンド-Lost; Rondo of Sleep-Lost)
Koukai (後悔; Regret) - Natsu
Nemuri no Rondo-Belief (眠りのロンド-Belief; Rondo of Sleep-Belief)
Sayounara (さようなら; Goodbye)
Radio version
Edit
A four episode radio version was aired from March 1 to March 22, 2015 in order to promote the play. In this version the plot differs, there are less characters and the members playing their roles have been switched around, as shown below:
References
Edit
External Links
Edit
Community content is available under
CC-BY-SA
unless otherwise noted.