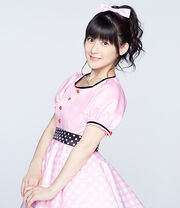 This month's randomly selected member is...
Tsugunaga Momoko (嗣永桃子) was born on March 6, 1992 in Chiba, Japan.
On June 30, 2002 she joined Hello! Project as one of the fifteen Hello! Project Kids. She played the lead protagonist in the 2002 Hello! Project movie Koinu Dan no Monogatari.
In early 2003, Tsugunaga appeared on the Promotional Video of the Fujimoto Miki single "Boogie Train '03" along with Sudo Maasa, Tokunaga Chinami, and Umeda Erika.
In mid through late 2003, Tsugunaga was a member of the unit ZYX and released two singles with the group before it became inactive.
In January 2004, Tsugunaga was one of the eight members selected to form Berryz Koubou and was one of the group's lead vocalists. She was also a member of Little Gatas.
Tsugunaga became a part of Buono! along with Natsuyaki Miyabi and Suzuki Airi. Only a year later, she managed to become the leader of the group after two competitions between the members.
Berryz Koubou held a concert in Saitama Super Arena for first time. At this concert, Tsugunaga sang solo for the first time. She performed "Koi wa Hipparidako," a song from their first album 1st Chou Berryz.
In 2007, Tsugunaga's first solo photobook Momo was released.
Her member color in Berryz Koubou & Country Girls color is Pink.
For more information about Tsugunaga Momoko please visit here.
Community content is available under
CC-BY-SA
unless otherwise noted.