Hi minna~ I'm Sei!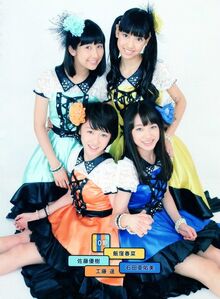 I'm an Italian girls with a very big passion for oriental culture! My dream is going to Japan one day (and maybe live there~), learn Japanese, Chinese and a lot of other languages (as many as I can~).
I love animals, my favourite animal are rabbits and hamsters. I have a cat (that hates me lol) and I had two hamsters, but when they passed away I was so sad and decided to not have another one. Maybe when I'll get a family~. (Just joking, as of August 2015 I got another one, and I named it Daiki <3)
My H!P bias is Ishida Ayumi, but I really like Kudo Haruka and Oda Sakura too. And Haga <3 that cutie <3
For now that's all. Bye~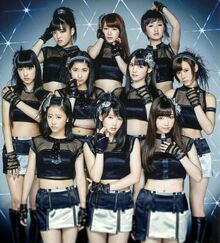 Birthdate: March 24, 1997
Nicknames: Sei, Nana (七), Nana-chan (七ーちゃん)
Birthplace: Pordenone, Italy
Zodiac: Aries
Height: 158 cm
Bloodtype: A+
Hobbies: Reading, singing, dancing, Tsum Tsum
Special Skills: Video editing, play guitar and piano
Favorite Food: Strawberries, pizza, oreo
Favorite Subject: English, Italian
Disliked Food: Mushrooms, tomatoes
Favorite Animals: Hamsters and cats
Favorite Colors: Blue, orange, red, pink, lavander and many others
Favorite Sports: Swimming (and sleeping? LOL)
Favorite Words: Sette, interesting
Motto: Live every moment, Laugh everyday, Love beyond word
Top 3 Hello! Pro members groups
Edit
Currently, my favourite Hello! Project groups are Morning Musume and Juice=Juice.
The only groups I don't really follow are C-ute and Tsubaki Factory (though they have not debuted yet).
The first member I falled in love with was Michishige Sayumi.
Since she joined Morning Musume, my favourite member is Ishida Ayumi.
My favourite Morning Musume generation is the 10th.
My favourite Morning Musume era is the colorful one, the 2014 formation to be excatly.
My two all time favourite idols are Ishida Ayumi and Michishige Sayumi.
The first Morning Musume CDs I bought were One•Two•Three / The Matenrou Show and Wakuteka Take a chance.
I want to buy all the singles in which Ishida Ayumi partecipated in. For the moment, I miss Renai Hunter, Help me!! and Toki wo Koe Sora wo Koe / Password is 0, Seishun Kozou ga Naiteiru / Yuugure wa Ameagari / Ima Koko Kara.
I'm a huge fan of Johnny's & Associates groups, particularly KAT-TUN, Hey! Say! JUMP and NEWS.
I play guitar since I was 7 and piano since I was 12. One day, I want to start playing drums.
I listen to HyunA and 4minute, BTS and SEVENTEEN.
I love Disney movies and cartoons.
My hero is Peter Pan.
I love the Legend of Zelda saga: my favourite episode is Ocarina of Time.
When I'm going to be married, I want to have a lot of animals: hamsters, rabbits, cats, fishes, dogs, turtles are the one I want the most.
Community content is available under
CC-BY-SA
unless otherwise noted.