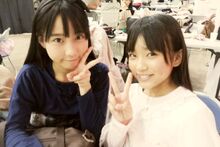 Hai~ Okame wa eego de nan desu ka? Rysu~ Juusansai, Okame daisuki! Rysu koto DaifugoEyesu desu!
Yes~ How do you say Rice in English? Rysu~ 13 years old, I like Rice! Rysu [Lysu], commonly known as DaifugoEyes!
About Me
Edit
Name: DaifugoEyes [だいふごアイズ]
Nickname: Lysu, Rysu, LoLys, Daachan, Daichan.
Birthday: 2001 (Age 13)
Birthplace: -
Blood type: -
Height: 159cm
Zodiac: Unicorn.
Hello! Project Status:
Specialty: Reading fast, Typing, Languages.
Hobbies: Reading, Tumblr, Going to school.
Motto: Before I give you something to cry about.
My First H!P oshi: Suzuki Airi.
Favorite Food: Rice.
Least favorite food: Everything else, basically.
Favorite Subject: History, Science, Maths, English, Literature, Physical Education, Drama, Geography.
Phobias: Acrophobia, Arachnophobia, Nyctophobia.
Bad at: Being concentrated, not crying.
Favorite Color: Red & Purple.
Favorite Sport: Long Distance Running, Jumping, Cycling.
Favorite Flower: Sakura.
Favorite Season: Winter.
Favorite Anime/Manga: Kuroshitsuji.
Favorite Television Programs: Grey's Anatomy, Majisuka Gakuen, Lie to Me.
Favorite Facial Feature: Eyes.
Favorite Body Part: Eyes.
Favorite Artists: HKT48, AKB48, Hello! Project, [Shannon].
Favorite Morning Musume Members: Sayashi Riho, Michishige Sayumi, Makino Maria, Sato Masaki, Yoshizawa Hitomi.
Favorite Juice=Juice Members: Uemura Akari
Favorite ANGERME Members: Sasaki Rikako, Maeda Yuuka.
Favorite C-ute Members: Suzuki Airi
Favorite Country Girls Members: TBA.
Favorite TBA Members: TBA.
Favorite Hello! Pro Kenshuusei Members: Kishimoto Yumeno, Ichioka Reina
Favorite HKT48 Members: Yabuki Nako, Murashige Anna, Tashima Meru, Tanaka Miku, Kodama Haruka, Kojina Yui, Komada Hiroka, Fukagawa Maiko, Sakamoto Erena, Yamashita Emili.
Favorite AKB48 Members: Okada Nana, Takahashi Minami, Nishino Miki, Kojima Mako, Tano Yuka, Nakanishi Chiyori, Takahashi Juri, Sakaguchi Nagisa, Team 8 Babies.
Other Favorite Artist: Murakami Rana (GEM), Kitagawa Ryoha (SKE48), Tani Marika (SKE48), Shibuya Nagisa (NMB48), Zhao Jiamin (SNH48).
Personal Tumblr: Nako-Minnadetabeta
She is timer for a 48G related Subbing group.
Became a fan of C-ute when she was 9, but forgot about it and became a fan again, when she was 11.
She likes Suzuki Airi's teeth.
She likes to make nicknames for girls.
She thinks that Haga Akane isn't similar to Michishige Sayumi at all.
She likes shipping girls.
Learned Aikido for 2.6 years, and dances Ballet for 2 years as well.
Her favorite food is Rice.
She is gifted.
The first long book she read was Harry Potter, and the book changed her.
She is doing athletics.
Her Kami oshi is HKT48's Yabuki Nako.
She wants Kudo Haruka and Sato Masaki to cover HKT48's songs.
Community content is available under
CC-BY-SA
unless otherwise noted.