Keep Honest Material
Please help this wiki community keep honest material by adding reference.
Any out of the ordinary information without references will be removed within 3 months.
Umeda Erika
梅田えりか

Umeda Erika promoting erika
Background Information
Also Known As
Ume-san (

うめさん

?

)
Ume-chan (

うめちゃん

?

)
Born
May 24, 1991
Origin
Kanagawa, Japan
Blood Type
A
Zodiac Sign
Gemini
Height
170cm
Genres
J-Pop
Occupation
Singer, Actress, Model
Years Active
2002-present
(16 years)
Agency
UP-FRONT AGENCY (2002-2009)
ILLUME Models (2010-2011)
Peach Co,Ltd (2011-2013)
Our Songs Creative (2013-)
Label
Brand-New Music
Associated Acts
℃-ute, Hello! Project Kids, ZYX, H.P. All Stars
Blog
Official Blog
℃-ute Information
Joined
June 11, 2005
Member Color

     

 Yellow
Debut Single
Massara Blue Jeans
Last Single
EVERYDAY Zekkouchou!!
Graduated
October 25, 2009
Time in Group
4 Years, 4 Months, 15 Days
Official Autograph
Umeda Erika (梅田えりか) is a Japanese singer. She is a former model signed to ILLUME, as well as a former member of Hello! Project and Hello! Project Kids, and also a former member of the group ℃-ute. She joined Hello! Project Kids in 2002 through the audition and was later put into ℃-ute in 2005. Umeda has also been a member of the group ZYX in 2003 and its revival in 2009.
In 2009 she left Hello! Project to become a model, but in 2013 she returned to singing as a solo artist. She released her debut album in 2014.
Biography
Edit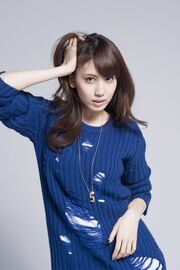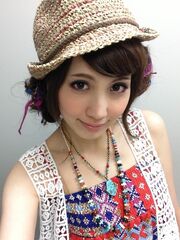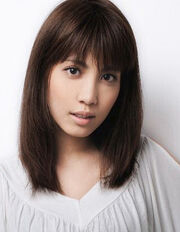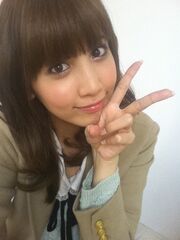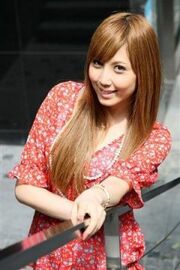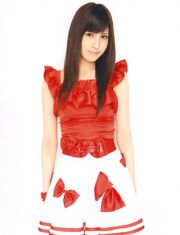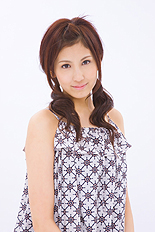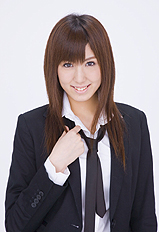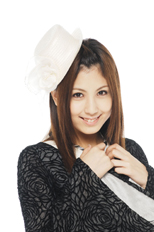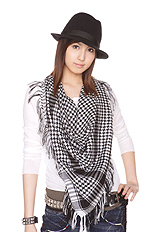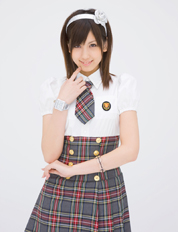 Early Life
Edit
Umeda Erika was born on May 24, 1991 in Kanagawa, Japan.
Prior to joining Hello! Project Kids, Umeda was a student at Up-Front Music School.
Umeda Erika took part in the 2002 auditions held to determine the line-up of the new Hello! Project Kids and passed on June 30 along with fourteen other girls.[1]
2003 - 2004
Edit
Umeda made her first official appearance in the entertainment industry when she was included in the line-up of the new unit, ZYX, along with four other Hello! Project Kids members and Morning Musume's Yaguchi Mari. Umeda released two singles with the unit before it became inactive. While she was in ZYX, Umeda continued her duties as a member of Hello! Project Kids, namely performing as backing dancers for Morning Musume at concerts. In late 2004 Umeda took part in her first Hello! Project shuffle unit, H.P. All Stars, taking part alongside all the members of Hello! Project at the time. The shuffle unit released one single and became inactive by January 2005. In 2004 Umeda joined Little Gatas.
In 2005, Umeda Erika was assigned as a member of Hello! Project group ℃-ute alongside seven other Hello! Project Kids members.[2] These seven members had been passed over when it came to the forming of Berryz Koubou, which had originally been formed to teach the Hello! Project Kids about being in a group by rotating the line-up amongst the Kids. Originally ℃-ute was releasing on an indie label, but in 2007 they made their major debut.
Umeda Erika released four indie singles as a part of ℃-ute in this year as a preparation for their major debut in 2007. ℃-ute also released their first album, "Cutie Queen VOL.1".
On February 21, 2007 ℃-ute released their debut single, "Sakura Chirari". On the first day in the charts it ranked third on the Oricon charts, a feat not even accomplished by Hello! Project's mother group Morning Musume (who had ranked 6th on their debut single). With their debut single, they became the youngest group (with the average age of 13) to rank in the top 10.
On April 23, Umeda joined the Hello! Project futsal team, Gatas Brilhantes H.P., from Mix Gatas as a goalkeeper.
Umeda continued her duties within ℃-ute, releasing four singles and a third studio album.
℃-ute released their fourth studio album, "④ Akogare My STAR", on January 28th and their 8th major single is scheduled to be released on April 15th, titled "Bye Bye Bye!".
When five members of ℃-ute and Berryz Koubou left the Hello! Project futsal team Gatas Brilhantes H.P., Umeda Erika still remained on the team as a goalkeeper.
On August 1, rumors surfaced that Umeda would be graduating from ℃-ute in October. This was officially confirmed by Hello! Project a few hours later. Umeda graduated from ℃-ute and Hello! Project on October 25, 2009 to pursue her dream and career as a model.
Umeda Erika signed with a new model agency called ILLUME Models.
Umeda Erika has just opened up a blog on Ameba. The title of the blog is Erika no SWEET DIARY.
On July 16, Umeda was signed into her new model agency called Peach;Co.Ltd.
On October 24, Umeda announced that she is switching careers, becoming a singer again. Her first solo live "Umeda Erika First Solo Live ~Starting Over~" was on December 22 at Hatsudai Doors.
On October 25, Umeda opened her own official website.
On December 22, her first solo album, erika, was announced. It was released on February 12, 2014.
Personal Life
Edit
Discography
Edit
Solo Songs
Edit
[2008] Do Don Ga Don Ondo
Discography Participated In
Edit
[2013.12.22] Umeda Erika First Solo Live ~Starting Over~ (梅田えりか ファーストソロライブ〜Starting Over〜)
[2014.02.09] Umeda Erika Live 2014 Album "erika" Launch Live (梅田えりか LIVE 2014 アルバム「erika」発売記念ライブ)
[2014] Umeda Erika First Solo Live Tour 2014 ~♡(Kokoro Kara no) Omotenashi

TV Programs
Edit
[2010-2011] Haken OL wa mita! (ハケンOLは見た!)
Commercials
Edit
[2010] ABC MART (ABCマート)
[2012] Universal Studios Japan (ユニバーサル・スタジオ・ジャパン)
Infomercials
Edit
[2011] Fuji-Q Highland (富士急ハイランド)
Music Videos
Edit
[2011] HAVE A NICE DAY~EPISODE1 (さよなら初恋編) - Shiki-canta
Joyful Eri (ジョイフル 恵利) (Long-sleeved kimono catalog)
As-me ESTELLE (As-meエステール)
Apron (アプロン) (White coat catalog)
Shimamura (しまむら)
TOC (テーオーシーグループ)
Nissen "Slattgir." ( ニッセン「Slattgir.」)
Senshukai Co., Ltd. (千趣会)
[2010-] Girls Award (ガールズアワード)
[2011] Claudia Bridal (クラウディアブライダル)
[2012] BEAUTY STYLE COLLECTION
[2012-] Tokyo Girls Collection (東京ガールズコレクション)
Umeda Erika was the oldest member of the Hello! Project Kids.
Umeda's Gatas Brillhantes number is 18 and her position was the goalkeeper.
Umeda was also a back-up dancer in performances of Fujimoto Miki's "Boogie Train '03".
More recently, she has named her favorite food as yakiniku, her least favorite food as bitter melon, her charm point as "a row of 3 moles on the right of my cheek", her strong point as "I have a lot of energy", her weak point as "short tempered" and her hobbies as shopping and eating tapioca.
Yaguchi Mari gave her the nickname "Ume-chan".
Despite being the oldest of the Hello! Project Kids, she felt that she wouldn't have been responsible enough to be leader, so she passed down leadership of ℃-ute to the second oldest member, Yajima Maimi.
She and Tsugunaga Momoko are the only members to be in both ZYX and its revival.
Umeda was the first member of ℃-ute to actually have a graduation ceremony.
She went to Hawaii with the rest of ℃-ute. But was only a part of the Fanclub event. She did not take part of the Alo Hello! DVD.
She and Okai Chisato were the only ones in ℃-ute to have brown hair.
She was modeling under the same agency as Kusumi Koharu, ILLUME MODELS.
She used to not like meat, but in 2007 she stated that even though she still had some kinds of meat she didn't like, now she liked meat in general and that she loved barbecue.
References
Edit
External Links
Edit
℃-ute
Concerts & Events

Concerts

Spring Tours: 2007 (Hajimatta yo! Cutie Show, Golden Hatsu Date) | 2009 | 2010 | 2011 | 2012 | 2013 | 2014 | 2015 | 2016
Summer Tours: 2008 | 2009 | 2010
Fall Tours: 2007 | 2013 (Budokan, Tour) | 2014 | 2015 | 2016
Winter Tours: 2012-2013 | 2017
Naruchika: 2014 | 2015 (Spring, Winter) | 2017
Overseas: 2013 (Paris) | 2014 (Taipei) | | 2015 (Mexico) | 2016 (Hong Kong & Taipei) | 2017 (Mexico, Paris)
Others: 2006 | 2007 | 2008 (LOVE Escalation!, ℃-ute no Hi) | 2009 (℃-ute no Hi, FIVE) | 2010 | 2011 (Kiss me Aishiteru, ℃-ute no Hi) | 2012 (Otodama, ℃-ute no Hi) | 2013 | 2014 (Otodama, ℃-ute no Hi) | 2015 (Otodama, ℃-ute no Hi) | 2016 (Otodama, ℃-Fes!) | 2017 (℃ocktail, ℃ocktail in ℃OTTON CLUB, Last Dinner Show, Last Concert)

Other Concerts & Events
Joint Concerts

Spring Tours: 2008 (with Berryz Koubou) | 2011 (with S/mileage)
Fall Tours: 2011 (with Berryz Koubou) | 2013 (with S/mileage)
Other: 2014 (with Berryz Koubou)

Hello! Project Concerts

Summer Tours: 2009 | 2010 | 2011 | 2012 | 2013 | 2014 | 2015 | 2016
Winter Tours: 2010 | 2011 | 2012 | 2013 | 2014 | 2015 | 2016 | 2017
Hina Fes: 2013 | 2014 | 2015 | 2016 | 2017
COUNTDOWN PARTY: 2013 | 2014 | 2015 | 2016
Other Concerts: Hello! Project ☆ Festival 2011 | Hello! Project Yaon Premium Live ~Soto Fest~ | Berryz Koubou Matsuri