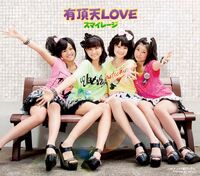 "Uchouten LOVE"
(有頂天LOVE; Euphoric LOVE) is the tenth single (sixth major label single) released by
S/mileage
. The single will be released in limited A, B, C, D, and regular edition, limited A, B, and C coming with bonus DVD. Set to be released in August 3th the regular & limited editions are comming too with a poster A-3 Size. The single was set to release on July 6th, but it was delayed to August 3rd.
The Single V was be released in August 10th
The Daily peak of this single is #4
After its first week it became S/mileage's top selling single.
Tracklist
Regular Edition CD Tracklist
Uchouten LOVE (有頂天LOVE; Euphoric LOVE)thumb|250px|right|S/mileage - Uchouten LOVE (PV)
Chu! Natsu Party (チュ!夏パ~チィ; Kiss! Summer Party)
Uchouten LOVE (Instrumental)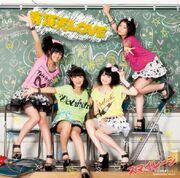 Limited Edition A
Uchouten LOVE (Dance Shot Ver.) (有頂天LOVE (Dance Shot Ver.))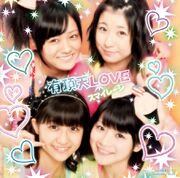 Limited Edition B
Uchouten LOVE (4Shot Lip Ver.) (有頂天LOVE (4Shot Lip Ver.))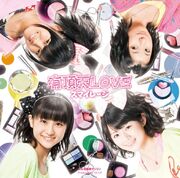 Limited Edition C
Uchouten LOVE (School Chorus Ver.) (有頂天LOVE (School Chorus Ver.))
[校歌斉唱 Ver. - Read: Kouka Seishou Ver.]
Limited Edition D
Uchouten LOVE (有頂天LOVE)
Jitensha Chiririn (自転車チリリン; Bicycle Ding-a-Ling)
Uchouten LOVE (Instrumental)
Single V Tracklist
Uchouten LOVE (Music Video) (有頂天LOVE (Music Video))
Uchouten LOVE (Chou Close-up Ver.) (有頂天LOVE (超 Close-up Ver.))
Event V Tracklist
Uchouten LOVE (Deco Mic Ver.) (有頂天LOVE (Deco Mic Ver.))
Uchouten LOVE (Wada Ayaka Chou Close-up Ver.) (有頂天LOVE (和田彩花 超Close-up Ver.))
Uchouten LOVE (Maeda Yuuka Chou Close-up Ver.) (有頂天LOVE ((前田憂佳 超Close-up Ver.))
Uchouten LOVE (Fukuda Kanon Chou Close-up Ver.) (有頂天LOVE ((福田花音 超Close-up Ver.))
Uchouten LOVE (Ogawa Saki Chou Closeup Ver.) (有頂天LOVE ((小川紗季 超Close-up Ver.))
Members featured in release
Song Information
Tsunku
Other InformationArrangement: TBA
Oricon Chart Positions
| Mon | Tue | Wed | Thu | Fri | Sat | Sun | Week Rank | Sales | Total Sales |
| --- | --- | --- | --- | --- | --- | --- | --- | --- | --- |
| - | 4 | 5 | 6 | 7 | 14 | 4 | 5 | 29,328 | 29,328 |
| 10 | 30 | 24 | x | x | x | x | 29 | 3,200 | 32,528 |
| - | x | x | x | x | x | x | x | x,xxx | xx,xxx |
| x | x | x | x | x | x | x | x | x,xxx | xx,xxx |
| x | x | x | x | x | x | x | x | x,xxx | xx,xxx |
Total Reported Sales: 32,528*
Limited Edition D Interchangeable Covers