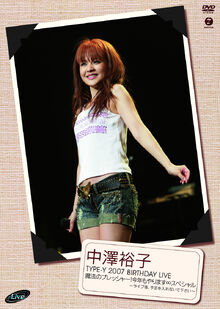 TYPE-Y 2007 BIRTHDAY LIVE Mahou no Pressure! Kotoshi mo Yarimasu Special ~Live Ato, Yotei wo Irenaide Kudasai~ (TYPE-Y 2007 BIRTHDAY LIVE 魔法のプレッシャー! 今年もやります∞スペシャル〜ライブ後、予定を入れないで下さい〜; TYPE-Y 2007 BIRTHDAY LIVE This year comes again the pressure of magic! I'll do it until infinity, special version ~Please do not schedule any plan after my LIVE~) was a 2-disc release of a concert honoring Nakazawa Yuko's 34th birthday and her 10th anniversary in Hello! Project. The concert was filmed on June 19, 2007 at Zepp Tokyo. Nagai Ryuuun, who wrote Nakazawa's 11th single "Urara," made a special appearance and performed "Urizun no Koro" with Nakazawa. Matsukaze Masaya, the co-host of Nakazawa's radio show Maji Asa!, also made a guest appearance. The DVD was released on October 10, 2007 and sold 1,422 copies, peaking at #9 on the Oricon charts.
Tracklist
Edit
OPENING
MC
MC
MC
MC (Special Guest Nagai Ryuuun)
MC
Urizun no Koro (うりずんの頃) (Nagai Ryuuun & Nakazawa Yuko) (Sakamoto Fuyumi cover)
MC
Sora wo Mina yo (空を見なよ) (Sharam Q cover)
MC
Monologues (モノローグス)
Kikitai Koto (聞きたいこと)
Summer Night Town ~BAND ACT.~
Maji Asa! in Zepp Tokyo (Special Guest Matsukaze Masaya)
1973 Hit Medley ~Kojin Juyou ~Watashi no Kare wa Hidari Kiki ~Aoi Kajitsu ~Yume no Naka e (1973年ヒットメドレー〜個人授業 〜わたしの彼は左きき〜青い果実 〜夢の中へ) (Finger5 cover, Megumi Asaoka cover, Momoe Yamaguchi cover, Yousui Inoue cover)
<DISC 2>
MC
Kuyashi Namida Porori
<ENCORE>
La.La.La
MC (Special Guest sumita)
MC
Yu.u.wa.ku (ゆ・う・わ・く)
MC
Bokura ga Ikiru MY ASIA (Morning Musume Tanjou 10nen Kinentai cover)
<W ENCORE>
MC
External Links
Edit
Community content is available under
CC-BY-SA
unless otherwise noted.