Rinne (りんね), real name being Toda Rinne (戸田鈴音), was an original member and former leader of the Hello! Project group Country Musume and sole member for the second and third releases. She graduated from Country Musume and Hello! Project in October 2002 with hopes of becoming a stage actress. In 2006 she married a salaryman from Hokkaido and currently resides there.
Biography
[
]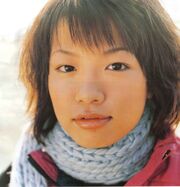 1999-2000
[
]
Rinne signed up for an audition held by Tsunku and Tanaka Yoshitake (Country Musume's original producer), called Country Musume Audition (カントリー娘。オーディション). They wanted to create a sister group to Morning Musume, but instead of being the next door girls, they would be country girls with rural values. The audition process was aired on the television program "Idol wo Sagase!". Nine girls went through voice and dance lessons at a Hanabatake farm in Hokkaido, and three girls ended up being chosen, Rinne being one of them. The group would be named Country Musume, and was made up by Toda, Yanagihara Hiromi and Kobayashi Azusa.
After working on their debut single, they were able to successfully record and complete both the single and a promotional video. However, tragedy struck the group soon after their work seemed to be finished. On July 16th, 1999, Yanagihara Hiromi died in an automobile accident, just days before their first single was set for release. The plans for Country Musume was to continue as a duo, but no more than a month after the single release, Azusa decided to leave the group due to psychological stress (according to the official press release).
After that, Country Musume is left with only one member, Toda. She released the single "Yukigeshiki" in November 1999.
In January 2000, she started hosting "Idol wo Sagase!" with Iida Kaori.
In April, Country Musume (with Rinne as the only member) released the single "Hokkaido Shalala"
Kimura Asami joined the group in May and together they released Country Musume's fourth single, "Koi ga Suteki na Kisetsu", in July. They also starred in the movie "Country Girl Hokkaido Bokujou Monogatari", for wich both songs on the forementioned single was featured in.
2001
[
]
In 2001, Tanaka gave Tsunku full responsibility as a producer of Country Musume. He added Ishikawa Rika from Morning Musume to the group, and they released their first major debut single in April, 2001, followed by their second single, "Koibito wa Kokoro no Ouendan", in October.
In July 2001, Rinne was part of the shuffle unit 10nin Matsuri. They released the single "Dancing! Natsumatsuri".
2002
[
]
In April, Country Musume released "Iroppoi Onna ~SEXY BABY~" with newly joined member Satoda Mai. This would be Rinne's last single with the group before graduating.
In July 2002, Rinne was part of the shuffle unit Odoru♡11.
On August 2nd, Rinne made an announcement to leave the group. Her last duty as a member of Country Musume was the monthly fan club meeting on the 13th, when she graduated from the group and Hello! Project.
The agency's press release said the graduation would give her an opportunity to start a new career; stage-acting, which she always wanted to try. Her producer, Tanaka, had been working on stage plays and musicals based on the theme of farming and agriculture. He was inspired by Goto Maki's graduation from Morning Musume, and decided to start a new project, saying: "I feel like a brand new ambition is starting to form inside me". After a series of hardships, such as Yanagihara's accidental death, Tanaka wanted to give Rinne a new opportunity to boost her career, so he pitched the idea to her. She agreed to it with enthusiasm, saying, "I'd love to try a musical based on farming."
In another statement, Rinne had said "To be honest, I am a little surprised to be told that I am graduating. But I am determined to move forward to my new goal. I'm feeling optimistic." She participated in the Musical Sougen no Hito the following year. The play is based on a poem by famous enka singer Misora Hibari, and tells of a first love story of robust youths living in postwar Japan. Rinne plays a small role as Ohshiro Tamako, the daughter of a real estate agent. This was the only acting job she had.
2006
[
]
A few years later, in 2006, newspapers reported that Toda had gotten married and resided in Sapporo.
2011
[
]
In October 2011, Rinne attended the Hokkaido Children's Award for appreciation of the Hokkaido Children's Musical Education Society as an OG. She also said she was helping her father, who runs a private inn at Ishigaki Island in Okinawa.[1]
Profile
[
]
Stage Name: Rinne (りんね)
Birth Name: Toda Rinne (戸田鈴音)
Birthdate: February 6, 1981
Blood Type: B
Western Zodiac: Aquarius
Eastern Zodiac: Rooster
Married: 2006
Family: Husband
Hello! Project Groups:
Shuffle Groups:
Discography
[
]
Main article: Toda Rinne/Discography
Publications
[
]
Books
[
]
[2001.07.19] Idol wo Sagase! Koushiki BOOK
[2000-2002] The Television (200-nen - 2002-nen, Kadokawa Shoten) - Hokkaido Aomori-ban Nomi, Column "Country Musume no Hohon Essay Rinne no Shoppai" wo Rensai (ザテレビジョン (2000年 - 2002年、角川書店) - 北海道・青森版のみ、コラム「カントリー娘。のほほんエッセイ りんねのしっぽ」を連載。)
Works
[
]
Movies
[
]
TV Programs
[
]
Theater
[
]
Radio
[
]
[1999-?] Country Musume no Bokujou Dayori (カントリー娘。の牧場だより)
[1999-?] Country Musume no Potato na Jikan (カントリー娘。のポテトな時間)
[1999] Country World Rinne no Nikki (カントリーワールド りんねの日記)
[2000-2002] MBS Young Town Doyoubi (MBSヤングタウン土曜日)
Honorary Titles
[
]
References
[
]
Country Musume
Members
Former Members

Rinne
Borrowed Members
Concerts & Events
Concerts
Units & Other Acts
Associated Acts