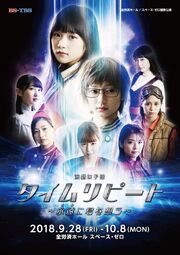 Time Repeat ~Towa ni Kimi wo Omou~ (タイムリピート〜永遠に君を想う〜; Time Repeat ~I Will Think of You Forever~) was an Engeki Joshibu musical starring Juice=Juice. It ran from September 28 to October 8, 2018 at Zenrosai Hall/Space Zero in Shinjuku.
The DVD was released on January 16, 2019 including a bonus soundtrack CD.
Next time for sure, I will live tomorrow.
Space History Year 3255. For over 30 years, the Galactic Federation and Roa Empire have been in a state of cold war.
The Esperanza, a Galactic Federation spaceship carrying 13 crew members, discovers a planet where a rare energy source of neocrystals lie dormant.
As they prepare for landing, the spaceship gets destroyed in a collision with a mysterious asteroid-like object that suddenly appears...

However, the crew's mineralogist Luna wakes up once again.
There she realizes that she is in the Esperanza before its destruction.
In a time that repeats forever, the one reality will soon become clear.
From Juice=Juice
From Ame no Mori Kawa Umi
Script: Ota Yoshinari
Director: Nishimori Hideyuki (Innocent Sphere)
Music: Wada Shunsuke
Choreography: YOSHIKO
Producer: Niwa Tamon Andrew (BS-TBS)
Soundtrack
Edit
The original soundtrack for the musical was only released on January 16, 2019 as a DVD bonus.
Tracklist
Edit
Kibou no Wakusei (希望の惑星; Planet of Hope)
Yoosoroo (ヨーソロー; Steady Onward)
Ikitoshi Ikeru Mono Subete (生きとし生けるもの全て; All Living Things)
Maru de (まるで; As Though)
Crew (クルー)
Unmei (運命; Fate)
Time Repeat (タイムリピート)
Neocrystal (ネオクリスタル)
Yume wo Miteiru you (夢を見ているよう; Like I'm Dreaming)
Kimi to Boku wa (君と僕は; You and I)
Ashita wo Ikiru (明日を生きる; I Will Live Tomorrow)
Towa ni Kimi wo Omou (永遠に君を想う; I Will Think of You Forever)
Information
Edit
DVD Tracklist
Edit
TR 0
TR 1
TR 2
TR 3
TR 4
TR 5
The musical's working subtitle was Kibou no Wakusei (希望の惑星; Planet of Hope).[5]
This is the first theatrical production to feature Dambara Ruru.
Funaki Musubu and Kawamura Ayano came to watch the musical on October 1.[6]
Tsubaki Factory, Ichioka Reina, and Shimakura Rika came to watch on October 2.[7]
Sasaki Rikako, Kamikokuryo Moe, Kasahara Momona, Kawamura Ayano (for her second time), and Shiotsuki Shuu came to watch on October 3.[8]
Fukumura Mizuki, Iikubo Haruna, and Sato Masaki came to watch on October 4.[9]
Ishida Ayumi, Oda Sakura, Makino Maria, Yokoyama Reina, Morito Chisaki, and Ono Mizuho came to watch on October 5.[10]
References
Edit
External Links
Edit
Community content is available under
CC-BY-SA
unless otherwise noted.