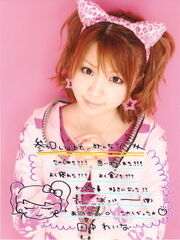 Tanaka Reina Fanclub Tour in Aichi (田中れいな ファンクラブツアー in 愛知) is an Fanclub Event DVD by Tanaka ReinaIt features her 2013 solo tour that ran from May 25th through the 26th. The DVD was sold only through Hello! Project Fanclub and had a deadline to be ordered by July 26, 2013. It was released to M-line fanclub members on September 26, 2013.
Setlist
Photo Shot
MC
Tanaka sing Lalala no Pipipi
Special Live
Yumemiru Shoujo Ja Irarenai
Nastu Festival
Kiss no eye
Sky no nord and sun
Scramble
Triva
This is Tanaka Reina's second and last fanclub tour is joining M-line Fanclub.
Video