Keep Honest Material
Please help this wiki community keep honest material by adding reference.
Any out of the ordinary information without references will be removed within 3 months.
Tanaka Reina
田中れいな

Tanaka Reina, August 2018
Name
Birth Name
Tanaka Reina (

田中​麗奈

?

)
Nicknames
Reina (

れいな

?

)
Reinya (

れいにゃ

?

)
Tanakacchi (

田中っち

?

)
Tanasatan (

たなさたん

?

)
Birth Info
Born
November 11, 1989
Origin
Fukuoka, Japan
Blood Type
O
Zodiac Sign
Scorpio
Sizes
Height
152.5cm
Professional Info
Genres
J-pop, rock
Occupation
Idol, singer, actress, model
Years Active
2003-present
(16 years)
Agency
UP-FRONT AGENCY (2003-2012)
UP-FRONT PROMOTION (2012-2013)
UP-FRONT CREATE (2013-)
Label
zetima
UP-FRONT WORKS
Associated Acts
Morning Musume, LoVendoЯ, Aa!, Morning Musume Otome Gumi, High-King, H.P. All Stars, Elegies, Mobekimasu

LoVendoЯ

Info
Joined
February 3, 2013
Member Color

     

 Light Blue
Time in Group
6 Years, 4 Months, 23 Days

Morning Musume

Information
Joined
January 19, 2003
Generation
6th Generation
Member Color

     

 Light Blue
Debut Single
Shabondama
Last Single
Brainstorming / Kimi Sae Ireba Nani mo Iranai
Graduated
May 21, 2013
Time in Group
10 Years, 4 Months, 2 Days
Links
Website
Tanaka Reina official website
Blog
Tanaka Reina no OtsukaReinaa
Twitter
@ganbareina11
Instagram
@tanakareina.lovendor
Other
Autograph
Tanaka Reina (田中れいな; real name: 田中​麗奈) is a Japanese singer and actress. She is one of the vocalists in the band LoVendoЯ and a former idol under Hello! Project as a 6th generation member of Morning Musume. Her professional first name is spelled in hiragana to differentiate herself from actress Tanaka Rena whose name is spelled with the same kanji.
Tanaka graduated from both Morning Musume and Hello! Project on May 21, 2013 to focus on her newly-formed band LoVendoЯ. She has also performed in various musicals and, as of 2018, has been increasing her solo live activities.[1]
Biography
Edit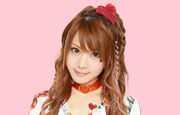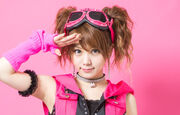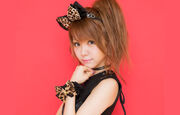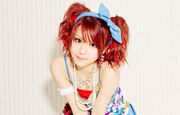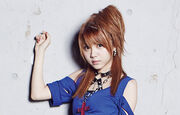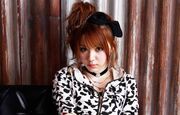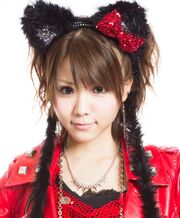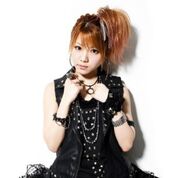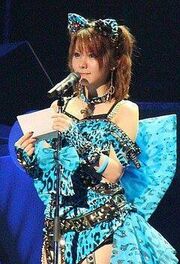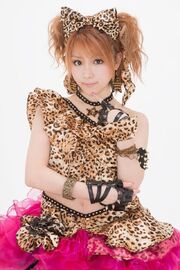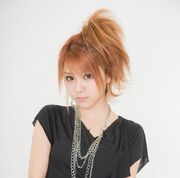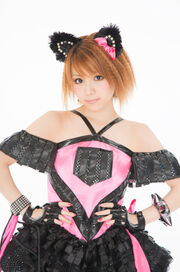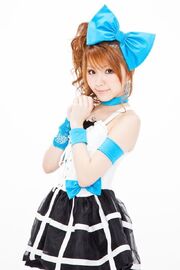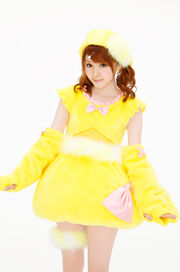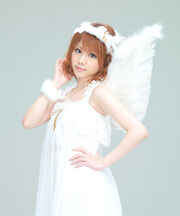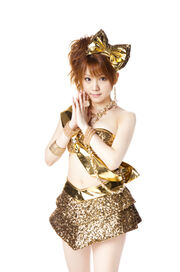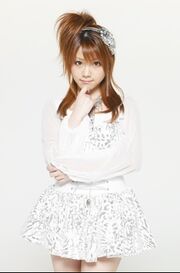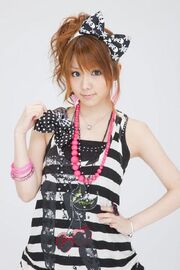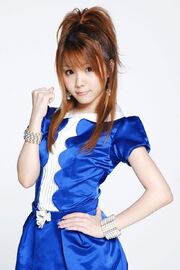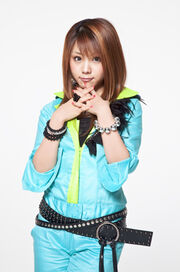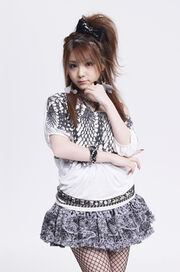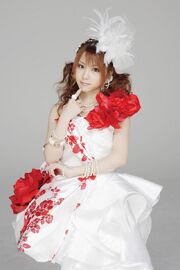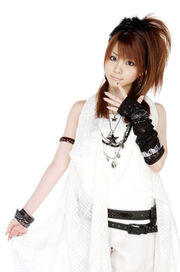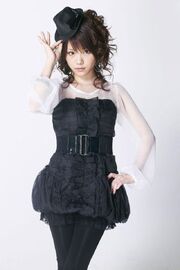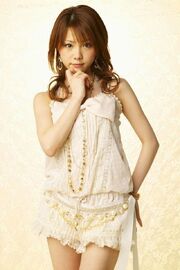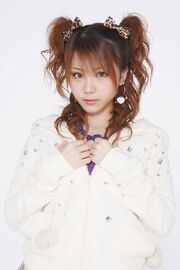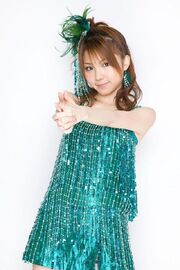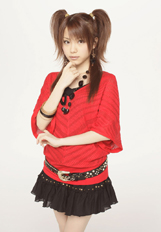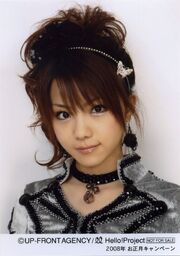 Early Life
Edit
Tanaka Reina was born on November 11, 1989 in Fukuoka, Japan.
Tanaka Reina auditioned for a spot in Morning Musume's 5th generation in 2001 and passed, but had to leave the training camp when it was found out that she was underage. She attempted again in 2002—now old enough to audition—for a position in the 6th generation and passed along with other members Kamei Eri and Michishige Sayumi. Her audition song was Morning Musume's "Do it! Now". Once the 6th generation joined, it made it the group's biggest formation up to that point, with 15 members in total.
In July, she provided the main vocals for the group's nineteenth single "Shabondama", making her one of the few members of Morning Musume who was able to lead on her debut single.
Tanaka was chosen to become the leader of a new Hello! Project unit named Aa! alongside Hello! Project Kids members Suzuki Airi and Natsuyaki Miyabi. The group released their first and only single, "FIRST KISS", in October.[2][3] The group later disbanded, but occasionally reunited to perform live, though Tanaka was no longer a member of the band.
Tanaka was featured in two solo versions of "Memory Seishun no Hikari" on a fan club release CD. She released her first album with Morning Musume, Ai no Dai 6kan, in December.
During her first year in the group, Morning Musume was split into two groups: Morning Musume Otome Gumi and Morning Musume Sakura Gumi. Tanaka was put in Otome Gumi and released two singles with the group before they went on hiatus.
Tanaka was also one of the few members to be selected for the 2005 summer shuffle groups, as a member of Elegies. They contributed the song "Inshouha no Renoir You ni" to the summer shuffle CD that year.
On March 28, it was announced that Tanaka would be voice acting as Kirara, a main character in Sanrio's anime Onegai My Melody Kirara, the fourth My Melody series. The show premiered on April 6.[4]
In 2008, Tanaka became a member and a leader of Hello Project's new unit High-King, formed to promote their new musical, Cinderella the Musical. The group released one single, "C\C (Cinderella\Complex)".
It was revealed that Tanaka would be voicing the main and title character of the new anime series, Kaito Reinya. The character, Reinya, had initially been modeled on Tanaka. The show began airing on January 9 and aired a total of 12 episodes.
Tanaka opened her first blog with the title "Tanaka Reina no OtsukaReina".
On November 1, Tanaka, Michishige Sayumi and Kamei Eri were involved in a scandal after photos of the three doing the slanted-eye gesture attempting to "look Korean" were posted to Tanaka's blog and caused outrage among Korean netizens. All three later issued apologies.[5]
Tanaka starred in a stage play titled Reborn ~Inochi no Audition~ along with Niigaki Risa, the 9th generation members, and Hello Pro Kenshuusei member Kudo Haruka.
On December 23, Tanaka and Michishige Sayumi hosted a premium Christmas dinner show.
On April 18, it was announced that Tanaka and Morning Musume's 9th and 10th generation members would star in a new stage play titled Stacies Shoujo Saisatsu Kageki. The musical ran from June 6 to June 12.
It was announced Tanaka would be the center in a new band with new vocalists and a guitarists. The audition for the new vocalists and a guitarists began on June 17 and continued for 4 consecutive weeks.
On November 18, the winners of Tanaka's band member audition were revealed to be Uozumi Yuki, Miyazawa Marin, and Okada Marina. On the same day, it was announced that Tanaka Reina would be graduating from Morning Musume and Hello! Project. Tsunku and Tanaka made an announcement of her graduation in order to focus on her new band and to present new opportunities for Tanaka.
Tanaka would graduate from Morning Musume at the end of their 2013 spring concert tour, where she would conclude her activities in both Morning Musume and Hello! Project.
Comment by Tanaka Reina
Thank you for always giving me your support.
I, Tanaka Reina, will be graduating from Morning Musume with next year's Spring tour!
Today, as I inform all the fans on stage, together with my 3 bandmates, I feel that for myself, I am beginning my journey to a new stage!
Morning Musume facing it's 15 year anniversary, and I having joined as a 6th generation member, have reached my 10th year.
I feel like it's a perfect turning point, as I start new activities with my band, and challenge myself with a full-time music career after graduation.
For my activities with Morning Musume and Hello!Project, I still have half a year left. With what's left the Fall tour and the New Year's Hello!Project concert, as well as the Spring tour, I will continue to sing in front of all the fans as Morning Musume's Tanaka Reina so, please continue to give me your support!
2012/11/18
Morning Musume
Tanaka Reina
Comment by Tsunku
We thank you for always giving your support to Hello! Project and Morning Musume!
Let's cut to the chase, this is an Announcement regarding "Tanaka Reina".
"Tanaka Reina" who joined Morning Musume in January of 2003, presently for 9 years and ten months, It has been decided that she will graduate from Morning Musume and Hello! Project with the 2013 Morning Musume Concert Tour 2013 Spring MICHISHIGE ☆ ELEVEN SOUL ~Tanaka Reina Graduation Comemmoration Special~ final tour day.
Her band has been formed, and she is proud to be one of the top 3 vocalists in the history of Morning Musume.
She is going forward with her band activities as well so, this felt like good timing, and we've decided on her graduation.
Seeing her mature in her own way, the things she wants to do on her own, her style, and her determination, I feel that from here, if she were to make use of the experience she's gained with Hello! Project on her band activities and her solo work, it will lead to her progressing even more.
I've been talking with her about the matter of her graduation for many years, she's a girl with a strong competitive spirit, and from here she can become an even cooler "Reina".
Everyone, please give your a great amount of your support from here on to the "Tanaka Reina" doing her own personal work and bandmember "Tanaka Reina" with her band as well.
Hello! Project Coordinating Producer
Tsunku
2012/11/18
On November 30, it was announced that Tanaka would be joining the M-line club in June 2013.
On January 19, both Tanaka and Michishige Sayumi officially reached 10 full years in Morning Musume.
On January 23, the day their single, "Help me!!", was released, it was revealed her graduation date would be May 21 at Nippon Budokan in Tokyo.
On February 3, the name of her new rock band was revealed to be LoVendoЯ.
In February, she revealed in a blog post that she had been diagnosed with a duodenal ulcer and esophagitis. She would be taking medicine to cure herself rather than receiving surgery. Due to her illness, she missed several events.
On March 23, she experienced painful ringing in her ears and had to leave an event, and on March 24, she missed a concert and LoVendoЯ had to perform without her as a result.
On May 21, Tanaka graduated from both Morning Musume and Hello! Project. During the concert she appointed Fukumura Mizuki and Iikubo Haruna as the groups sub-leaders.
On May 22, CD&DL Data magazine released a compilation book of Tanaka's Tanakamesen magazine series that contained all 73 volumes, from 2006 to 2013.
On June 29, Tanaka's joint radio show Tanaka Time ended due to Time Machine 3gou leaving J.P ROOM. It was then announced that LoVendoЯ would have their own radio show, titled LoVendoЯ no Rabu On!, which began airing on July 6.
On July 27 and 28, Tanaka, along with her fellow LoVendoЯ members, performed at the 2013 J-Pop Summit Festival in San Francisco, California. This marks the second time Tanaka had visited mainland United States for group activities.
On August 2, Tanaka announced that she would appear on Nishikawa Takanori's (T.M.REVOLUTION) Nico Nama show on August 15.
On September 20, it was announced that Tanaka would hold a solo event to celebrate her birthday at the TOKYO FM HALL on November 11.
On March 4, it was announced that Tanaka would be the lead actress in the musical Aku no Musume from June 4 to 11.[6][7] It is based on the 2008 song made using Vocaloid characters Kagamine Rin and Len, which later expanded into a series and was adapted into other forms of media, such as novels and other theater productions.
On March 30, Tanaka began a web show on SHOWROOM, titled Moto Morning Musume Tanaka Reina no "Reina no Jiyuu Jikan♡", which would broadcast every Thursday at 21:00.[8][9] Joujou Gundan were her first guests on the show.[10]
From April 8 to April 17, Tanaka starred as the heroine Yuki Miaka in the first musical adaptation of the shoujo manga Fushigi Yuugi, titled Fushigi Yuugi ~Shu no Shou~.[11]
On September 14, she and Michishige Sayumi were surprise guests at the Morning Musume Kessei 20 Shuunen Kinen Event ~21 Nenme mo Ganbatte Ikimasshoi!~.[12] They performed "Ookii Hitomi" together and "Kare to Issho ni Omise ga Shitai!" with Morning Musume '17.
On November 11, she celebrated her 28th birthday at a fanclub event titled Tanaka Reina Birthday Event OtsukaReina Kai 6 ~28sai♡Kyou Made Arigato. Kore Kara mo Yoroshiku ne!~, which had two shows at Shinjuku ReNY.
On November 21, Tanaka made a surprise appearance alongside Takahashi Ai and Michishige Sayumi during the Morning Musume Tanjou 20 Shuunen Kinen Concert Tour 2017 Aki ~We are MORNING MUSUME~ at Nippon Budokan. The three of them performed "Shabondama" and "Resonant Blue" with all of the current members.[13]
On November 24, Tanaka appeared at a press conference for the game Nobunaga no Yobou・Taishi (titled Nobunaga's Ambition: Taishi outside of Japan). It was announced that she would perform as the character Oichi in the stage play adaptation Nobunaga no Yabou・Taishi Haru no Jin Tengafubu ~ Kondei no Kubi Hen from May 16 to 27, 2018.[14][15]
From February 9 to 13, Tanaka starred as the character No.4 in the musical YoRHa Ver1.2, which was based on universe of the video game NieR: Automata and was written by the series' creator Yoko Taro.[16]
On April 17, Tanaka held Zoku Reina 100%!!!!! with two shows at COTTON CLUB in Tokyo.
On June 25, it was announced that she and Takahashi Ai would be starring in a new commercial titled "Ai to Reina" for S.T. Corporation's fridge odor eliminator product Dasshuu Sumi.[17]
On July 30, Tanaka and Michishige Sayumi held the Michishige Sayumi・Tanaka Reina 6ki 15 Shuunen Omedetou Event to celebrate the 15th anniversary since the 6th generation joined Morning Musume and debuted in "Shabondama".
On August 31, Tanaka opened an official website and accounts for Twitter and Facebook.[18][19][20] On September 9, she held the Tanaka Reina Tandoku Kouen ~ Reina 100%! vol.3 ~Dancing Night~ with two shows at Shinjuku BLAZE.
Two years since starring in Fushigi Yuugi ~Shu no Shou~, Tanaka reprised her lead role as Yuki Miaka in the sequel musical Fushigi Yuugi -Ao no Fumi- from October 13 to October 21.[21]
On October 27, the tabloid Shukan Bunshun reported that Tanaka was dating actor Hirano Ryo, after they were spotted dining and hugging at a yakiniku restaurant on October 18. The two co-starred in the 2016 Fushigi Yuugi ~Shu no Shou~ musical and recently reprised their roles in the sequel Fushigi Yuugi -Ao no Fumi-. Their agencies denied the reports, stating that it was a private matter and they only get along as co-stars.[22]
From November 8 to November 12, she portrayed Oichi for a second time in the stage play Nobunaga no Yabou・Taishi -Fuyu no Jin-.[23][24]
On November 29, Tanaka celebrated her 29th birthday at a fanclub event titled Tanaka Reina Birthday Event OtsukaReina Kai 7! ~7 tte Nanka Yokunai?~, featuring two shows at TOKYO FM HALL.
Tanaka held the Tanaka Reina Tandoku Kouen ~ Reina 100%! vol.4 Acro Diva♡ on January 25 and 26 in Tokyo and on February 9 in Saitama.
From March 11 to March 25, Tanaka filled in for Suzuki Airi on HELLO! DRIVE!, co-hosting Monday broadcasts with Miyamoto Karin while Suzuki took a three-week break from the radio show due to other work.[25][26][27]
From April 6 to April 14, she reprised her starring role as Princess Riliane in the rerun of the musical Aku no Musume, which had its first run in 2017.[28]
On April 20, it was announced that Tanaka and Yumemiru Adolescence's Kobayashi Rei would appear as guests in episodes 7 and 8 of the 43rd Super Sentai series Kishiryu Sentai Ryusoulger as a pair of alien sisters named Cardena (Tanaka) and Fita (Kobayashi). The episodes aired on April 28 and May 5.[29][30][31][32] Their duet insert song "Keperu Pasu Peru" was included as a track in the Mini Album Kishiryuu Sentai Ryuusoulger 1, which was released on May 29.[33][34]
From May 18 to May 26, Tanaka portrayed Oichi for a third time in the stage play Nobunaga no Yabou・Taishi Mugen ~Honnoji no Hen~.[35][36]
On June 17, Tanaka and Takahashi Ai teamed up for a second time for a new Dasshuu Sumi commercial, titled "Sumi Sugee".[37][38]
From August 17 to August 27, Tanaka will star as Anne Shirley in the Akage no Anne (Anne of Green Gables) musical tour.[39][40] She is the second Morning Musume OG member to portray Anne on stage after Takahashi Ai who was Anne in 2013 and 2014.[41]
Personal Life
Edit
She has a brother who is seven years younger.[42]
When Tanaka joined Morning Musume in January 2003, she was near the end of her first year as a middle school student. She dropped out of high school in order to focus on her idol career.
The following list are notable friendships Tanaka Reina has acquired:
Here is a list of nicknames that was used to refer to Tanaka Reina:
Reina (れいな): Official nickname, given her since joining Morning Musume. Used by members and fans.
Reinya (れいにゃ): Second official nickname, given her since joining Morning Musume. Used by members and fans, and also Niigaki Risa and Abe Natsumi in the past.
Tanakacchi (田中っち): Used by fans.
Tanasatan (たなさたん): A nickname for Tanaka Reina originated and only used by Sato Masaki. Originally it was just a slip of the tongue which made Sato to say Tanasa-tan instead of Tanaka-san, but Tanaka loves it because she found it cool sounding like Sailor Saturn of Sailor Moon.
Birth Name: Tanaka Reina (田中麗奈)
Stage Name: Tanaka Reina (田中れいな)
Nicknames: Tanakacchi (田中っち)[N1], Reina (れいな), Reinya (れいにゃ)[N1], Tanasatan (たなさたん)[N2], Souchou (総長), Kodomocchi (こどもっち), Reirei (れいれい)
Birth Date: November 11, 1989
Birthplace: Fukuoka, Fukuoka Prefecture, Japan
Blood type O
Height: 152.5 cm (5'0")
weight: 44 kg
Hello! Project Status:

2003-01-19: Member
2003-01-19: Morning Musume member
2013-05-21: Graduated

UP-FRONT GROUP Status:
Years in Morning Musume: 10 years
Official Kaomoji: 从*´ ヮ`)
Morning Musume Color: Light Blue
Otome Gumi Color: Orange
Hello! Project Groups:
Subgroups:
Concert Units:
Shuffle Units:
Other:
Hobbies: Observing people, texting, recording TV shows
Special Skills: Can play without sleep
Motto: Treat others how you want to be treated!
Favorite Words: Aa ne!! (あ~ね!!; Ah, hey!!), Ee!? (え~!?; Whaat!?), OtsukaReina (おつかれいな; good work)
Favorite English Word: "Station"
Favorite Food: Yakiniku, broccoli, nankotsu, enoki, chocolate, fried chicken, french fries, raw spring rolls
Disliked Food: Green bell peppers, natto
Favorite Colors: Yellow, red, pink, black, white
Favorite Flowers: Sunflowers
Favorite Seasons: Spring, autumn
Favorite Morning Musume Singer: Goto Maki, Ishikawa Rika
Favorite Animal: Cat
Favorite Morning Musume Songs: Shabondama, SEXY BOY ~Soyokaze ni Yorisotte~, Ambitious! Yashinteki de Ii jan, I WISH, Koi no Dance Site
Favorite Song in the Past: "Moonlight Densetsu" by DALI, "Kitakaze to Taiyou" by YeLLOW Generation, "Gara Gara Hebi ga Yatte Kuru" by TUNNELS
Current Favorite Song: Kokuhaku, "Motokare Korosu" by GOLDEN BOMBER, "Dokugumo Onna (Moe-Moe Hen)" by GOLDEN BOMBER
Memorable Music Videos: Rock no Teigi, C\C (Cinderella\Complex), Inshouha Renoir no You ni, Brainstorming, Ame Agari no Yozora ni
Discography
Edit
Digital Singles
Edit
Original Songs
Edit
[2018] Betsu ni Suki ja nai shi (別に 好きじゃないし; It's Not That I Like You)
[2018] Acro BAD Girl (アクロBADガール)
[2019] JOKER
[2019] Dokibaku Sakkaku! 1nichichuu (ドキバク錯覚!1日中; Heart-Throbbing Hallucination! All Day Long)
[2019] Kurete yan nai (くれてやんない; I Won't Give In)
Solo Songs
Edit
Solo Image DVDs
Edit
Solo Fanclub DVDs
Edit
Other DVDs
Edit

Publications
Edit
Solo Photobooks
Edit
Digital Photobooks
Edit
[2003] Hoshizuna no Shima, Watashi no Shima ~Island Dreamin'~ (星砂の島、私の島 ~アイランド・ドリーミン~) (as Hojo Yoshie)
[2009] Yona Yona Penguin (よなよなペンギン)
[2011] Keitai Deka THE MOVIE 3 Morning Musume Kyuushutsu Daisakusen! ~Pandora no Hako no Himitsu (ケータイ刑事 THE MOVIE3 モーニング娘。救出大作戦!~パンドラの箱の秘密)
[2011] Vampire Stories (ヴァンパイア・ストーリーズ)
TV Programs
Edit
TV Dramas
Edit

[2010] Hanbun Esper (半分エスパー)
[2012] Suugaku♥Joshi Gakuen (数学♥女子学園) (as Machida Nina)
[2019] Kishiryu Sentai Ryusoulger (騎士竜戦隊リュウソウジャー) (episode 7 guest as Cardena)
Web Drama
Edit
[2006] Ojigi 30do (おじぎ30度) (as Kuroda Reina)
[2008–2009] Onegai My Melody Kirara☆ (おねがいマイメロディ きららっ☆) (as Kirara)
[2010] Kaito Reinya (怪盗レーニャ) (as Kaito Reinya)
[2006] Ribbon no Kishi The Musical (リッボンの騎士ザ・ミュージカル) (as Riziere)
[2008] Ojigi 30do On Stage (おじぎ30度 オン・ステージ)
[2008] Cinderella the Musical (シンデレラ the ミュージカル) (as Joy)
[2009] Ojigi de Shape Up! (おじぎでシェイプアップ!) (as Kuroda Reina)
[2010] Fashionable (ファッショナブル) (as Kusakabe Rui)
[2011] Real-etude Minna no Ie Girl's STAGE (リアルエチュード みんなの家 Girl's STAGE)
[2011] Taishou Roman Haikara Tantei Aoi Ruby Satsujinjiken (大正浪漫ハイカラ探偵王青いルビー殺人事件)
[2011] Reborn ~Inochi no Audition~ (リボーン~命のオーディション~) (as Osamu Tezuka)
[2012] Stacy's Shoujo Saisatsu Kageki (ステーシーズ 少女再殺歌劇)
[2012] Idol Nihonryuu ~Onna Nichibu~ (アイドル日本流~おんな日舞~)
[2016] Fushigi Yuugi ~Shu no Shou~ (ふしぎ遊戯~朱ノ章~) (as Yuki Miaka)
[2017] Aku no Musume (悪ノ娘) (as Princess Riliane)
[2018] Ongaku Geki YoRHa Ver1.2 (音楽劇 ヨルハVer1.2) (as No.4)
[2018] Nobunaga no Yabou・Taishi Haru no Jin Tengafubu ~ Kondei no Kubi Hen (信長の野望・大志 春の陣 天下布武~金泥の首 編) (as Oichi)
[2018] Fushigi Yuugi -Ao no Fumi- (ふしぎ遊戯-蒼ノ章-) (as Yuki Miaka)
[2018] Nobunaga no Yabou・Taishi -Fuyu no Jin- (信長の野望・大志 -冬の陣-) (as Oichi)
[2019] Aku no Musume (second run) (as Princess Riliane)
[2019] Nobunaga no Yabou・Taishi Mugen ~Honnoji no Hen~ (信長の野望・大志 夢幻 ~本能寺の変~) (as Oichi)
[2019] Akage no Anne (赤毛のアン; Anne of Green Gables) (as Anne Shirley)
Commercials
Edit
[2018–] S.T. Corporation "Dasshuu Sumi" (脱臭炭)
[2007–2010] FIVE STARS
[2012–2013] Reina Time (れいなたいむ)
[2013–2018] LoVendoЯ no Rabu on (LoVendoЯの『らぶおん』; LoVendoЯ's Love Sound)
[2019] HELLO! DRIVE! (HELLO! DRIVE! -ハロドラ-) (Mondays, 2019.03)
She ranked #35 in CDTV's 2004 "Which artists would you have as your lover?" poll.
She ranked #51 in CDTV's 2005 "Who you wanted to have as your Valentine" poll.
She ranked #14 in CDTV's 2007 "Which artist would you have as your lover?" poll.
She was voted 4th favorite member in the 2007 Hello! Project Music Awards Event.[43]
She ranked #11 in CDTV's February 2008 "Which artists would you have as a lover?" poll.
She ranked #20 in CDTV's August 2008 "Which artists would you have as a lover?" poll.
She was voted 2nd favorite member in the 2008 Hello! Project Music Awards Event.[44]
She ranked #5 in CDTV's 2009 "Which artist do you want as your lover?" poll.
She was voted 3rd favorite member in the 2009 Hello! Project Music Awards Event.[45]
She ranked #5 in CDTV's 2010 "Which artists do you want as your sweetheart?" poll.
She ranked at #21 in Anikan R Yanyan magazine's May 2013 "Singing idol you like the most".
She ranked at #30 in Anikan R Yanyan magazine's September 2013 "Singing idol you like the most".
She ranked at #36 in Anikan R Yanyan magazine's October 2013 "Singing idol you like the most".
The kanji characters for her name (田中麗奈) are the same as the ones for the Japanese actress Tanaka Rena. To avoid confusion, Tanaka adopted hiragana symbols (れいな) for her first name when she joined Morning Musume.
She initially auditioned for Morning Musume during the Love Audition 21 auditions for the fifth generation members and was even featured on the MUSIX page.
Tsunku has said that Tanaka is the closest to being a perfect Idol.
Tanaka has always had the reputation of a yankii (a rebel) since her first audition for Morning Musume when she had blonde hair. The fact that she also wore shirts with skulls and dragons, and had a tendency to wear a lot of purple clothing, also furthered this yankii image with fans.
She was known as one of the most fashionable members in Morning Musume.
Around the time of her debut, Purikura photos surfaced that showed her devotion to the boy group FLAME. Rumors went around that she had only joined Morning Musume so that she could become famous and get recognized by FLAME member Izaki Hisato, her crush (based on something that Tanaka herself wrote and posted to the web).
Niigaki Risa is the one who chiefly calls her "Tanakacchi."
When asked what part of her makeup she is most particular about, she said that it was her eyelashes.
Iida Kaori was the first to use "07" to refer to Tanaka (in an episode of Hello! Morning where she wrote her "07" on a flip card to identify Tanaka in a guessing game). Since then, "07" had been printed on her sleeves in some concerts, and other members such as Yoshizawa Hitomi and Fujimoto Miki have used "07" when writing.
In a 2004 interview, she said that her rival was Goto Maki, but she explained further that she just wants to become like her.
In a 2008 episode of Music Fighter, she claimed that she hoped to become Morning Musume's leader.
She, along with former Taiyou to Ciscomoon member Kominato Miwa and the Morning Musume member Ikuta Erina, are the only three Hello! Project members to come from Kyushu.
When she was younger, she performed Minimoni's "Minimoni Jankenpyon!" with a group of friends in a school talent show.
She stated that "Shabondama" is the song that gives her energy in concerts and "NATURE IS GOOD!" is the most suitable song for herself.
There is a music video of Kamei Eri, Michishige Sayumi, and Tanaka performing their audition song, Do it! Now.
These are her opinions of the characters of the other Morning Musume members:
These are the other members' opinions on Tanaka's character:

Takahashi: Hardworking.
Niigaki: Ike Ike girl (does what she wants).
Kamei: Fastidious about everything.
Michishige: Pure.
Kusumi: Knowledgeable.
Mitsui: Osshaa!!!!
Junjun: Wants/loves to win.
Linlin: Aesthetic.

In Yorosen!, she taught other Morning Musume members about Prime Ministers.
She said that if she could become a Hello! Project member, she would be Kumai Yurina because she would like to "watch everyone from a higher line of sight."
She worked most with Hello! Project Kids.
It was admitted that she and the 6th generation members were problem children.
After Mitsui Aika's graduation, Tanaka was the only member of Morning Musume to have an Ameba Blog until the 9th generation opened an account.
Sato Masaki likes to call her "Tanasatan."
She was the first member of Morning Musume who auditioned twice and passed the second time. Kudo Haruka was the second and Haga Akane was the third.
She said the most embarrassing moment in her life was when she was out shopping and talked to a stranger for a long period of time thinking it was her mother.
There was a rumor about her dating the Visual Kei artist Miyavi, but the press dropped the issue when Miyavi announced his marriage.
She stated that she is very glad that Oda Sakura was added to Morning Musume. Her comment was  "Finally someone was added that has very strong singing capabilities."
Reina stated that she usually hates when "little kids" cling to her, but she doesn't care when Sato Masaki clings to her. She considers Masaki to be a little sister and has a strong sisterly bond with her.
She and Oda Sakura both say "station" is their favorite English word.
Namida ga Tomaranai Houkago and Go Girl ~Koi no Victory~(No Solo Line for All Member) are the only Morning Musume singles where she doesn't have any solo lines.
Says that she doesn't work well under pressure.
According to fans she (and Michishige Sayumi) have been in 600 concerts.
Doesn't like sleeping in places other than home.
Her phone rang in an interview with a Korean reporter. Her ringtone at that time was 'Shine' by Tohoshinki.
Said that if she could get one wish granted she would like to have the power to control time so she could fast forward when doing things that aren't fun or stop time when she wants to stop it.
On her blog she admitted to worrying about her younger brother's sex life.
During her time in Morning Musume, among the 9ki,10ki, and 11ki members, she got along best with Sato Masaki and Sayashi Riho.
Honorary Titles
Edit
References
Edit
External Links
Edit
Community content is available under
CC-BY-SA
unless otherwise noted.