Tamenaga Shion (為永幸音) is a Japanese pop singer under Hello! Project as a 9th generation member of ANGERME. She is a former member of Hello Pro Kenshuusei. Prior to joining Hello! Project, she was active as a Nagano local idol.
Biography
[
]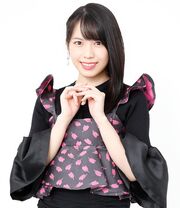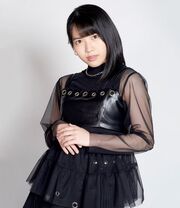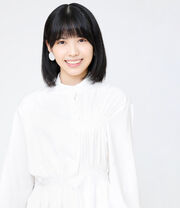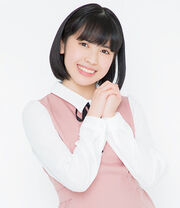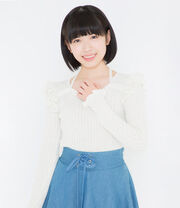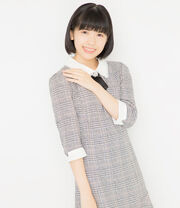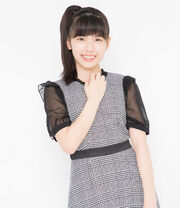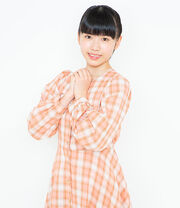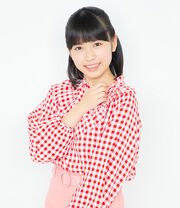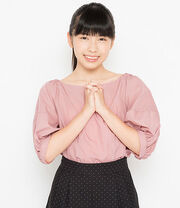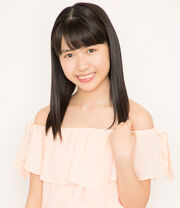 Early Life
[
]
Tamenaga Shion was born on February 9, 2004 in Nagano, Japan.
2015-2016
[
]
In April 2015, Tamenaga joined the idol group Beem Idol School[2], and graduated from the group on November 22, 2015.[3]
In September 2015, Tamenaga made her acting debut in the Suguru Hi no Yamaneko film, portraying the childhood version of Tokiko.
On December 24, 2015 she joined the duo idol group ☆ARION☆, and stayed in the group until its disbandment on December 31, 2016. While in ☆ARION☆, she also began pursuing solo activities under the name OTO♡.
In 2016, Tamenaga participated in Morning Musume '16 Shinseiki Audition, but failed to pass the third round.
2017
[
]
On October 31, she ceased activities as OTO♡.[4]
Over the summer, Tamenaga participated in the Hello! Project Shin Member Audition for a chance to join Hello! Project in commemoration of its 20th anniversary, and made it to the finals alongside seven others before it was ultimately decided that no one would pass the audition.[5]
Following the audition, Tamenaga accepted an invitation to join Hello Pro Kenshuusei.[6] She was introduced alongside six other finalists at the Hello! Project Kenshuusei Happyoukai 2017 12gatsu ~Conti→New!~ show on December 10.[7]
2018
[
]
On April 4, she participated in a fanclub event titled Hello Pro Kenshuusei Special Event in Nagoya ~Hajimemashite! 3~ at Midland Square Cinema 2 alongside Yonemura Kirara, Hashisako Rin and Shutto Anna.
2019
[
]
Tamenaga participated in the opening act and challenge act for the Morning Musume '19 Concert Tour Haru ~BEST WISHES!~.
2020
[
]
On July 26, Tamenaga won the judge's dance award at the Hello! Project Kenshuusei Happyoukai 2020 ~Natsu no Koukai Jitsuryoku Shindan Test~ event for her performance of "Daite yo! PLEASE GO ON".[8]
On November 2, it was announced on ANGERME's YouTube Channel that Tamenaga had joined ANGERME as a 9th generation member, alongside Matsumoto Wakana and Kawana Rin. She and the rest of the 9th generation started performing with the group on December 9, at the ANGERME Concert 2020 ~Kishotenketsu~ Funaki Musubu Sotsugyou Special concert. [9]
2022
[
]
On Febraury 9, she celebrated her 18th birthday at a fanclub event titled ANGERME Tamenaga Shion Birthday Event 2022 with two shows at LANDMARK HALL.[10] In compliance with government policy, cheering, crowding, standing, and closeness in the venue were prohibited, and wearing masks were required to enter.
Personal Life
[
]
When Tamenaga joined ANGERME, she was in the second year of high school. On March 6, 2022, Tamenaga announced that she graduated from high school.[11]
Here is a list of nicknames that was used to refer to Tamenaga Shion:
Tame-chan (ためちゃん): Used prior to joining Hello Pro Kenshuusei and used by ANGERME members.
Tame (ため): One of her nicknames as a Hello Pro Kenshuusei member.[1]
Shionnu (しおんぬ or シオンヌ): One of her nicknames as a Hello Pro Kenshuusei member.[1] Given to her by Hashisako Rin.[12]
Shion-chan (しおんちゃん): One of her nicknames as a Hello Pro Kenshuusei member.[1]
Profile
[
]
Name: Tamenaga Shion (為永幸音)
Former Stage Name: OTO♡
Nicknames: Tamechan (ためちゃん), Shion-chan (しおんちゃん), Shionnu (しおんぬ), Tame (ため)
Birthdate: February 9, 2004[13]
Blood Type: O
Western Zodiac: Aquarius
Eastern Zodiac: Monkey
Hello! Project Status:
UP-FRONT PROMOTION Status:
ANGERME Member Color:

Pink

Hello! Project Groups:
Other Groups:

Beem Idol School (2015)
☆ARION☆ (2015-2016)
Works
[
]
TV Programs
[
]
Internet
[
]
Movies
[
]
[2015] Suguru Hi no Yamaneko
Music Videos
[
]
Trivia
[
]
She knows some tate (殺陣; a type of sword-based stage combat).
She and her grandfather are learning how to play the drums, and they practice on their home drum-set. 
She gives her grandfather drum lessons, and he jokes that his teacher (Shion) is scary.
She was an extra in Little Glee Monster's "Jinsei wa Ichidokiri" music video, as the girl wearing a blue shirt and red backpack.
She can't make up her mind on what to eat from the menu at a restaurant.
She loves cooking her own healthy meals like konnyaku and cream omurice.[15]
She is the first of the Hello Pro Kenshuusei 28th generation to debut in Hello! Project.
She loves black tea, and often buys black tea flavored sweets whenever she sees them.
Her favorite types of sweets are tea-based.
She wants to contribute to ANGERME and become a leader of the group.
She wants to be in charge of the dance club.
References
[
]
External Links
[
]
Hello Pro Kenshuusei
Members
Current Members
Former Members
Concerts & Events

Shinjin Kouen Concerts
Happyoukai Concerts

2011
2012
2013
2014
2015
2016
2017
2018
2019
2020
2021
2022
Test Events

Other
Units & Other Acts
Sub-Units & Groups
Debuted Acts
Associated Acts
Related Acts