Taiyou to Ciscomoon (太陽とシスコムーン) was a Japanese girl band under Hello! Project that debuted in April 1999. They changed their name to T&C Bomber (T&Cボンバー) after the release of their sixth single, and released two more singles and an album under this name.
The group disbanded on the final date of their DO-DA! Taiyo & Ciscomoon vs T&C Bomber cocnert tour in Osaka on October 9, 2000, but re-united as Taiyou to Ciscomoon for their 10th anniversary releasing a best-of album as well as holding several concerts. They also get together on occasions for events, or for participating in Hello! Project concerts. They also held a 20th anniversary concert in 2019, which was released on DVD and BLU-RAY..
Members
[
]
Shinoda Miho信田美帆

Shinopii

May 18, 1972

Tokyo

Blood Type A

Taiyou to Ciscomoon

Joined 1999

}
Inaba Atsuko
稲葉
貴子
Acchan
Mar. 13, 1974
Osaka
Blood Type A
Taiyou to Ciscomoon
Joined 1999
Honda Ruru
本田
ルル
RuRu
Mar. 18, 1976
Liaoning|Liaoning]],
Blood Type O
Taiyou to Ciscomoon
Joined 1999
Kominato Miwa
小湊
美和
Komi
Feb. 15, 1977
Fukushima
Blood Type B
Taiyou to Ciscomoon
Joined 1999
History
[
]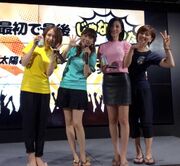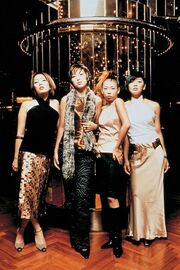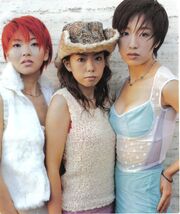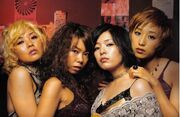 1998
[
]
On November 22, 1998, Tsunku announced on the TV show ASAYAN his idea for a new girl group. The audition, titled Tsunku Producer Geinoujin Atarashii Unit Audition, received a total of 500 applications. 8 candidates were selected as the finalists, with Inaba Atsuko, Kominato Miwa, Shinoda Miho, and RuRu passing the audition.
1999
[
]
On February 21, 1999, the winners appeared on stage in the ASAYAN studio with the hosts. Here, Tsunku pointed out each member's weakness and said they were going to go back to the US for private lessons. He said Kominato needed to practice her dancing skills, RuRu her rhythm, and Inaba and Shinoda their singing. He also suggested names for the unit; Guts 1.2.3, Cisco3, Adult Queens, Morning Ookami (Morning Wolves), Moonlight Zoku (Moonlight Tribe), Taiyou to Moonlight Musume, Taiyou to Morning Ookami. He eventually chose the name Taiyou to Ciscomoon.
For three weeks, from February to March, ASAYAN covered the members' journeys. They were sent to four different cities: Inaba was sent to Atlanta (famous for gospel and soul), Kominato to Detroit (famous for Motown), Shinoda to Memphis (famous for southern blues music), and Honda to Chicago (famous for blues and rhythm). They spent three weeks improving themselves, with the final task being singing live. Kominato sang "A Deeper Love" and "Sotoyamabushi" (since her coach also wanted her to sing a minyo song) at Bakers Keyboard Lounge, RuRu sang "Hot Stuff" at a Chicago club, Shinoda sang at a service in a curch, and Inaba sang in the apartment for the people she had worked with.
From April 3 to April 17, they held their debut event in six different cities: on April 3 in Osaka, on April 6 in Takamatsu, on April 10 in Hiroshima, on April 14 in Yokohama, on April 16 in Kanazawa, and on April 17 in Nagoya.
On April 10, ASAYAN aired footage of Taiyou to Ciscomoon attending Morning Musume's concert in Fukuoka. It was announced that if Taiyou to Ciscomoon's debut single placed lower than Morning Musume's debut single (which placed #6), there was no point in continuing producing this group. They visited Morning Musume back stage after the concert, told them the news, and Morning Musume encouraged them to do their best.
On April 21, they released their debut single, "Tsuki to Taiyou".
On May 2, ASAYAN showed footage of Taiyou to Ciscomoon placed in a room wathcing the Oricon countdown from 30th place. They were surprised when MISIA's "Believe" placed #23, meaning their single placed higher. When they saw Tube's "Himawari" placed #7, they started crying, and didn't stop until they saw their single placed #4 when they started cheering.
On May 9, ASAYAN aired an episode where Tsunku announced the group was going on a single release spree, releasing four singles on the fly; one in June, one in July, one in August, and one in September. The next singles to be released was "Gatamekira", "Uchuu de La Ta Ta", "Everyday Everywhere" and "Magic of Love", followed by their debut album Taiyo & Ciscomoon 1 in October.
As annual school festival season was approaching, which would provide musicians with opportunities for small gigs, everything seemed to be going smoothly. However, there was one incident that changed the unit. They were told the restructuring plan to improve the quality of the unit. In order to become better performers with consistency and high skills, the agency asked Tsunku to reconsider the unit's dynamics. After examining videos from various school festivals, Tsunku made a decision to let go of Kominato. The decision would become in effect for the release of their next single.
On December 8, Taiyou to Ciscomoon released their sixth single, "Marui Taiyou -winter ver.-" as a trio, forcing Kominato on the sideline for all of Taiyou to Cicsomoon's activities during this period,[1] until she returned on January 3, 2000.
Kominato later said, in 2021, she was hospitalized due to stress of being temporarily withdrawn from the group (abdominal pain). [2]
2000
[
]
When Kominato Miwa returned to to the group, the group's name changed to "T&C Bomber".
On April 19, they releaesed their "DON'T STOP Ren'aichuu", their first single under the unit's new name.
In July 19, they released what would be their last single: "HEY! Mahiru no Shinkirou. The song was described by Tsunku as oriental funk, and had a new sound to it, similar to Heike Michiyo's "Murasaki Shikibu". It was featured in the movie Country Girl Hokkaido Bokujou Monogatari, in which T&C Bomber made a guest appearance.
On August 27, during ASAYAN, they released the news of the unit's upcoming disbandment in October[3]. The reason was so that each artist could focus on solo activities.
On August 29, T&C Bomber participated in the Yunotsu LOVE² Oosawagi Hello! Project 2000 event.
On August 30, T&C Bomber released the CONCERT TOUR 2000 YO! YO! Taiyo-La! Muunsan no Dance Tengoku on DVD and VHS. They had been on one tour before (Gatameki-live), but this was their first concert to be recorded and released on video. It reached #27 on the Oricon charts and charted for one week.
On September 27, the group released their second album, 2nd STAGE. This was followed by a farewell concert tour, DO-DA! Taiyo & Ciscomoon vs T&C Bomber, which began in October.[4] It was never released on VHS or DVD, but segments of the concert was shown on an episode of ASAYAN aired October 15, 2000. The episode also showed rehearsals, interviews with the members and footage from behind the scenes.
On December 12, a video collection on VHS and DVD, titled All Taiyou to Ciscomoon / T&C Bomber.  
Shortly after the disbandment of the group, RuRu, Kominato, and Shinoda left the agency. Kominato had been asked to debut as a solo enka/minyo singer, but she chose to stay away from the major spotlight. Inaba however, stayed with the agency, and a new audition was announced, called Inaba Atsuko Shin Unit Audition. This ran from December 2000 up until May 2001, but the audition was unsuccessful and a new unit featuring Inaba was shelved.[5]
2008
[
]
It was first hinted in October 2008 through Kominato Miwa's offical blog a conversation she had had with RuRu that the group wanted to get together again.[1] [2]
On November 19, Kominato wrote a blog post about the release of their best of album on December 10, 2008.[3] Kominato later said in an interview in April 2009, that they were already thinking they should get back together even before the release of the best of album.[4]
On November 26, Kominato posted on her blog a link to a special site saying that Taiyou to Ciscomoon would reunite holding two reunion concerts in the fall of 2009.[5] [6] It also said Taiyou to Ciscomoon would open a limited blog at Oricon.co.jp.[7]
On December 10, eight years after disbanding, the group came back together as Taiyou to Ciscomoon in order to celebrate their ten year anniversary and the release of their best album Taiyo to Ciscomoon / T&C Bomber Mega Best.
2009
[
]
On January 9, Taiyou to Ciscomoon held an in-store event at HMV Shibuya, and stood in front of your fans for the first time in eight years. The only member to not attend was RuRu, as she had commitment to working as a vocal couch in Taiwan.
On January 19, they were guests at Melon Kinenbi's "Melon Greeting vol. 8" at Shibuya O-east.
In March, the group called for fans to sign a petition for a 10th anniversary live performance. In 2 months, the petition received more than 2,200 signatures.
On April 25, Taiyou to Ciscomoon held a live talk at Shinjuku Loft Plus One. At the live talk it was announced they would hold two concerts in October. RuRu did not take part in the performance due to scheduling conflicts.
On July 4, the group was guests on Young Town Saturday instead of Takahashi Ai and Michishige Sayumi who won't appear due to AX '09. They were also guests on the same radio show on September 5.
In September and October two concerts were held in Osaka and Tokyo, called "Are Kara 10nen Taiyou to Ciscomoon LIVE 2009 Last&NewDecade".
2010
[
]
The reunion and farewell concert held in 2009, Are Kara 10nen Taiyou to Ciscomoon LIVE 2009 Last&NewDecade, was released in January as a fanclub release, and concluded Taiyou to Ciscomoon as a group.[6]
2013
[
]
On December 31, Taiyou to Ciscomoon, without RuRu, participated in the Hello! Project COUNTDOWN PARTY 2013 ~GOOD BYE & HELLO!~.
2015
[
]
On July 19, 2015, all four members of Taiyou to Ciscomoon got together for a special talk and live event for one night only,[7] titled Saisho de Saigo Janakatta! Taiyou to Ciscomoon Talk Live ~Yappari 4nin de~[8] [9]
2018
[
]
In 2018, for Hello! Project's 20th anniversary, Taiyou to Ciscomoon (once again without RuRu) performed in the Hello! Project 20th Anniversary!! Hello! Project Hina Fes 2018 and Hello! Project 20th Anniversary!! Hello! Project 2018 SUMMER concerts.
At the end of the year, it was also announced that the group would be part of the 2019 concert Hello! Project 20th Anniversary!! Hello! Project 2019 WINTER.
2019
[
]
In March, Kominato announced on her Twitter that the group would get together for their 20th anniversary.[10] It would be a live talk event held at Dai Ani LIVEBASE Nishiazabu on April 21, titled Debut Kinenbi Yes! Shiawase Issho ni Iwatte Kuremasu ka?.[11]
At the live talk, it was announced that Taiyou to Ciscomoon would hold a concert with a live band at COTTON CLUB on July 28, 2019. This was also confirmed by Kominato on Twitter on May 17.[12] On June 12, tickets went on sale and the name of the live concert was revealed to be Last & Νew Decade 2.[13]
In December, the live concert was released on DVD and BLU-RAY.
2020
[
]
On February 19, they appeared as guests at choreographer YOSHIKO's event YOSHIKO-sensei Hello Pro Furitsuke 20shuunen Kinen team445 Dummy Fes. ~"Kiiroi Osora de BOOM BOOM BOOM" kara 20nen☆Furitsuke Zen 494 Kyoku kara Episode Digest~ at Zepp DiverCity in Tokyo.[14][15]
On November 21, Kominato, Shinoda and Inaba did an instalive at Kominato's official instagram.[16]
On December 31, Taiyou to Ciscomoon (without RuRU) were guest at YOSHIKO's YouTube Live airing on New Year's Eve.[17]
Discography
[
]
Main article: Taiyou to Ciscomoon/Discography
Works
[
]
Movies
[
]
TV Programs
[
]
Radio
[
]
[1999.04-2000.09] Young Town (Regulars)
Magazines
[
]
[1999.xx] SPA! (Front Cover)
[1999.05] The Ichiban
[1999.05] Zappy
[1999.07] Zappy (Front Cover)
[1999.10] FLASH
[1999.11] CD DATA
|[1999] Chakumelo Magazine Do-remi Vol. 3 (Front cover)
Trivia
[
]
The group got their name from combining the names of the two groups they were split into during their audition process (San Fran and Cisco Moon).
When the group was formed they got the name 太陽とシスコムーン. It means Sun and Ciscomoon, and has been romanized officially in different ways: TAIYO&CISCOMOON, SUN&CISCOMOON, Taiyou to Ciscomoon, Taiyo & Ciscomoon, and Taiyou to Ciscomoon.
Taiyou to Ciscomoon was known as a unique group because of the style of their music. Their songs were either dance songs full of rhythm or jazz/soul inspired songs full of heavy vocals.
They were also unique in how they were trained: They were each sent to four different U.S. cities, famous for their unique styles of music and singers they have produced, to work on their vocals and dance.
All the girls in the group were credited as having their own unique talent; with KOminato as an experienced minyo singer, Inaba a former tidol, RuRu with a sickening singing voice, and SHinoda as a former olympic gymnast.
Japanese pop-singer aiko revealed that she took part in the Taiyou to Ciscomoon auditions.[18]
In a 2009 interview they were asked why Taiyo & Ciscomoon became "T&C Bomber", the three replied, "We don't know".[19]
21 years after the single release, the song Everyday Everywhere was included on Petit Best 20 2020 along with a live performance from Hello! Project 2008 Winter ~Wonderful Hearts Nenjuu Mukyuu~.
References
[
]
External links
[
]
Taiyou to Ciscomoon / T&C Bomber
Units & Other Acts
Associated Acts