Suzuki Airi 1st LIVE ~Do me a favor @ Nippon Budokan~

Suzuki Airi promoting the concert

Suzuki Airi

Concert Tour
Native title
鈴木愛理 1st LIVE ~Do me a favor @ 日本武道館~
Event Date
July 9, 2018

Suzuki Airi

Concert Tours Chronology
Concurrent
AIRI SUZUKI acoustic live #DMAF 2018 Acoustic Live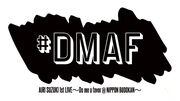 Suzuki Airi 1st LIVE ~Do me a favor @ Nippon Budokan~ (鈴木愛理 1st LIVE ~Do me a favor @ 日本武道館~) was the final part of Suzuki Airi's first solo live, which took place at Nippon Budokan. It was held on July 9, 2018.
The concert was broadcasted live on BS SKY PerfecTV!.[1]
The DVD and Blu-ray were released on October 31, 2018. Both editions include audio commentary by Suzuki and chorus singer Ami.[2] The Blu-ray includes a live photobooklet, bonus footage, and two live CDs.
VTR
Dance Interlude ~ Back-up Dancer Introductions
MC
VTR
VTR
No Live, No Life
MC
start again
Encore
MC
MC
DVD/Blu-ray Tracklist
Edit
Suzuki Airi 1st LIVE ~Do me a favor @ Nippon Budokan~

Blu-ray Cover
DVD and Blu-ray by

Suzuki Airi

Native title
鈴木愛理 1st LIVE ~Do me a favor @ 日本武道館~
Released
October 31, 2018
Format
DVD, BD+2CD
Recorded
July 9, 2018
Label
zetima
Other Covers

DVD Cover
OPENING
VTR
DANCE TRACK
MC
VTR
Watashi no Migigawa
VTR
No Live, No Life
MC
#DMAF【ENCORE】
MC【ENCORE】
Tsuugaku Vector☂【ENCORE】
Yes! all my family【ENCORE】
MC
Watashi no Soba de【ENCORE】
Blu-ray Bonus Footage
Suzuki Airi 1st LIVE ~Do me a favor @ Nippon Budokan~ document
Blu-ray Bonus Live CDs
Featured Members
Edit
Backing Band[3]
Miyamoto Masayuki (bandmaster, bass)
Kato Satoshi (drums)
Ihira Tomoki (guitar)
Nishino Emi (keyboard)
Ami (chorus)
Back Dancers
Concert Schedule
Edit
| | | | | |
| --- | --- | --- | --- | --- |
| Date | Venue | Prefecture | Doors Open | Concert Starts |
| 7/9 | Nippon Budokan | Tokyo | 17:30 | 18:30 |
General tickets sold out immediately after they went on sale on May 27, 2018.[10]
The banner that was put up at the venue entrance on the morning of the concert misspelled "Budokan" as "Dudokan".[11] It was replaced a few hours later with the correct spelling.[12]

The cover of the DVD and Blu-ray pokes fun at this by making the "B" crooked with the corners unstuck to look like it is improperly covering up a mistake. The back cover is also a mirrored image of the banner with the incorrect spelling.[13]

Suzuki's 2018 fall tour was announced at the end of the concert.
Former ℃-ute members Yajima Maimi, Nakajima Saki, Okai Chisato, and Hagiwara Mai,[14] Shimizu Saki, Takahashi Ai, Michishige Sayumi, Hello! Project acts Morning Musume '18 (except Nonaka Miki), ANGERME, Juice=Juice, Country Girls's Yamaki Risa and Kobushi Factory, and UP-FRONT CREATE acts PINK CRES., Bitter & Sweet, Up Up Girls (Kari), Ciao Bella Cinquetti and Kikkawa Yuu,[15] Shonan no Kaze's SHOCK-EYE,[16] Akai Ko-en's Tsuno Maisa,[17] SCANDAL,[18] and SILENT SIREN's Kurosaka Yukako[19] attended the concert.
There are four different QR codes on the Nippon Budokan banner that led/leads to four different YouTube videos depending on where the code is found:
On April 21, 2020, the full concert was livestreamed through YouTube to make up for the Suzuki Airi LIVE 2020 Airing the Bell @ YOKOHAMA ARENA being cancelled. It was made available for playback afterwards.[27]
References
Edit
External Links
Edit
Community content is available under
CC-BY-SA
unless otherwise noted.