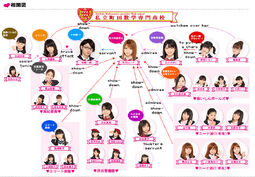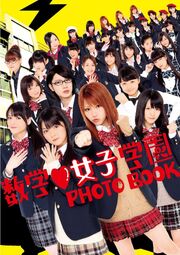 Suugaku♥Joshi Gakuen (数学♥女子学園; Mathematics♥Girl's High School) was a Japanese TV drama starring the full Hello! Project cast. The drama also featured Sakurada Dori, and former Hello! Project members Iida Kaori, Yasuda Kei, Ishikawa Rika, Kikkawa Yuu and Saho Akari.
It aired from January 11 until March 28 in 2012 and had a rating of 1.65%.
A photobook for the drama was released on March 21, 2012.
Story
[
]
The story, developed with the cooperation of the International Mathematical Olympiad in Japan, set at a specialized math school, where Michishige and Tanaka both take on the roles of "suugaku joshi" ("math girls").
Naturally, the show would incorporate various mathematical functions and formulas into the story and dialogue.
Plot
[
]
A few months ago, the Mathematics genius girl Machida Nina moved to "Machida Math Girl School" from the public school in the Fukuoka Prefecture. Nina has to find her elder sister Machida Kiina, who vanished from this school one year ago. Nina decided to get the title of "Suugaku Banchou" (leader of math), in order to get the key to finding her sister.
Tachikawa Sayuri is Nina's classmate. She is aiming to beat and win against Nina in the mathematic battle. She believes hold her own.
Some time later, Sato Kazuki (Sakurada Dori), a hater of math, is transferred to a new school. On the first day of his new school, he walks to school and spots a pretty girl named Machida Nina (Tanaka Reina). At school, his homeroom teacher takes him to a classroom. On the chalkboard is mathematical formulas. He is surprised. His homeroom teacher tells him that his new school specializes in mathematics. Sato Kazuki is stunned.
On the other hand, Sato Kazuki is happy to see many pretty girls in his new classroom. When he sits in his seat, he sees a girl climb through the window and into the classroom. The girl sits next to Sato Kazuki. The girl turns out to be Machida Nina, whom Kazuki spotted on his way to school.
During break, Machida Nina takes Kazuki School to the school cafeteria and tells him to buy bread whenever she asks. At this moment, Tachikawa Sayuri (Michishige Sayumi) and her two friends, who do not like Machida Nina, scheme to get Sato Kazuki and Machida Nina expelled from school.
Sato Kazuki walks around the school and sees a bunch of girls recite mathematical figures. He wonders to himself what they are doing. A girl then comes close to him and tells him that they are practicing to become the math president. Meanwhile, Machida Nina sits on a bench and a teacher sits next to her. Machida Nina tells her that she misses her older sister a lot. Her older sister went missing, right after she became the math president. Now, Machida Nina wants to become the math president in order to find out what happened to her sister.
Cast
[
]
Mobile Game
[
]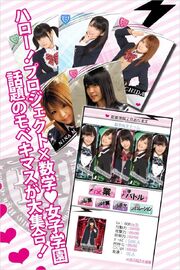 On February 10, 2012, it was announced that a mobile card game was being developed by ForGroove that would tie into the Suugaku Joshi Gakuen drama.[1] The game worked like a deck-builder card battle game, where cards featuring drama characters could be acquired by a gacha system and then trained to battle against other players. It was advertised as featuring Hello! Project Mobekimasu. Early registration was accepted throughout February prior to the game's release on February 29. It was only available to subscribers of the GREE service.[2]
Trivia
[
]
Gallery
[
]
External Links
[
]