Suma Ai (須磨 愛) is a member of the group
SI☆NA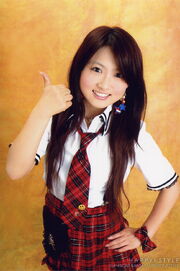 Profile
Name: Suma Ai (須磨 愛) Nickname: ai Birthdate: April 15, 1992 (age 19) Birth Place: Osaka, Japan Blood Type: A Height: 154cm Hobbies: Hair, nail coordination, clothing Specialty: Speed bike saddle Favorite Food: Umeboshi, green tea, potatoes, vegetables, liver, tuna, sea urchin Hello! Project Groups:
Biography
A member of SI☆NA, she auditioned in the Morning Musume 2005 audition, but lost to Kusumi Koharu in the final cut.
Trivia
Her motto is "Always be polite, good rhythm, good energy".
She thinks her charm points are her left tooth and her nails.
Works
Television
[2009.04.02-] Ahoyanen! Sukiyanen! (as part of "7's Style")