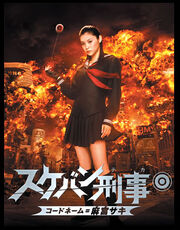 Sukeban Deka: Codename = Asamiya Saki (スケバン刑事 コードネーム=麻宮サキ; Delinquent Girl Detective: Codename = Saki Asamiya) is a 2006 Japanese live action film by Kenta Fukasaku. The movie closely follows the manga series which was written and illustrated by Shinji Wada. Being a sequel to Sukeban Deka II, it is the third film in the franchise.
Yo-Yo Girl Cop stars Matsuura Aya with the lead role as Asamiya Saki, and Ishikawa Rika cast as her rival, Akiyama Reika. Saito Yuki, who played the role of Saki in the first live action TV series, stars as Saki's mother. The movie was released on September 30, 2006 in Japan and in the United States on July 17, 2007 by Magnolia Pictures as Yo-Yo Girl Cop.
Matsuura Aya as Saki Asamiya (麻宮 サキ, Asamiya Saki)
V-u-den
Yuki Saito as Saki's Mother
Hiroyuki Nagato as Keishi Kurayami (暗闇警視, Kurayami Keishi)
Shunsuke Kubozuka as Jiro Kimura (騎村 時郎, Kimura Jirō)
Riki Takeuchi as Kazutoshi Kira (吉良 和俊, Kira Kazutoshi)
Masai Ōtani, another Hello! Project member makes a cameo appearance in the film.
Tak Sakaguchi as a member of the Enola Gay gang
The movie's theme song "Thanks!" is by the Hello! Project group GAM, consisting of Matsuura Aya and Fujimoto Miki. The song "Shinkirou Romance", also by GAM, was used an insert song.
U.K. Release
Edit
Yo-Yo Girl Cop was licensed for U.K. release by 4Digital Asia, a sublabel of 4Digital Media, formerly Ilc Entertainment. The new sub-label was launched in 2008 to fill the gap in the U.K. for "Asia Extreme" titles created by the demise of label Tartan. It was released on DVD on September 22.
Miscellaneous
Edit
This movie was parodied in the softcore V-Cinema release, Yo-Yo Sexy Girl Cop (スケパン刑事 バージンネーム=諸見栄サキ ,Sukepan Deka: Baajinnēmu = Moromie Saki, literally "See-Through Panties Detective: Virgin Name = Saki Moromie"), directed by Daigo Udagawa and starring AV Idol Mihiro. In addition to its similar name, the cover artwork was almost a reproduction of that for Yo-Yo Girl Cop. The DVD was released in Japan in November 2006 and in the US with English subtitles in November 2008.
Community content is available under
CC-BY-SA
unless otherwise noted.