Suenaga Mami (末永真己), sometimes credited as Suenaga Mami (末永真路) or Suenaga Mami (末永茉己), is currently a Japanese singer-songwriter under the stage name Rin (凛). She started her career as a model, and joined the Hello! Project group Sheki-Dol in 2001. 
Biography
Edit
Early Life
Edit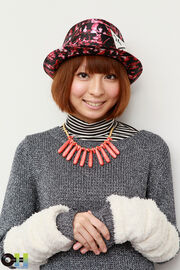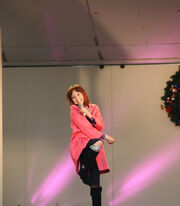 Suenaga Mami started out as a model at the age of two. She did local commercials and was a poster girl for banks, but quit in late middle school because of bullying.
In March, she passed an audition held by Sony Music called "Sony Music Audition – Rookie Development of Sony Music, Section Sound Development"[1] and joined Hello! Project as a new member of Sheki-Dol. 
As a member of Sheki-dol, she paricipated in the group's radio show and a column in a music magazine, released singles, and toured with Hello! Project.
In December, it was announced that Suenaga needed medical attention, and for a short while Sheki-Dol continued as a duo, but the group was officially disbanded just a month afterwards.
2006-2008
Edit
After the disbanding of Sheki-Dol and her retirement, Suenaga was away from the spotlight for a while. Later on, she started working as a freelance artist, chorus singer and songwriter. She did some chorus for Tamaki Nami and she wrote lyrics and music for Sister Q. The producer of smile company gave her the name "rin" and she started her music acitivities under that name in 2006.
On September 12, 2007, she released a mini-album, Rin Toshite....Prior to its release, it was made available as a digest sound source where it exceeded 60,000 downloads.
Her debut live was at BOXX in Tokyo, where she played for a full house; this was the beginning of extensive promotion where she started touring shopping malls and record stores and participated at different events. She still does these events to promote her music.
In 2008, she wrote a blog post about her feelings the time she had to leave Sheki-Dol, causing its disbandenment:
2008/09/03
Eventually, my body couldn't bear the pressure anymore (though I can't write what that is about here)
and on doctor's orders I had to stop.
That month was when we had our major debut.
I don't mean to put up excuses for myself,
but I really think I did my best.
I did what I was told, worked as hard as I could,
I had nervous breakdowns…
And yet I kept being scolded and put down
In early 2010, it was revealed on Suenaga's blog that she was working on a marriage song. In late May, the song was announced as LOVE, and it was made available for streaming online, and in early June it was made available for digital download through websites such as iTunes Japan.
In September, a special website was made by her music producer to promote two of her songs, "Hallelujah" and LOVE. The producer stated on the site that he would like those two songs to be played in as many weddings as possible and hopefully boosting her popularity. The website offered the songs for free use at weddings in return for a wedding photo and spreading the word by blogging about the songs.
That same year, Suenaga also announced she was working on releasing a new album, and was hosting a radio show called Rin no RADIO-Rin-RADIO.
During the summer of 2011, four digital singles were released only a few months apart.
On November 23, she released her first major debut single, TRUTH / Tsubasa no Yukue. "TRUTH" was used as the opening theme for B-Daman Crossfire, while "Tsubasa no Yukue" was used as the ending theme.
On May 9, she released her second major single, Jounetsuism. The title track was used as the ending theme to the TV anime Card Fight! Vanguard Asia Circuit. After the release of this single, she would work as a lyricist for other artists, video games, or anime, most notably writing and singing the theme song to the game CR Sengoku Musou. She also designed a set of emoticons for cell phones.
Name: Suenaga Mami (末永真己)
Stage name: Rin (凛)
Birthdate: October 23, 1980
Birthplace: Sendai, Miyagi, Japan
Blood type: O
Height: 153 cm
Western Zodiac: Libra
Eastern Zodiac: Monkey
Hello! Project Groups:
Discography
Edit
[2014.09.08] Kokou no Akashi (孤高の証; Proof of Isolation)
[2014.10.06] Beni no Hana (紅の華; Crimson Red Flower)
Work as a songwriter/chorus singer
Edit
[2005.08.10] Sister Q - Step One (lyrics)
[2006.03.08] SIster Q - Working Girl (Lyrics for the C/W "Furifuri" Lady)
[2009.10.21] V.A. - haruka naru jikuu no naka de 4 -mizuho no Kuni (遙かなる時空の中で4 ~瑞穂の国~) (lyrics for Towa no Uta and Retsu ~Kiritaku Mirai~.)
[2010.03.24] V.A - haruka naru jikuu no naka de 3 ~owarinaki unmei~ BOOKARU-shuu wakare no sakuradzuki (遙かなる時空の中で3〜終わりなき運命〜ヴォーカル集 永訣の桜月) (lyrics for Kirameki no Tsuki)
[2010.11.24] Kakihara Tetsuya - Still On Journey (lyrics for thank you & smile)
[2011.05.25] shin. sangokumusou 6 oha – kyoka ranbu (真・三國無双6王覇・響歌乱舞) (lyrics for KING OF DESTROYER)
[2012.03.07] CONNECT - juusensha MEN (重戦車MEN) (lyrics for Amai ze!)
[2014.10.29] Fujisawa Norimasa - Sogno ~Yume~ (Sogno~夢) (lyrics for 1 Senchi no Koigokoro)
[2005.05.11] Tamaki Nami - Make Progress (chorus for the song Daybreak)
[2006.07.12] Tamaki Nami - Speciality (chorus for the songs IDentity and No Way Back)
[2008.04.23] Tamaki Nami - Don't Stay (chorus for the song Eden)
[2010.07.21] V.A. - kiniro no KORUDA 3 SS (SUKUURUSHIRIIZU) IV -Amane Gakuen (金色のコルダ3 SS(スクールシリーズ) IV ~天音学園~) (chorus for the song Laboratory Love)
[2011.06.15] Mizca - Rafiora (らふぃおら) (chorus for Rafiora)
[2011.12.07] PASSPO - CHECK-IN (backing vocals for Material Girl and Kiss = Suki)
[2014.01.29] V.A. - shin. sangokumusou 7 KARAKUTAASHONGU shuu V – yuubu no shou (真・三國無双7 キャラクターソング集V~勇武の章~) (chorus for I)
[2014.05.28] kin-iro KORUDA Blue♪Sky OST (金色のコルダ Blue♪Sky オリジナル・サウンドトラック) (chorus for WINGS TO FLY)
Discography Featured In In
Edit
References
Edit
External Links
Edit
Community content is available under
CC-BY-SA
unless otherwise noted.