Not to be confused with Takahashi Ai's solo digital photobook Sotsugyou.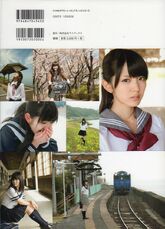 Sotsugyou (卒業; Graduation) is Suzuki Airi's ninth solo photobook. It was released on March 31, 2013 by Wani Books.
Photobook Description
Edit
A compilation of photobooks from Suzuki Airi, it contains photos from her previous photobooks, Kono Kaze ga Suki, OASIS, Meguru Haru, and Toukobi, plus unreleased ones and new ones taken in Hokkaido and Tokyo. The photobook also has a short making of DVD containing footage of her past shots from her previous photobooks, as well as footage of the 2013 shots.
Photobook Preview
Edit
Release Event
Edit
Photobook Ranking
| Week Rank | Sales |
| --- | --- |
| ? | 1,029 |
| 4 |  710 |
Total Reported Sales: 1,739*
The photos contained in the photobook have been selected out of 10,000 photos.
The photobook consists of nearly 200 pages.
It is a compilation of her life as a high school student, and it is also a goodbye to her High School days.
Two release events were held for the photobook. The first event was held at Bunkyodo Bookstore and the second at Hoshino Bookstore.
To celebrate the fact that she's heading off to university, Airi showed up wearing a high school uniform for the last time at her release events for the photobook.
External Links
Edit