Sato Yoshiko[1] (spelling unknown), professionally known as YOSHIKO, is a Japanese choreographer and dancer. She currently works for Hello! Project, which she is mainly in charge of Morning Musume, ANGERME, Juice=Juice, Kobushi Factory, and Tsubaki Factory's choreography. She has also taught dances for cover group Team Okai.[2] Before becoming a choreographer, she was a dancer in the 1990s unit HIM under the name YOCCO.
The first Hello! Project song she choreographed was "Kiiroi Osora de BOOM BOOM BOOM" by Kiiro 5,[3] while the first concert she was in charge of choreographing was for Matsuura Aya.[4] In the early 2000s, YOSHIKO also worked a back-up dancer for Matsuura and Goto Maki.
Biography
[
]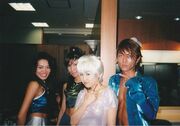 YOSHIKO was born as Sato Yoshiko[1] on October 11, 1969 in Hiroshima, Japan.
She started learning baton twirling when she was four, but quit after she entered middle school. When she was in high school, her mother did aerobics and she was invited to take jazz dance classes at the same place. She enjoyed it and decided to go to a professional dance school in Tokyo[5] after she graduated from Hiroshima Kenritsu Fuchu High School[6] At the dance school, she studied ballet, modern dance, and jazz and also took tap dance and aerobics as electives.[5]
After two years of learning the foundations of dancing, she told her parents she did not want to return home and wanted to stay in Tokyo, to which they replied, "It's okay as long as you find a decent job." She passed an audition at a theme park for a job as a disco show dancer, but only did one show before getting fired and blacklisted. She continued working as a show dancer at another company for two years. While she worked at night, she went to contests during the day, where she met street dancers who told her about work a back-up dancer.[5]
In 1988, when she was barely 20 years old, she got her first job as dance choreographer when an unnamed girl, who was an idol at the same company she was a show dancer, asked YOSHIKO to work for her when she made her debut. YOSHIKO went with the idol when she performed on the now-discontinued music show All Night Fuji.[5]
From 1995 to 1997, she was a dancer in the unit HIM, which she had used the performing name YOCCO. The unit name was an acronym for Hiromasa Ijichi Melodies, referring to their songwriter Ijichi Hiromasa who afterwards wrote music for SPEED. She was initially a back-up dancer in the music video for their debut single "BECAUSE OF LOVE" and did not participate in their second single. She eventually became an official member, alongside another dancer named NON, with the third single "AQUARIUS" released on November 22, 1995.[7] The unit was led by vocalists SHIZUKA (real name Nakajima Shizuka) and SHUNGO (real name Makihashi Shungo).[8] SHUNGO, who began using the stylized name shungo. in the early 2000s when he became the vocalist of the R&B unit Sin (the same unit that U.M.E.D.Y. was a former MC for), became a music producer and has written most of w-inds.'s music, as well as the Japanese lyrics to DA PUMP's 2018 hit song "U.S.A.".[9][10] He and YOSHIKO have remained good friends.[11]
The first concert YOSHIKO choreographed was for Matsuura Aya. During the performance of "LOVE Namida Iro", she noticed that fans would copy the arm and hand dance movements, which led her to make more choreography that fans could imitate at lives.[4]
Morning Musume's "formation dance", which began with "Ren'ai Hunter", was created after she received directions from Tsunku to no longer make dance patterns that only highlighted whoever was singing. She got the idea for formation dance when she saw a university synchronized walking competition on TV.[12]
On March 9, 2014, she got married in Hawaii.[13]
On February 19, 2020, she held an event titled YOSHIKO-sensei Hello Pro Furitsuke 20shuunen Kinen team445 Dummy Fes. ~"Kiiroi Osora de BOOM BOOM BOOM" kara 20nen☆Furitsuke Zen 494 Kyoku kara Episode Digest~ at Zepp DiverCity in Tokyo to celebrate her 20th anniversary of choreographing dances for Hello! Project.[14] Various dummy dancers, such as former Hello Pro Kenshuusei member Horie Kizuki, came together to form the dance unit Team445 and rehearsed for four months to perform the dances of songs that YOSHIKO had choreographed at the event.[15] Morning Musume '20 and Taiyou to Ciscomoon also appeared as guests,[16] while Melon Kinenbi and Matsuura Aya sent letters of support.[17] Several current and former Hello! Project members were in attendance and posed for photos backstage.[18]
Profile
[
]
Birth Name: Sato Yoshiko
Stage Names: YOSHIKO, YOCCO
Nickname: 445
Birthdate: October 11, 1969
Blood Type: O
Western Zodiac: Libra
Eastern Zodiac: Rooster
Groups:
Songs
[
]
Concerts
[
]
Musicals
[
]
Auditions
[
]
References
[
]
External Links
[
]