SunRisa, 2016
Information
Origin
Osaka, Japan
Genre
J-Pop
Years Active
2014-present
Associated Acts
Hello Pro Kenshuusei, Ame no Mori Kawa Umi
Current Members
Imamori Manaka
Yume
Former Members
Kozai Sakura
Kumata Rena
Matsuo Fuuka
Kawasaki Sakura
Shimada Mayuka
Okamura Minami
Haruka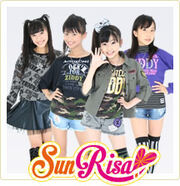 SunRisa (サンリーサ) is a group active in various fields like radio, stage appearance, reporter, magazine model, and mainly vocals, dance.
Ame no Mori Kawa Umi member Okamura Minami was a member of the group from early 2014 to October 2016.
In early 2014, SunRisa was formed with founding members Kozai Sakura, Kumata Rena, Matsuo Fuuka, Kawasaki Sakura, Shimada Mayuka and Okamura Minami.
An audition for the group was held in July 2014, resulting in Imamori Manaka joining SunRisa.
In October 2014, Kawasaki Sakura left the group.
On December 23, 2014, Kozai Sakura and Kumata Rena graduated from the group.[1]
On June 20, 2015, Matsuo Fuuka and Shimada Mayuka graduated from the group.[2]
On October 6, 2016, Okamura Minami left the group. SunRisa continued activities as a one-person group.[3]
In February, the first official audition for SunRisa was held. Two girls were selected: Haruka and Yume.
On April 2, 2017, Haruka left the group.[4]
Current Members
Edit
Imamori Manaka
(今森愛夏)
Yume
(ゆめ)
Former Members
Edit
Kozai Sakura
(香西桜)
Kumata Rena
(熊田蓮那)
Matsuo Fuuka
(松尾風花)
Kawasaki Sakura
(川崎さくら)
Shimada Mayuka
(島田麻結栞)
Okamura Minami
(岡村美波)
Haruka
(はるか)
References
Edit
External Links
Edit
Community content is available under
CC-BY-SA
unless otherwise noted.