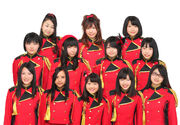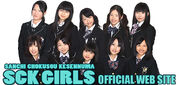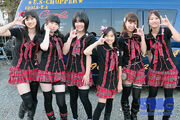 SCK GIRLS (formerly known as SCK45, full name Sanchi Chokusou Kesennuma) is a Japanese pop idol group from Kesennuma, Miyagi. The group was formed after the devastating 2011 Tohoku Earthquake in hopes of bringing smiles back to the community. They are signed to Takumi Koubou. The group had a sub-unit called "SCK KIDS" which housed their trainees until 2017.
Sasaki Rikako was a member of SCK GIRLS before joining Hello Pro Kenshuusei and later ANGERME.
Following the 2011 Tōhoku earthquake and tsunami, insurance worker and cancer patient Abe Kenichi was inspired to start a local idol group. In early October, he began advertising the group, then called "SCK45", in newspapers.
On November 3, the group officially debuted.
On April 1, the group was renamed "SCK GIRLS", and they released their debut single Arigatou no Kotoba / ReGenerasion.
In the Spring, Abe Kenichi handed over group management to Rise.
On July 6, they released their second single You&Me / Saigo no Uta.
On August 17, Abe passed away due to cancer.
SCK GIRLS Members
Edit
Current Members
Edit
Marika (まりか; Light Blue) Leader
Kyouka (きょうか)
Suzu (すず)
Yuuki (ゆうき)
Mayu (まゆ)
Misaki (みさき)
Kurumi (くるみ)
Former Members
Edit
Suzuka (すずか)
Nami (なみ)
Rikako (りかこ; Pink) (Graduated March 31, 2013)
Kaoruko (かおるこ) (Graduated May 26, 2013)
Akari (あかり)
Reika (れいか)
Rino (りの; Red) (Graduated December 23, 2013)
Rise (りせ; Blue) (Former leader, graduated September 14, 2014)
Satomi (さとみ; Yellow-Green) (Former leader, graduated November 24, 2014)
Marifi (マリフィー; Purple)
Mion (みおん; Teal)
Yui (ゆい) (Graduated May 10, 2015)
Karen (かれん; Lavender) (Graduated September 2015)
Ami (あみ) (Graduated January 17, 2016)
Ayaka (あやか)
Arisa (ありさ; Black) (Former sub-leader)
Rikako (りかこ)
Tomoka (ともか; Yellow)
Rin (りん; Orange)
Aoi (あおい)
Nono (のの)
Mei (めい)
SCK KIDS Members
Edit
Former Members
Edit
Natsuki (なつき) (graduated January 13, 2014)
Natsumi (なつみ)
Aoi (あおい)
Kyouka (きょうか) (promoted to SCK GIRLS)
Rikako (りかこ) (Not Sasaki, promoted to SCK GIRLS)
Ayaka (あやか) (promoted to SCK GIRLS)
SCK GIRLS Discography
Edit
Digital Singles
Edit
[2013.03.27] Sakurasake Nihon (サクラサケ日本) (with U.M.U FOR JAPAN & Haruka Christine)
Original Songs
Edit
[2013] NEVER LAND
[2013] Future Kono Machi no Kodomotachi (Future この街の子どもたち)
SCK KIDS Discography
Edit
Original Songs
Edit
[2013] Tenshi no Hashigo (天使の梯子)
Many of the members lost their homes to the 2011 Tohoku Earthquake and Tsunami.
The girls perform for free. They fund their activities by selling CDs and goods.
The group ended their second anniversary event wearing new costumes made using donations from their supporters.
Karen and Kyouka are sisters.
Former member Karen is currently leader of the idol group Iginari Tohoku San under Stardust Promotion.
External Links
Edit
Community content is available under
CC-BY-SA
unless otherwise noted.