Onigo Musume
おにごっ娘

Onigo Musume, 2018
Information
Origin
Tokyo, Japan
Genre
J-Pop
Years Active
2012-present
Associated Acts
Hello Pro Kenshuusei
Current Members
Hanasaki Miharu
Kotoha
Kozaki Rino
Asahina Ran
Former Members
Hoshina Haru
Tsukishima Meru
Kawahara Kana
Tsukishima Ai
Kisaki Ayuki
Kisaki Sakura
Kosakura Ichigo
Ichikawa Nana
Minami Mikuru
Kamiki Nozomi
Sakura Rin
Sakura Kae
Hazuki Kira
Onigo Musume (おにごっ娘; also known as Onigokko) is an indie idol group from Akihabara created by Akiba On Stage (now Love Mark Stage) / Atena Muisc.
Yamada Ichigo and Kubota Nanami were members of the group before joining Hello Pro Kenshuusei.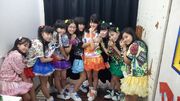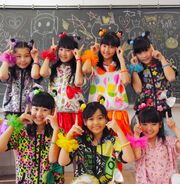 Current Members
Edit
Hanasaki Miharu (花咲美春; Blue) Leader
Kotoha (ことは; Purple)
Kozaki Rino (神崎りの; Pink)
Asahina Ran (朝比奈らん; Yellow)
Trainees
Kagura Rie
Kagura Emi
Inagaki Yumeno
Former Members
Edit
Hoshina Haru (星名はる)
Tsukishima Meru (月島メル)
Kawahara Kana (川原かな)
Tsukishima Ai (月島あい; Purple)
Kisaki Ayuki (希咲あゆき)
Kisaki Sakura (希咲さくら)
Kosakura Ichigo (小桜苺; Red ) (graduated early October, 2016)
Ichikawa Nana (市川奈々; Blue ) (graduated)
Minami Mikuru (南みくる; Orange) (graduated)
Kamiki Nozomi (神来希; Blue) (graduated)
Sakura Rin (桜りん; Yellow) (graduated)
Sakura Kae (桜かえ; Pink) (graduated)
Hazuki Kira (葉月きら; Green) (graduated)
Discography
Edit
[2012.05.03] Powerful Girl
[2012.07.29] Cute Land
[2012.12.08] Flying Heart
[2013.06.16] Running Fighter
[2013.11.03] Onigokko!!
[2014.03.29] Toy Box
They were being promoted as the youngest idol group when the group first formed on February 9, 2012.
Community content is available under
CC-BY-SA
unless otherwise noted.