Morning Musume
Eras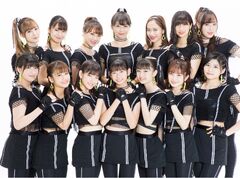 Main article: Morning Musume
Current Era: Fukumura Mizuki Era


Total Eras: 4
This page lists all of
Morning Musume
's known eras from over the years.
Since Morning Musume's formation, only three eras have been officially recognized by the group and media.[1] It is often debated when each era begins or ends, and there are years in between that have no significant name.
Golden Era (1999-2001)
Edit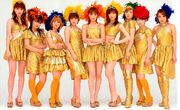 There's been an endless controversy over the definition of the "Golden Era" (黄金期; Ougon Ki). Some insist it began with the huge hit of "LOVE Machine",[2] while others say it started as the 4th generation joined in, yet many fans would agree it ended with the addition of the 5th generation. The Golden Era, as the most successful period of Morning Musume, would be only two years between "LOVE Machine" and "The☆Peace!".
Discography
Edit
Platinum Era (2007-2010)
Edit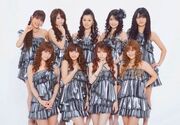 The period started after the secession of Fujimoto Miki and lasted until the graduations of Kamei Eri, Junjun, and Linlin (2007-2010).[3] It is approximately equal to the period Takahashi Ai was the leader (2007-2011). Named the "Platinum Era" (プラチナ期; Platinum Ki) after their album Platinum 9 DISC, Morning Musume was at the height of their performance skills with a stable line-up, in spite of being less popular than in the previous era.[4]
Discography
Edit
Colorful Era (2012-2015)
Edit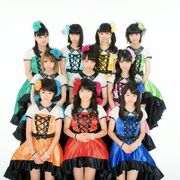 The period beginning with "One・Two・Three / The Matenrou Show" was named the "Colorful Era" (カラフル期; Colorful Ki) after their album ⑬ Colorful Character.[5] This period saw the resurgence of single sales and was the peak of Morning Musume's EDM sound and signature "formation dance".[6] It was led by Michishige Sayumi (2012-2014) until her graduation, after which she was succeeded by Fukumura Mizuki (2015-2016). The end of the Colorful Era is unclear, some say it was when leader Michishige Sayumi graduated from the group, while others say it was when center Sayashi Riho graduated at the end of 2015.
Discography
Edit
Unofficial Eras
Edit
Fukumura Mizuki Era (2019)
Edit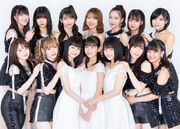 During the September 1, 2019 episode of JAPAN COUNTDOWN CHECK, Fukumura Mizuki, Haga Akane, Kaga Kaede, and Yokoyama Reina were asked during an interview segment what the current era of Morning Musume was. Haga Akane's response was, jokingly, the Fukumura Mizu Ki (ふくむらみず期; Fukumura Mizu Era). 
References
Edit
Community content is available under
CC-BY-SA
unless otherwise noted.