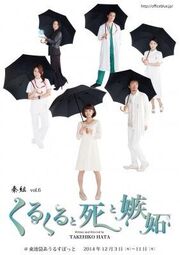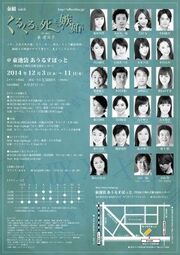 Kurukuru to Shi to Shitto (くるくると死と嫉妬; Whirling Around With Death and Envy) is a stage play written and directed by Hata Takehiko. The stage play ran from December 3 to December 11, 2014.
Former Hello! Project members Niigaki Risa and Kikkawa Yuu star as two of the three main roles.
ER, medicine of evelasting youth and longlivity, stalkers, arson, and now translanting internal organs.
Complicating stories will overlap before long, come and look at it...
Special Guests

The following people will only appear for one show, all sharing the role of "Tamaru-kun's Lover (The News Caster)".
折井 あゆみ
三倉 茉奈
寺島 咲
鳥肌 実
やく みつる
鈴木 あきえ
小野 真弓
Writer, Director & Producer: Hata Takehiko (秦建日子)
Music, Musical Composition & Piano: Tateishi Kazumi (立石一海)
小山 豊(津軽三味線)
美術 : 吉野 章弘
照明 : 橋本 剛(colore)
音響 : 高塩 顕
振付 : ゆかぼん(はむつんサーブ.CREW)
振付アシスタント : 加藤 清恵(DAP)
衣裳 : 小野 涼子
舞台監督 : 赤坂 有紀子
演出助手 : 矢本 翼子
撮影 : 園田 昭彦
宣伝美術 : ワンツーパンチ!
宣伝ヘアメイク : 結城 小百合、大池 由香里
宣伝協力 : 久保田 則子(ディーシーファクトリー)
Cooperation with: Just Pro, J.P. ROOM, OFFICE SHIKA, UP-FRONT CREATE, クィーンズアベニューα, スタッフ・プラス, サンミュージック, ソニー・ミュージック・アーティスツ, フィットワン, HIROZ, UP-FRONT PROMOTION, エムスリー, MAフィールド, 劇団め組, 劇団S.W.A.T!, しゅうくりー夢, ちぃ~む1K, ジャパンアクションエンタープライズ
票券 : 荘司 雅子(オフィス・REN)
制作 : 藤野 和美(オフィス・REN)、青木 夏希
Date
Venue
Prefecture
Curtain
Guest
December 3
TBA
(豊島区立舞台芸術交流センター)
Tokyo
19:00
折井 あゆみ
December 4
19:00
三倉 茉奈
December 5
14:00
寺島 咲
19:00
鳥肌 実
December 6
13:00
やく みつる
18:00
鈴木 あきえ
December 7
13:00
小野 真弓
18:00
片山 陽加
December 8
19:00
中江 有里
December 9
14:00
高垣 彩陽
19:00
矢島 舞美(℃-ute)
December 10
19:00
浦 えりか
December 11
13:00
矢吹 春奈
18:00
宮地 真緒
External Links
Edit
Community content is available under
CC-BY-SA
unless otherwise noted.