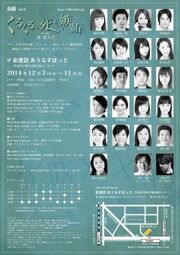 Kurukuru to Shi to Shitto (くるくると死と嫉妬; Whirling Around With Death and Envy) is a stage play written and directed by Hata Takehiko. The stage play ran from December 3 to December 11, 2014.
Former Hello! Project members Niigaki Risa and Kikkawa Yuu star as two of the three main roles.
Synopsis
[
]
ER, medicine of evelasting youth and longlivity, stalkers, arson, and now translanting internal organs.
Complicating stories will overlap before long, come and look at it...
Cast
[
]
Special Guests

The following people will only appear for one show, all sharing the role of "Tamaru-kun's Lover (The News Caster)".
折井 あゆみ
三倉 茉奈
寺島 咲
鳥肌 実
やく みつる
鈴木 あきえ
小野 真弓
Staff
[
]
Writer, Director & Producer: Hata Takehiko (秦建日子)
Music, Musical Composition & Piano: Tateishi Kazumi (立石一海)
小山 豊(津軽三味線)
美術 : 吉野 章弘
照明 : 橋本 剛(colore)
音響 : 高塩 顕
振付 : ゆかぼん(はむつんサーブ.CREW)
振付アシスタント : 加藤 清恵(DAP)
衣裳 : 小野 涼子
舞台監督 : 赤坂 有紀子
演出助手 : 矢本 翼子
撮影 : 園田 昭彦
宣伝美術 : ワンツーパンチ!
宣伝ヘアメイク : 結城 小百合、大池 由香里
宣伝協力 : 久保田 則子(ディーシーファクトリー)
Cooperation with: Just Pro, J.P. ROOM, OFFICE SHIKA, UP-FRONT CREATE, クィーンズアベニューα, スタッフ・プラス, サンミュージック, ソニー・ミュージック・アーティスツ, フィットワン, HIROZ, UP-FRONT PROMOTION, エムスリー, MAフィールド, 劇団め組, 劇団S.W.A.T!, しゅうくりー夢, ちぃ~む1K, ジャパンアクションエンタープライズ
票券 : 荘司 雅子(オフィス・REN)
制作 : 藤野 和美(オフィス・REN)、青木 夏希
Schedule
[
]
Date
Venue
Prefecture
Curtain
Guest
December 3
TBA
(豊島区立舞台芸術交流センター)
Tokyo
19:00
折井 あゆみ
December 4
19:00
三倉 茉奈
December 5
14:00
寺島 咲
19:00
鳥肌 実
December 6
13:00
やく みつる
18:00
鈴木 あきえ
December 7
13:00
小野 真弓
18:00
片山 陽加
December 8
19:00
中江 有里
December 9
14:00
高垣 彩陽
19:00
矢島 舞美(℃-ute)
December 10
19:00
浦 えりか
December 11
13:00
矢吹 春奈
18:00
宮地 真緒
Trivia
[
]
External Links
[
]