Hachikin Girls, October 2019
Information
Origin
Kochi, Japan
Genre
J-Pop
Years Active
2010-present
Labels
JCM (2010-2012)
St.Hora (2012-present)
Agency
Horizon Japan Associates (2010-present)
Associated Acts
Hello Pro Kenshuusei, ANGERME
Current Members
Ishikawa Ayaka
Former Members
Yamasaki Haruna (2010)
Yamasaki Wakana (2010)
Yamada Sayaka (2010)
Rissen Airi (2010)
Fujihara Aira (2010-2011)
Kawamura Fuki (2010-2011)
Hamada Shino (2010-2013)
Hirata Iria (2010-2015)
Kawamura Ayano (2011-2016)
Kajihara Hinako (2010-2016)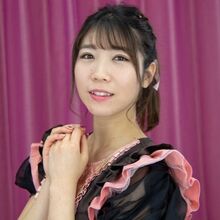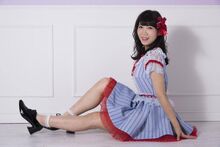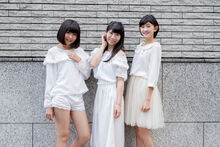 Hachikin Girls (はちきんガールズ; Strong Girls) is a Japanese pop local idol group based in Kochi. They were formed in February 2010 as the official cheer team for the Kochi Fighting Dogs baseball team, and were appointed as Kochi Prefecture Tourism Envoys in June 2010.
Kawamura Ayano was a member of the group before joining Hello Pro Kenshuusei and later ANGERME. As of mid-2016, the group is a solo project by the last remaining member Ishikawa Ayaka.
Current Members

Edit
Former Members
Edit
Discography
Edit
[2012.06.02] Tomodachi no Mama da yo (友達のままだよ)
[2012.07.29] Shogeteru Kimi ni Sachiare (しょげてるキミに幸あれ)
[2013.04.24] Makenai Chikara (負けないチカラ)
[2013.08.07] Nihon Rettou Yume Zensen (日本列島夢前線)
[2013.12.04] Henshin Da! (変身ダーッ!)
[2014.02.09] Bouken Hajimaru. (冒険はじまる。)
[2014.09.24] Itsuwari no Tengoku wa Iranai (偽りの天国はイラナイ)
[2015.10.21] Ame no Screen (雨のスクリーン)
[2012.11.21] Kojanto Kochi (こじゃんと高知)
References
Edit
External Links
Edit
Community content is available under
CC-BY-SA
unless otherwise noted.