CoCoRo Gakuen, 2014
General Information

Origin

Gunma, Japan

Genre

J-pop

Years active

2005-present

Website

Associated acts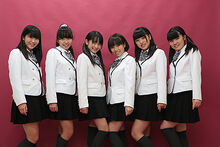 CoCoRo Gakuen (CoCoRo学園; CoCoRo Academy) is a Japanese pop local idol group based in Gunma.
Morito Chisaki was a member of the group before joining Country Girls.
Members
Current Members
Kurumi (くるみ; Yellow)
Chako (ちゃこ; Blue)
Yui (ゆい; Green)
Former Members
Ayaha (あやは; Red) (graduated September 28, 2014)
Chii (ちぃ; Orange) (graduated November 1, 2014)
Shiho (しほ; Purple) (graduated December 7, 2014)
Discography
Singles
Message~Kokoro Kara Arigatou~
Original Songs
Kimi no Hitomi ni Koishiteru! XOXO
Trivia
They have a sister group called BJ Heart which formed in November 2013.
The group is currently holding an audition to find new members between the ages of 10 and 20. The deadline to submit an application was January 18, 2015.
External Links