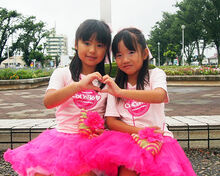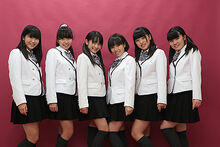 CoCoRo Gakuen (CoCoRo学園; CoCoRo Academy), formerly known simply as CoCoRo and currently known as CoCoRo Gakuen 15th (CoCoRo学園15th) is a Japanese pop local idol group based in Gunma.
As of 2020, CoCoRo Gakuen 15th currently consists of two separate vocal and dance units: Mulcul♡, which consists of 4 members, and Inter♡, which consists of 1 member.
Morito Chisaki was a member of the group before joining Country Girls and later Morning Musume.
Hazuki Nana (葉月なな)
Yazaki Yuu (矢崎ゆう)
Aoi Hina (葵ひな)
Suzuki Asu (鈴木あす)
Ayaha (あやは; Red) (graduated September 28, 2014)
Chii (ちぃ; Orange) (graduated November 1, 2014)
Shiho (しほ; Purple) (graduated December 7, 2014)
Kurumi (くるみ; Yellow) (graduated November 29, 2015)
Chako (ちゃこ; Blue)
Yui (ゆい; Green)
Yuu (ゆう)
Rii (りい)
Saki (さき)
Message~Kokoro Kara Arigatou~
Hey! Tattaratta
Get your LOVE
Kimi no Hitomi ni Koishiteru! XOXO
They have three sister groups: CoCoRo Gakuen BJ Heart (CoCoRo学園BJハート) which was formed in November 2013, CoCoRoGaKuEn Odills which was formed in 2016, and CoCoRoGaKuEn Silk Heart (CoCoRoGaKuEn Silkハート) which was formed in 2017.
Current members Hazuki Nana and Yazaki Yuu are both 11 years old, Aoi Hina is 10 years old, Suzuki Asu is 9 years old, while Hoshikawa Juri is 19 years old.
Community content is available under
CC-BY-SA
unless otherwise noted.