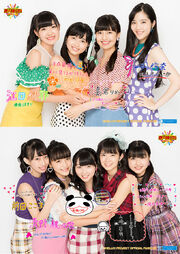 Shin Group Ohirome FC Event 2018 ~Natsu no Jin ZIN~ (新グループ お披露目FCイベント2018 ~夏の陣ZIN~; New Groups Debut FC Event 2018 ~Summer Encampment~) was the the new 2018 groups' (later named CHICA#TETSU and Ame no Mori Kawa Umi) joint debut fanclub event. Two shows took place on August 20, 2018 at Yamano Hall.
The event was also part of the "Hello! Project Natsuyasumi Kikaku" (Hello! Project 夏休み企画; Hello! Project Summer Vacation Project) in which fanclub members who attended were given scratchcards designed by the members (different for each show) that they could win great prizes from.[1]
The deadline to pre-order the fanclub-exclusive DVD was on October 29, 2018[2] and it was released to fanclub members on December 27, 2018.[3]
Opening Act
Main Show
C\C (Cinderella\Complex) - Ichioka Reina, Shimakura Rika, Takase Kurumi, Maeda Kokoro, Okamura Minami
Performance Varies
Featured Members
Edit
Opening Act / MCs
Event Schedule
Edit
Date
Venue
Prefecture
Doors Open
Event Starts
8/20
Yamano Hall
Tokyo
16:15
17:00
18:45
19:30
DVD Preview
Edit
References
Edit
External Links
Edit
Community content is available under
CC-BY-SA
unless otherwise noted.