Shim Min (심민), birth name Shim Soon-min (심순민) and legal name Shim Ji-yoo (심지유), is a South Korean VJ and actress under HS Entertainment. She was once under Hello! Project as a "foreign student", training and working through Mix Gatas where she went by the name Shim Min (シンミン).
History
[
]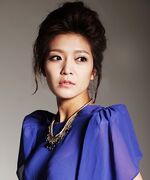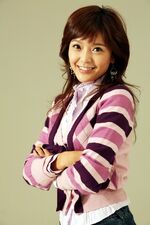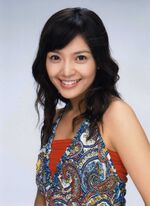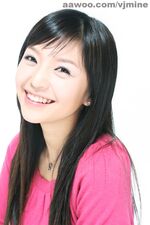 2003
[
]
In 2003, Shim Min debuted on the M.net show, Super VJ Model Selection Conference.
2006
[
]
On July 16, there was an official announcement on the Hello! Project website that Shim Min would be an "exchange student" into Hello! Project. She would mainly be experiencing Hello! Project through activities in Gatas Brilhantes H.P., and also through voice training, dance lessons, and studying the Japanese language.[1]
On August 7 and August 22, she participated in tournaments with Mix Gatas as number 16. These were her first and only official activities under Hello! Project.
On August 31, she left Hello! Project and returned to South Korea, where she continued her acting career.
Profile
[
]
Birth Name: Shim Soon-min (Katakana: シン・スンミン; Hangul: 심순민)
Legal Name: Shim Ji-yoo (심지유)
Stage Name: Shim Min (Katakana: シンミン; Hangul: 심민)
Birthdate: April 28, 1983
Birthplace: Gumi, North Gyeongsang, South Korea
Ethnicity: Korean
Blood Type: A
Height: 168 cm (5 ft 6.1 in)

?

Western Zodiac: Taurus
Eastern Zodiac: Pig (Boar in Japan)
Hello! Project Groups:
Hobbies: Movie appreciation, room decoration
Skills: Dancing
Favorite Food: Miso Ramen
Works
[
]
Films
[
]
[2004] Kill'em with Bare Hands (맨손으로 죽여라) (as Joo-yeon)
Theater
[
]
TV Dramas
[
]
[2008] Great Life (대박인생)
[2013] Empress Ki (기황후) (as a Gungnyeo)
[2013] Cruel City (무정도시) (as Joo-Young)
[2014] Temptation (유혹) (as Seo Dae-ri)
[2015] My Beautiful Bride (아름다운 나의신부) (as Kang Jeong-hwa)
[2015] Imaginary Cat (상상고양이) (as Heo Gong-joo)
[2017] Chicago Typewriter (시카고 타자기) (as Mi-young)
[2019] Confession (자백) (as Kim Sun-hee)
Trivia
[
]
She was one of the few talents of Korean descent under UP-FRONT AGENCY, the others being Sonim and Jang Dayeon.
In addition to her appearances on dramas, she has also appeared on commercials and variety shows such as M.net Wide Entertainment News (2004), Matchmaker "S" (XTM, 2005), Weird Girl, Weird Boy (KBS, 2005), and KBS Sky Sports "TV Game Club Recreation Room" (2005).
References
[
]
External Links
[
]