Shalala! Yareru Hazu sa / Ee ja nai ka Ninja nai ka (シャララ!やれるはずさ/エエジャナイカ ニンジャナイカ; Shalala! You Can Do It / Who Cares, Aren't We Ninjas?) is Kobushi Factory's 4th single. It was released on June 14, 2017 in 5 editions: 2 regular and 3 limited. The first press of the regular editions included a random trading card of 9 kinds depending on the jacket (18 total). The limited editions included an event lottery serial number card.
"Ee ja nai ka Ninja nai ka" is the theme song for the JK Ninja Girls film. The B-sides "Yami ni Nukegake" and "Pitch Pichi Tomodachi" are from the musical and are also used as insert songs in the film.[1]
This is the last single to feature Fujii Rio, Ogawa Rena, and Taguchi Natsumi.
Tracklist
Edit
Regular Editions A-B; Limited Editions A-B
Edit
Shalala! Yareru Hazu sa
Ee ja nai ka Ninja nai ka
Shalala! Yareru Hazu sa (Instrumental)
Ee ja nai ka Ninja nai ka (Instrumental)
Limited Edition SP
Edit
Ee ja nai ka Ninja nai ka
Shalala! Yareru Hazu sa
Yami ni Nukegake (闇に抜け駆け; Act Before Dark)
Pitch Pichi Tomodachi (ピッチピチトモダッチ; Pitch Pichi Friends) - JK Ninja Girls & Ninja Oyajis
Ee ja nai ka Ninja nai ka (Instrumental)
Shalala! Yareru Hazu sa (Instrumental)
Yami ni Nukegake (Instrumental)
Pitch Pichi Tomodachi (Instrumental)
Limited Edition A DVD
Edit
Shalala! Yareru Hazu sa (Music Video)
Limited Edition B DVD
Edit
Ee ja nai ka Ninja nai ka (Music Video)
Limited Edition SP DVD
Edit
Shalala! Yareru Hazu sa (Dance Shot Ver.)
Ee ja nai ka Ninja nai ka (Dance Shot Ver.)
Shalala! Yareru Hazu sa (Close-up Ver.)
Ee ja nai ka Ninja nai ka (Close-up Ver.)
Featured Members
Edit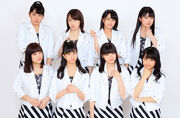 "Pitch Pichi Tomodachi" Only
Single Information
Edit
Shalala! Yareru Hazu sa
Ee ja nai ka Ninja nai ka
Yami ni Nukegake
Pitch Pichi Tomodacchi
TV Performances
Edit
Concert Performances
Edit
Shalala! Yareru Hazu sa
Ee ja nai ka Ninja nai ka
Yami ni Nukegake
Pitch Pichi Tomodachi
Chart Positions
Edit
Daily & Weekly Rankings
Mon
Tue
Wed
Thu
Fri
Sat
Sun
Week Rank
Sales
-
3
18,550
5
5
14
24
14
4
22,493
29
-
-
-
-
-
-
69
817
-
-
-
-
-
-
-
153
283
Monthly Ranking
| Year | Month | Month Rank | Sales | Ref |
| --- | --- | --- | --- | --- |
| 2017 | June | 19 | 23,593 | [4] |
Total reported sales: 23,593
Recochoku Music Video Rankings
Edit
| Song | Daily Rank | Weekly Rank | Monthly Rank |
| --- | --- | --- | --- |
| Shalala! Yareru Hazu sa | 12 | 37 | N/A |
| Ee ja nai ka Ninja nai ka | 7 | 26 | N/A |
Other Chart Rankings
Edit
Country
Chart
Highest
Position
Ref
Japan
SoundScan Japan Single Sales
3
(32,267)
[5]
Billboard JAPAN Top Singles Sales
4
(34,222)
[6]
References
Edit
External Links
Edit