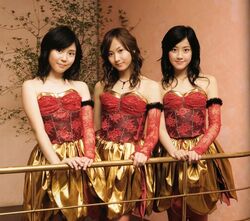 Sexy Otonajan (セクシーオトナジャン) was one of the three Hello! Project shuffle units formed in 2005, along with Elegies and Puripuri Pink.
"Jan" is a slang term used at the end of an adjective or noun to make it sound more cool and casual. The selected members are quite young, but they possess the most matured images among Hello! Project Kids, according to Tsunku. Tsunku probably thought the fans would casually exclaim, "Sexy Otona-jan!" (Wow, these girls are just like sexy grown-ups! Way to go!) when they see the members perform in this new shuffle unit.
Discography
Edit
Compilations
Edit
From Tsunku's blog:
This unit has the best potential of all, in my opinion. The leading member is Miki Fujimoto, and I added 2 girls who possess the most matured images among "Hello!Project Kids". My dream finally came true for the new unit with sex appeal, and I named the unit as "Sexy Otona Jan". I personally want this unit to succeed for a long time, but it's just my selfish opinion. Lol. The song is 'bossa-nova' style, which reminds you of the romantic summer nights that grown-ups would enjoy by the beach. Please indulge yourself in this atmosphere. Special thanks to Yoshiko Miura who provided the lyrics for this song.
Community content is available under
CC-BY-SA
unless otherwise noted.