Sato Ayano (佐藤綾乃) is a former member of Hello Pro Egg, as well as a past member of the idol group Up Up Girls (Kakko Kari). She was also a part of the Up Up Girls (Kakko Kari) unit UFZS.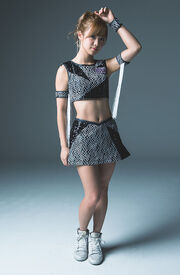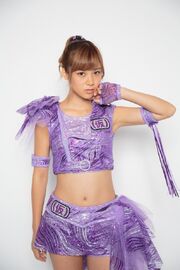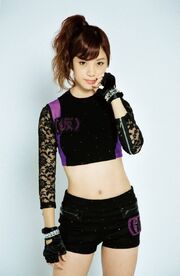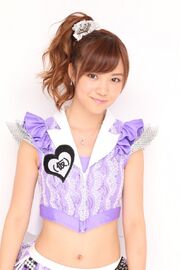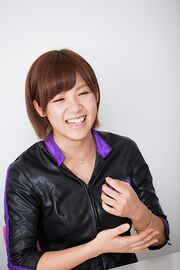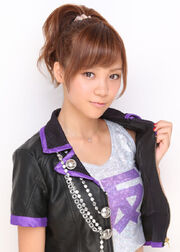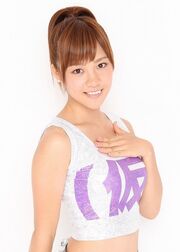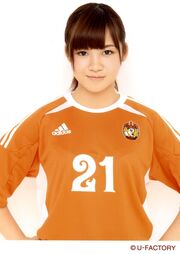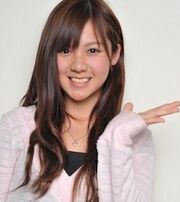 In the April issue of De☆View (released in March 2009), Sato Ayano appeared alongside Noto Arisa and Kaneko Rie as a Hello Pro Egg member. On April 4th, she was officially introduced at the Hello! Project 2009 Shinjin Kouen 4gatsu ~Yokohama Hop!~ concert alongside Sezaki Azusa.
In the same year, she was added to Tomoiki Ki wo Uetai as a part of Team Midories alongside Saho Akari, Kikkawa Yuu, and Arai Manami.
In Mano Erina's 7th and 8th singles, she was a backup dancer along with three other Eggs.
In October, Sato participated in the stage play Akuma no Tsubuyaki, as the character Ami. It ran from October 13th through the 22nd.
She had a small role in the movie Honto ni Atta Kowai Hanashi 3D. It was released on October 16.
On February 22, a K-Pop cover dance group called UFZS was formed with Sato, Furukawa Konatsu, Mori Saki, Sekine Azusa, and Arai Manami.
On March 3, it was revealed that Sato, along with Sengoku Minami and the other members of UFZS, will be members of a new group called Up-Front Girls (Kari).
On March 9, it was announced that Sato, Sekine, Arai, and Kitahara Sayaka had completed their training within Hello Pro Egg.[1]
On August 27, she and Saho Akari appeared in a TV drama called Yuusha Yoshihiko to Maou no Shiro.
On July 14, Sato became the campaign girl for Keio Amusement Passport (京王アミューズメントパスポート).
On April 30, Sato starred in the TV drama Real Onigokko THE ORIGIN (リアル鬼ごっこ THE ORIGIN) as herself.
A 2 part horror movie titled Ada ~ADA~ which featured all the members from Up Up Girls in it, had Sato and Sengoku Minami taking on the lead roles. The movie was directed by Koji Shiraishi and was released on July 13.
On November 14, a Taiwan based fashion and cosmetic blog opened an official facebook page for Sato. [2] An official Sato Ayano fashion and cosmetic blog was opened on December 6, 2013 in Japanese.[3]
On April 28, it was announced that Sato would be graduating from Up Up Girls (Kakko Kari) alongside Sengoku Minami.[4]
Comment by Sato Ayano
To everyone who has always supported Up Up Girls (Kakko Kari) and has always chased our dreams together, thank you so much.

I, Sato Ayano, will put an end to 8 years of being an idol, and will decide to pursue a new challenge in my life. Since I was little, I have done things for others, I have done anything to see someone's happy face, and I really loved this. During 6 years of activities in the group, I was happy to see all of your smiles during every live. "I want to see more smiles." With such thoughts, I was inspired, made movies, produced some performances by myself, and tried many other things, but I think it was somehow a challenge to myself. I became 22 years old and started to think I would like to go to the next challenge in my life. I will graduate the group and would like to start a work that can make people smile in a different way than idol can. I feel anxious, but I am excited by this new life. As a member of Up Up Girls (Kakko Kari), even alone, I would like to increase the amount of smiles until the end, so please support me until the end.
Sato had her last live as member of Up Up Girls (Kakko Kari) on September 15th and graduated from the group on the next day at her graduation ceremony event. After which, she retired from the entertainment industry.
Name: Sato Ayano (佐藤綾乃)
Nickname: Ayanon (あやのん)
Birthdate: January 7, 1995
Blood Type: A
Height: 152 cm (4 ft 11.8 in)

?

Shoe Size: 23cm
Western Zodiac: Capricorn
Eastern Zodiac: Dog
Official Kaomoji: ノィ。6_6リ
Hello! Project Status:
UP-FRONT GROUP Status:
Up Up Girls (Kakko Kari) Color: Purple
Hello! Project Groups:
Concert Units:
Other Groups:
Up Up Girls (Kakko Kari)
Other
Up Up Girls (Kakko Kari)
Ganbarou Nippon Ai wa Katsu Singers
T-Palette mini All Stars
Team Makenki
[2010] Honto ni Atta Kowai Hanashi 3D (ほんとうにあった怖い話3D)
[2013] Ada ~ADA~ (讐 ~ADA~)
[2010–2017] PINK!SS (as an MC)
[2011–2015] Up-Front Girls
[2014–2017] The Girls Live
[2011] Yuusha Yoshihiko to Maou no Shiro (勇者ヨシヒコと魔王の城)
[2013] Real Onigokko THE ORIGIN (リアル鬼ごっこ THE ORIGIN)

[2012-] Keio Amusement Passport (京王アミューズメントパスポート) (Campaign girl)

She loved to sing since she was little.
She first appeared as a member in the April 2009 issue of De☆View magazine.
She sang Buono!'s Honto no Jibun for her audition.
She appeared as a backup dancer in the MV for Mano Erina's seventh major single and eighth major single.
An anime character from High School Girls shares her name.
Her official Up Up Girls (Kakko Kari) color is purple.
She is the only Up Up Girls (Kakko Kari) member that is not a first generation member of Hello Pro Egg.
She shares the same first and last name with speed skater Sato Ayano, who is most known for competing in the women's 3000 metres at the 2018 Winter Olympics, and was also part of the Japanese team that won the 2018 Olympics women team pursuit gold medal
She has the same last name as Morning Musume 10th generation member Sato Masaki, and former Hello Pro Kenshuusei Hokkaido member Sato Hikari.
Community content is available under
CC-BY-SA
unless otherwise noted.