Saito Madoka (斉藤円香; formerly 齊藤円香[1]) is a Japanese pop singer under Hello! Project as the leader of OCHA NORMA and a former member of Hello Pro Kenshuusei.
Biography
[
]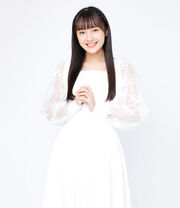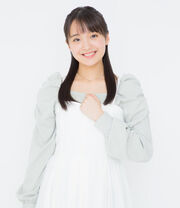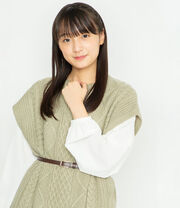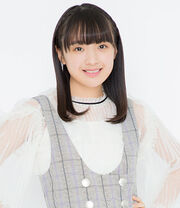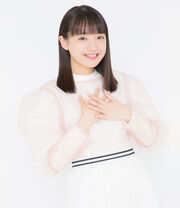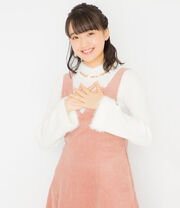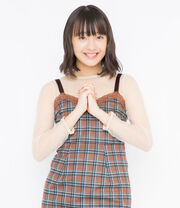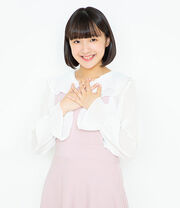 Early Life
[
]
Saito Madoka was born on October 28, 2002 in Saitama, Japan.
She was signed under Ray Talent Promotion from at least October 2015 to July 2016.[1][2]
2018
[
]
Saito participated in Hello! Project "ONLY YOU" Audition, but failed.
On November 1, it was announced that Saito had joined Hello Pro Kenshuusei alongside Kusunoki Mei and Onoda Karin. They were introduced in the Hello! Project Kenshuusei Happyoukai 2018 12gatsu ~Mikan~ show on December 2.[3]
2019
[
]
On February 5, she participated in a fanclub event titled Hello Pro Kenshuusei Special Event in Nagoya ~Hajimemashite! 6~ at Midland Square Cinema 2 alongside Kubota Nanami, Matsubara Yulia, and Onoda Karin.
On July 11, Saito was one of the first five Hello Pro Kenshuusei members assigned to the rotational Hello Pro Kenshuusei Unit, who will perform in the Hello! Project 2019 SUMMER concert tour starting on July 13.[4][5]
2021
[
]
On March 7, it was announced at the end of the Hello! Project Kenshuusei Happyoukai 2021 3gatsu ~Yell~ recital that Saito will be debuting in a new Hello! Project group on January 2, 2022.[6]
On April 20, she participated in a ENPLEX × Hello! Project Nagoya Teiki Event with Yonemura Kirara, Hiromoto Ruli, and Yofu Runo.
On December 14, she participated in a ENPLEX × Hello! Project Nagoya Teiki Event with Yonemura Kirara and Kitahara Momo.
2022
[
]
On April 9, it was announced during the OCHA NORMA FC Event 2022 ~OCHA NORMA no Ma 2~ that Saito Madoka would be OCHA NORMA's leader, with Hiromoto Ruli becoming the group's sub-leader. The official Hello! Project website was updated to confirm this shortly after the announcement.
On June 6, it was reported that Saito was diagnosed with COVID-19. In the midnight of June 3, Saito had symptoms of fever, sore throat, headache, and nausea, so she did an antigen test at her home and a positive reaction for COVID-19 was confirmed. After consulting with the medical institution, she was instructed to take medical treatment and self-isolate at her home until June 13 due to the positive results in a PCR test. She and the remaining OCHA NORMA members were close contacts of Ishiguri Kanami, so they would also continue to self-isolate at home for the time being. Other than Saito and Ishiguri, no symptoms were confirmed for the OCHA NORMA members.[7]
Personal Life
[
]
She has three older brothers. One of them is an anime Otaku who likes to go to Comiket, the second one is a Disney cast member, and the third is the medical field.[8]
When Saito joined Hello Pro Kenshuusei, she was in her first year of high school. In March 2021, Saito graduated from high school.
When she was born, her parents wished with all their hearts for a child who would give an immediate impression of being harmonious and kind-hearted, and so she became Madoka. The kanji in Madoka give the impression of "tranquil aroma".
Here is a list of nicknames that was used to refer to Saito Madoka:
Madopippi (まどぴっぴ): Used prior to joining Hello Pro Kenshuusei during Ameba Studio "Team Akasaka" and one of her nicknames as a Hello Pro Kenshuusei member.
Mado-chan (まどちゃん): One of her nicknames as a Hello Pro Kenshuusei member.
Mado (まど): One of her nicknames as a Hello Pro Kenshuusei member.
Madopi (まどぴ): One of her nicknames as a OCHA NORMA member.
Profile
[
]
Name: Saito Madoka (斉藤円香)
Nicknames: Madopi (まどぴ), Madopippi (まどぴっぴ), Mado-chan (まどちゃん), Mado (まどちゃん)
Birthdate: October 28, 2002
Blood Type: O
Height: 160 cm (5 ft 2.9 in)

?

Western Zodiac: Scorpio
Eastern Zodiac: Horse
Hello! Project Status:
UP-FRONT PROMOTION Status:
OCHA NORMA Member Color:

Sea Blue

Hello! Project Groups:
Special Skills: Calligraphy (Jun 7-dan), Swimming, Remembering people's names quickly
Hobbies: Shopping, Karaoke, Dancing, Watching Anime & Disney movies, Collecting goods and Playing games
Favorite Music Genre: J-pop, Western, Vocaloid
Favorite Food: Melon bread, Tapioca
Favorite Sport: Swimming, Figure skating
Favorite School Subject: History
Charm Points: Slender fingers, teeth alignment
Favorite Color: Orange
Motto: "Wagen Aigo" (和顔愛語; Gentle face, loving words)
Favorite Hello! Project song:
Wakain da shi!
Looks Up To: Kudo Haruka, Maeda Kokoro
Works
[
]
Theater
[
]
TV Programs
[
]
Internet
[
]
Music Videos
[
]
Trivia
[
]
Honorary Titles
[
]
References
[
]
External Links
[
]
Hello Pro Kenshuusei
Members
Current Members
Former Members
Concerts & Events
Shinjin Kouen Concerts
Happyoukai Concerts

2011
2012
2013
2014
2015
2016
2017
2018
2019
2020
2021
2022
Test Events

Other
Units & Other Acts
Sub-Units & Groups
Debuted Acts
Associated Acts
Related Acts