Saito Hitomi
斉藤 瞳

Background Information
Also Known As
Hitomin (

ひとみん

?

)
Born
October 31, 1981
Origin
Niigata, Japan
Zodiac Sign
Scorpio
Genres
J-pop
Occupation
Singer, Radio personality
Years Active
2000-2010, 2011, 2012-Present
Label
zetima
Associated Acts
Melon Kinenbi, 10-nin Matsuri, Happy 7, 11WATER, ROMANS, H.P. All Stars , Elder Club, Gatas Brilhantes H.P.

Melon Kinenbi

Information
Joined
February 19, 2000
Debut Single
Amai Anata no Aji
Last Single
Melon Tea
Left
May 3, 2010
Saito Hitomi (斉藤瞳) is a radio personality and former singer, once under Hello! Project.
She is a former member of Hello! Project's futsal club, Gatas Brilhantes H.P., and the leader of Melon Kinenbi until its disbandment in 2010. After Melon Kinenbi's disbandment, Saito retired from the music industry, but has since participated in brief reunions of the group for events.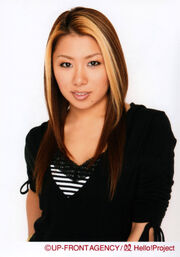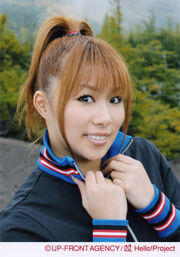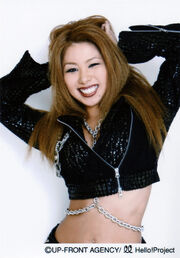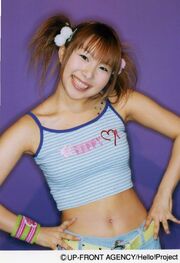 Saito joined Hello! Project as a member, and leader of Melon Kinenbi in 2000, after having been recruited from the Second Morning Musume and Heike Michiyo Protegee Audition in 1999.
In 2003, she was selected to be part of the one-shot group ROMANS and part of the shuffle 11WATER.
In March, she made appearances on the TV Show "Sexy Onna Juku" for the short time it ran.
She took part in Hello! Project Akagumi which was one of two concert groups at the Hello! Project 2005 Winter All-Stars Dairanbu ~A HAPPY NEW POWER! Iida Kaori Sotsugyou Special~.
In August, she became one of the regulars on the TV show "Musume Dokyu!".
In September, she became a regular on the radio show "TBC Fun Field Mōretsu Mōdasshu"
On March 31, 2009, Hitomi graduated along with the rest of the Elder Club. However, the Elder Club graduation concert was held on February 1, 2009, at Yokohama Arena.
In February, it was announced that Melon Kinenbi decided to disband. Saito announced at Melon Kinenbi's break-up concert that she would be leaving show business. In the months following the group's disbandment, she appeared happily on the blogs of the other members.
In August, Saito married comedian Jirō Hachimitsu (born Jirō Takano) of duo "Tokyo Dynamite".
The announcement of the marriage from the the Natalie.mu article (translation by Philosoranter):
"It was announced that Saito Hitomi, formerly of Melon Kinenbi, married comedian Hachimitsu Jiro of Tokyo Dynamite.
They entered into the family register on August 3rd, recognized by the Japan Apiary Honey Society and the Japan Honey Union as "Honey Day (Hachi-Mitsu no Hi). There are no plans for a service or reception, nor are there plans for a press conference. Hachimitsu Jiro's official comment will stand in place of other official announcements."
Comments from Hachimitsu Jiro & Saito Hitomi:
"We announce our wedding on this day.
I asked her, "What are you going to do once you've split up?"
She said, "Go back to Niigata."
I said, "I'll take care of you for the rest of our lives. Don't go back to Niigata," and gave her a ring.
Please watch over us from now on.
~Hachimitsu Jiro & Saito Hitomi"
On October 15, 2011, it was announced that Saito and Hachimitsu had divorced.
In March, she began working as a radio personality for FM-NIIGATA.
On December 29, it was announced that she had married a former high school classmate, whom she had been dating for the past two years.
Name: Saito Hitomi (斉藤瞳)
Nicknames: Hitomin, "Boss", Hito-chan, Hito, Saito
Birthdate: October 31, 1981
Birthplace: Niigata, Niigata Prefecture, Japan
Blood Type: A
Height: 155 cm
Hobbies: Decorating nails, searching for snacks
Special skill: Good handwriting, playing taiko.
Favorite colors: Purple, white, black, brown, khaki
Favorite flowers: Calla lilies
Favorite movies: Tonari no Totoro
Favorite word: Love
Favorite food: Chocolate
Disliked food: Raw fish, grass-smelling vegetables, mushrooms, haute cuisine
Favorite Melon Kinenbi song: Endless Youth
Hello! Project groups:
Shuffle units:
Sports Groups:
Singles Featured In
Edit
Melon Kinenbi
Edit
10nin Matsuri
Edit
H.P. ALL STARS
Edit
Solo Songs
Edit
Photobooks
Edit

#
Title
Release date
Publisher
ISBN
1
Saito Hitomi (Photobook)
(斉藤瞳写真集「斉藤瞳」)
2003-08-07
Wani Books
ISBN 4-8470-2770-1
Show
Start date
End date
Sexy Onna Juku
(セクシー女塾)
2003-03-31
2003-09-27
Majokko Rika-chan no Magical v-u-den
(魔女っ娘。梨華ちゃんのマジカル美勇伝)
2004-11-16
2004-11-22
Musume Dokyu!
(娘DOKYU!)
2005-08-18
2006-09-29
Program
Start date
End date
TBC Fun Field Moretsu Modasshu
(TBC FUNふぃーるど・モーレツモーダッシュ)
2005-04-01
2008-03-28
She has said in a 2004 interview that the people she respects the most are her mother and Nakazawa Yuko.
Her image is known as the "sexy seductive" member.
She is well-known for being really funny. Being in constant battles with hosts on HEY!x3 and Utaban, resulting in some great moments.
She got her nickname "Boss" in Melon Kinenbi after she was made leader of the group.
Is good friends with Maeda Yuki and Inaba Atsuko.
Honorary Titles
Edit
External Links
Edit
Melon Kinenbi
Former Members

Saito Hitomi (L), Murata Megumi (SL), Otani Masae, Shibata Ayumi
Singles

Major: 01, 02, 03, 04, 05, 06, 07, 08, 09, 10, 11, 12, 13, 14, 15, 16, 17
Indies: 01, 02, 03, 04, 05, 06
Other: ALL FOR ONE & ONE FOR ALL!
Albums

Original: 1st Anniversary, THE Nimaime, MELON'S NOT DEAD
Mini: Melon Juice
Best: FRUITY KILLER TUNE, MEGA MELON, URA MELON
Other

Concerts