Saho Akari
(佐保明梨) is a Japanese singer and idol. She is a member of the group
Up Up Girls (Kari)
. She is also a former member of
Hello! Project
as a trainee under
Hello Pro Egg
. During her time in Hello Pro Egg, she was involved with 
Tomoiki Ki wo Uetai
,
Shugo Chara Egg!
, and 
Aa!
.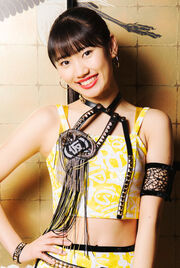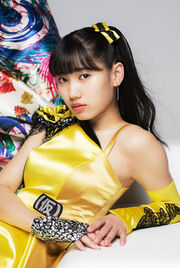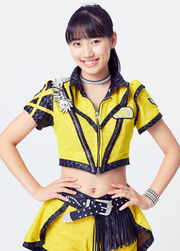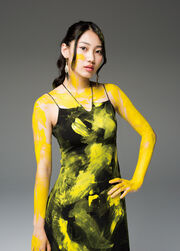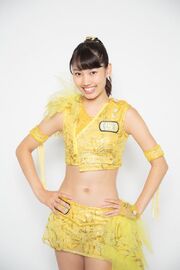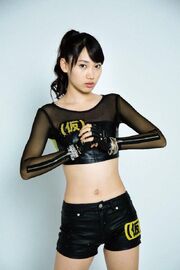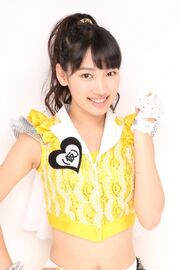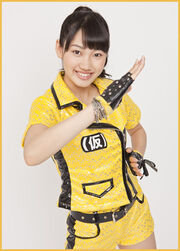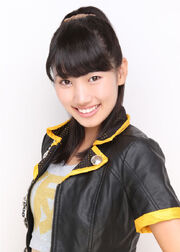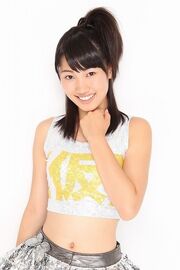 Saho Akari joined Hello! Project as a member of Hello Pro Egg in June 2004 when she passed the auditions along with twenty-nine other girls.
In 2007, she joined Tomoiki Ki wo Uetai as a replacement for Yutoku Ayumi.
In 2008, she was put into the group Shugo Chara Egg! with fellow Hello Pro Egg members Wada Ayaka, Maeda Yuuka, and Fukuda Kanon to sing the opening songs for the anime Shugo Chara!. Saho Akari was also in Shugo Chara! The Musical with the original members of Shugo Chara Egg!. Saho played the roles of a student named Chika, X-character, and X-egg. She had some lines and some solos.
In July, Saho replaced Tanaka Reina in the group Aa! for compilation albums and concert appearances.
In August, Saho participated in the stage play Shugo Chara! as the character Chika. It ran from August 13th through the 23rd.
In Mano Erina's 6th, 7th and 8th singles she was a backup dancer along with three other Eggs.
Shugo Chara Egg! performed "Arigatou ~Ookiku Kansha~" for the last time and disbanded.
She had a small role in the movie Hoshisuna no Shima no Chiisana Tenshi ~Mermaid Smile~. It was released on June 19.
On April 18, it was announced that Saho had finished her training as a Hello Pro Egg member.[1] It was also announced on May 3 that she would be joining Up-Front Girls.[2]
On May 17, she and Sengoku Minami joined UFZS, Up-Front Girls's K-Pop cover dance group.
On July 22, she appeared on Zakigami, a variety show which features Yaguchi Mari, Michishige Sayumi, and Satoda Mai, among others. Saho and Linlin formed a special special unit and performed in a mini-live at a Harajuku fashion show in China.
On August 27, she and Sato Ayano appeared in a TV drama called Yuusha Yoshihiko to Maou no Shiro.
She appeared in the TV drama Suugaku♥Joshi Gakuen as the character Hatsudai Mina.
Saho had a small role in a two-part horror movie titled ADA. The movie was directed by Koji Shiraishi and was released on July 13.
On March 29 and 31, she held her first solo live, Saho Akari Solo Live Change & Destroy at Hatsudai THE DOORS.
On March 16 and 19, she held her second solo live, Saho Akari Solo Live Destroy the Brain! at Hatsudai THE DOORS. There, she unveiled an original song called "Destroy the Brain" for which she wrote the lyrics.[3]
On August 27, Saho was appointed as a migration PR ambassador for Niihama, Ehime Prefecture alongside ANGERME member Nakanishi Kana.[4]
On April 6, she held her third solo live at Hatsudai THE DOORS.[5]
On March 20, she released the music video for her original song, "Destroy the Brain".[6]
On March 31, it was announced that her fourth solo live, Saho Akari Live SA To Be Determined, which was set to be held on April 5 at Omotesando GROUND, would be postponed to June 21 in consideration of a new policy established by the government to prevent the spread of the coronavirus.[7] She held an internet autograph signing session live streamed through YouTube on the original date instead.[8] It was later announced that the live was cancelled entirely.[9]
On April 19, she launched a YouTube channel dedicated to song covers called "Saho Uta".[10]
On April 21, her first solo indie single, "Destroy the Brain! / NEW WONDER SEASON", was released exclusively through Tower Records.[11]
On July 11 and 12, she was absent from Up Up Girls (Kari)'s live tour due to being in poor physical condition.[12]
Discography
Edit
Discography Featured In
Edit
Lyrics Credits
Edit
[2010] Hoshisuna no Shima no Chiisana Tenshi ~Mermaid Smile~ (星砂の島のちいさな天使~マーメイド スマイル)
[2013] Ada ~ADA~ (讐 ~ADA~)
TV Programs
Edit
[2007.09.02] Chao.TV (ちゃお.TV)
[2011–2015] Up-Front Girls
[2011–2018] R no Housoku (Rの法則)
[2014–2019] The Girls Live
[2009.10.03-2010.03.27] Shugo Chara! Party (しゅごキャラ パーティー!) (as host Amulet Spade)
Music Videos
Edit
TV Dramas
Edit
[2008.09.13-15] Tsunku THEATER dai 6 dan "Aa joshi gassho bu ~Eiko no kake ra 2008~" (つんく♂THEATER第6弾 「あぁ 女子合唱部 〜栄光のかけら2008〜」)
[2009.08.13-23] Shugo Chara! (しゅごキャラ!) (as Chika)

Eats rice for breakfast.
Has a habit of touching her neck.
Her favorite spot is her room.
She believes in ghosts and haunted houses.
While in Shugo Chara Egg!, she was Amulet Spade.
She is the only member of the original Shugo Chara Egg! that did not become a member of S/mileage.
She is the only orginal Shugo Chara Egg! that didn't become a Lilpri member.
She replaced Tanaka Reina in Aa!.
She is the only member of the 2009 revival units who did not debut in Hello! Project.
She was good friends with Maeda Yuuka.
She had been in the most groups out of all the girls in Hello Pro Kenshuusei.
Her official Up Up Girls (Kari) color is yellow.
She is a Black Belt in Karate.
She has received the most training in Hello Pro Egg.
She was the last remaining original Hello Pro Egg.
Honorary Titles
Edit
Referencess
Edit
External Links
Edit
Community content is available under
CC-BY-SA
unless otherwise noted.