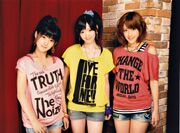 Rock'n Buono! 2 was a Buono! fanclub live which took place on August 21, 2009 to celebrate their second anniversary.
The fanclub-exclusive DVD and solo angle DVDs were released to fanclub members on December 16, 2009.[1]
Setlist
[
]
MC - Linda Linda
MC[3]
Masayume - Natsuyaki Miyabi
Jiriri Kiteru - Tsugunaga Momoko
Natsu Doki Lipstick - Suzuki Airi
VTR – Buono Days 2 trailer
MC
Janakya Mottainai
ENCORE
MC - Happy Birthday to Buono! and Natsuyaki Miyabi
DVD Extras
Hiru Kouen MC (Tsugunaga Momoko Dokkiri Scene) (昼公演MC (嗣永桃子ドッキリシーン))
Hiru Kouen MC (Happening Scene) (昼公演MC (ハプニングシーン))
Making of (メイキング映像)
Featured Members
[
]
Backing Band
Dolce

eji (Keyboard)
Sugawara Junko (Guitar)
Naomichi (Bass)
cheeta (Drums)
Notes
[
]
↑ "Musumenavi リリース2009" (in Japanese).
↑

The playback initially didn't work, so the Buono! members improvised and did things such as sing "Buono!Man no Uta" until the playback was ready

↑ Buono! performed "Yume to Genjitsu," only for Suzuki Airi stop this performance part way through after Tsugunaga Momoko comically failed to keep up with her and Natsuyaki Miyabi
Gallery
[
]
Buono!
Units & Other Acts
Associated Acts