Rinnetenshou ~ANGERME Past, Present & Future~ (輪廻転生〜ANGERME Past, Present & Future〜; Reincarnation ~ANGERME Past, Present & Future~) is the third album by ANGERME. It was released on May 15, 2019 in three editions: one regular and two limited. First press of Limited Edition B included an event lottery serial number card.
General first press of all editions included a rubber wristband randomly selected from two colors, white or blue.[1] Albums purchased at the release events on May 14 and 15, 2019 included a red rubber wristband along with a handshake ticket.[2]
All editions come as three CDs. Limited Edition A includes a Blu-ray of the ANGERME 2018 Aki "Denkousekka" concert at Pacifico Yokohama on November 23, 2018. Limited Edition B includes a Blu-ray collection of music videos from after being renamed to ANGERME up to their latest 26th single.
This is the first album to feature the 4th through 7th generation members, and the last to feature leader Wada Ayaka. Following its release, it is the last album to credit 2nd generation members Nakanishi Kana and Katsuta Rina, 3rd generation member Murota Mizuki, 5th generation memeber Kasahara Momona, 6th generation member Funaki Musubu, and 7th generation member Oota Haruka.
Tracklist
[
]
CD
[
]
Limited Edition A Blu-ray
[
]
ANGERME 2018 Aki "Denkousekka" @ Pacifico Yokohama National Convention Hall
OPENING
MC
VTR
"Denkousekka" Dance Performance (「電光石火」Dance Performance)
MC
I Musou Strong!
46okunen LOVE 【ENCORE】
MC 【ENCORE】
Tade Kuu Mushi mo Like it! 【ENCORE】
ENDING 【ENCORE】
Limited Edition B Blu-ray
[
]
Featured Members
[
]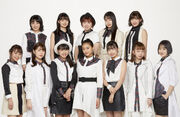 Album Information
[
]
Performances
[
]
TV Performances
[
]
Concert Performances
[
]
I Musou Strong!
Akai Earphone
Flag wo Bukkowase!
Kaeritakunai na.
Itoshi Itoshi to Say My Heart
Mou Ippo
Jinsei, Sunawachi Panta Rhei
Kagami no Kuni no Hinekure Queen
Kon'ya mo Suteki ni Ochitsukenai
Event Performances
[
]
Akai Earphone
Kaeritakunai na.
Jinsei, Sunawachi Panta Rhei
Watashi no Yumemita Fifteen
Chart Positions
[
]
Oricon Chart Positions

[

]
Daily & Weekly Ranking
| Mon | Tue | Wed | Thu | Fri | Sat | Sun | Week Rank | Sales |
| --- | --- | --- | --- | --- | --- | --- | --- | --- |
| - | 5 | 5 | 6 | 9 | 7 | 4 | 5 | 10,462 |
| 18 | - | - | 18 | - | - | - | 35 | 1,610 |
| - | - | - | - | - | - | - | 52 | 1,015 |
| - | - | - | - | - | - | - | 113 | 450 |
| - | - | - | - | - | - | - | 74 | 647 |
| - | - | - | - | - | - | - | 171 | 338 |
| - | - | - | - | - | - | - | 299 | 221 |
| - | - | - | - | - | - | - | 276 | 181 |
| - | - | - | - | - | - | - | 232 | 231 |
Monthly Ranking
| Year | Month | Month Rank | Sales | Ref |
| --- | --- | --- | --- | --- |
| 2019 | May | 18 | 13,087 | [4] |
Yearly Ranking
| Year | Year Rank | Sales |
| --- | --- | --- |
| 2019 | 292 | 15,155 |
Total Reported Sales: 15,155
Weekly Combined Rankings
| Week Rank | Points |
| --- | --- |
| 5 | 11,081 |
| 46 | 1,788 |
Total reported points: 12,869
| Week Rank | Sales | Ref |
| --- | --- | --- |
| 6 | 10,012 | [5] |
| 28 | 1,622 | [6] |
| 39 | 646 | [7] |
| 91 | N/A | [8] |
Total Reported Sales: 12,280
Other Chart Rankings
[
]
Trivia
[
]
References
[
]
External Links
[
]