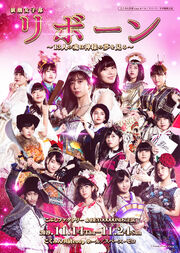 Reborn ~13nin no Tamashii wa Kami-sama no Yume wo Miru~ (リボーン~13人の魂は神様の夢を見る~; Reborn ~13 Souls See the Dream of God~) was an Engeki Joshibu musical starring Kobushi Factory and BEYOOOOONDS. It ran from November 14 to November 24, 2019 at Kokumin Kyosai coop Hall / Space Zero. It was a revival of the 2011 musical Reborn ~Inochi no Audition~.
The DVD was released on February 26, 2020. It includes a photobooklet.
The god Enma has gathered the souls of great people in history.
From Jeanne d'Arc, Cleopatra, and Napoleon to Marie Antoinette,
Oda Nobunaga, and Akechi Mitsuhide... the group is truly worldwide!
However, one of the souls, Bebe, does not have memories of their past life.
"Why don't I have memories of my past like everyone else?"
Then Enma makes a loud declaration.
"Well then, let's begin the audition of life, to be reborn!"
Who will be reborn?
What did Bebe do in their past life?
And what are the souls' futures?
Bebe's trial begins!!
Featured Members
Edit
From Kobushi Factory
From BEYOOOOONDS
Script: Ota Yoshinari
Director: Yoshida Ken (TBS TV)
Choreography: YOSHIKO
Producer: Niwa Tamon Andrew (BS-TBS)
DVD Tracklist
Edit
Opening ~ ♪"Tamashii no Sugata" (オープニング~♪「魂の姿」)
♪"Reborn no Theme" ~ 13nin Iru no ka? (♪「リボーンのテーマ」~13人いるのか?)
♪"Audition for Life" (♪「オーディション・フォー・ライフ」)
Dai 1 no Inochi / Spain no Geijutsuka (第1の命/スペインの芸術家)
"Da Vinci Dance" (「ダ・ヴィンチ・ダンス」)
Dai 2 no Inochi / Okane wo Morau Moguri no Isha (第2の命/お金をもらうもぐりの医者)
♪"Mitame de Handan Surura na" (♪「見た目で判断するな」)
Dai 3 on Inochi / Heiwa no Ousama Shiroi Lion (第3の命/平和の王様 白いライオン)
♪"Show Time!" (♪「ショータイム!」)
Dai 4・5 no Inochi / Sora wo Tobu 10man Bariki (第4・5の命/空を飛ぶ10万馬力)
♪"Bye Bye" (♪「バイバイ」)
Kyuukei Jikan no Wasuremono (休憩時間の忘れもの)
Jeanne to Bebe no Kokuhaku (ジャンヌとベベの告白)
♪"Nani mo Shiranai" (♪「何も知らない」)
Sandai Bijo to Napolean no Sakusen (三大美女とナポレオンの作戦)
Antoinette no Uwasa (アントワネットの噂)
Dai 6・7・8 no Inochi / Jidai wo Kaeru Gendouryoku (第6・7・8の命/時代を変える原動力)
♪"Watashitachi Nara Kitto" (♪「私たちならきっと」)
Dai 9・10 no Inochi / Inochi no Lamp ga Hikatta (第9・10の命/命のランプが光った)
♪"Kibou no Yume" (♪「希望の夢」)
Dai 11 no Inochi / Konchuu Suki no Gakusha (第11の命/昆虫好きの学者)
♪"Ningen Kirai" (♪「人間嫌い」)
Dai 12 no Inochi / Saigo no Umarekawari (第12の命/最後の生まれ変わり)
♪"Soba ni Iru yo" (♪「そばにいるよ」)
Epilogue ~ Sakuhin no Kioku (エピローグ~作品の記憶)
♪"Reborn" ~ Finale (♪「リボーン」~フィナーレ)
Curtain Call (カーテンコール)
Date
Venue
Prefecture
Doors Open
Show Starts
11/14
Kokumin Kyosai coop Hall / Space Zero
Tokyo
18:30
19:00
11/15
18:30
19:00
11/16
11:00
11:30
14:30
15:00
18:00
18:30
11/17
11:00
11:30
14:30
15:00
11/19
18:30
19:00
11/20
18:30
19:00
11/21
18:30
19:00
11/22
18:30
19:00
11/23
11:00
11:30
14:30
15:00
18:00
18:30
11/24
11:00
11:30
14:30
15:00
References
Edit
External Links
Edit
Community content is available under
CC-BY-SA
unless otherwise noted.