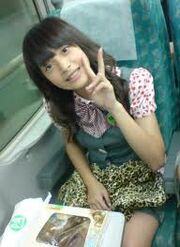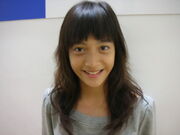 Qiū Cuìlíng (邱翠玲), also known as Reirei (レイレイ), is a former member of the Hello Pro Taiwan group Ice Creamusume.
Biography
Edit
Reirei was a contestant in the Taiwan Hello! Project NEW STAR Audition but was eliminated early on. She was one the girls brought back for a special episode which allowed some of the losers that Tsunku thought had potential to re-audition. However, she was once again eliminated but was allowed to take part in a "last camp" and was finally chosen as a member of Ice Creamusume.
In 2009, she graduated from junior high.
Japanese Stage Name: Reirei (レイレイ)
Birth Name: Qiū Cuìlíng (邱翠玲)
Taiwanese Nicknames: Ā Cuì (阿翠), Tián Tián (甜甜; Sweety)
Birthdate: January 16, 1994
Birth Place: Taiwan
Western Zodiac: Capricorn
Eastern Zodiac: Rooster
Blood Type: O
Flavor (Member Color): Choco-mint
Hello! Project Groups:
Discography Featured In
Edit
Ice Creamusume
Hello! Project
She graduated from Junior High in June 2009.
She loves the character "Little Miss Positive" from the Mr. Men and Little Miss character franchise, and collects merchandise of her. (In English the character is called "Little Miss Sunshine".)
She is part of a "family" (started on the girl's blogs) consisting of her (Daughter, Positive), Peipei (Father, Shin-chan), Youko (Mother, Minnie), and sometimes Aiko (another Daughter).
Before she graduated from Junior High, she wrote in her blog that everyone in her class had a nickname, and her's was "Tiantian", which means Sweety.
She has a puppet that she's seen with quite frequently. She even took it with her on Ice Creamusume's first appearance on the variety show "100% Entertainment", and wore it while playing the drums.
She didn't make it through the preliminary New Star auditions, but was brought back for a Wildcard Round where previously eliminated girls were given another chance. She was once again kicked off, but chosen along with six other girls (including Anchii) to attend a training camp. She was chosen by Tsunku from the camp.
She and Anchii met for the first time at the training camp.
Community content is available under
CC-BY-SA
unless otherwise noted.