Pop Music / Suki tte Itte yo (ポップミュージック/好きって言ってよ; Pop Music / Tell Me You Like Me) is Juice=Juice's 13th single. It was released on April 1, 2020 in five editions: two regular and three limited. The first press of the two regular editions includes a random trading card of 9 kinds depending on the jacket (18 in total).[1]
The Event V was available to purchase from e-LineUP! Mall from May 8 to June 7, 2020.[2][3]
"Pop Music" is a cover of the 2020 single by KAN. The B-side "Tsudzuiteiku STORY (Symphonic Version feat. Karin)" is a re-recorded version of the song from their first album First Squeeze!, featuring Miyamoto Karin's vocals.[1]
This is the debut single of members Kudo Yume and Matsunaga Riai, and the last single to feature Miyamoto Karin. Following its release, it became the last single to feature Takagi Sayuki.
Tracklist
[
]
CD
[
]
Regular Edition A
[
]
Pop Music (KAN cover)
Suki tte Itte yo
Tsudzuiteiku STORY (Symphonic Version feat. Karin)
Borderline【Additional Track】
Pop Music (Instrumental)
Suki tte Itte yo (Instrumental)
Tsudzuiteiku STORY (Symphonic Version feat. Karin) (Instrumental)
Borderline (Instrumental)
Regular Edition B
[
]
Pop Music
Suki tte Itte yo
Tsudzuiteiku STORY (Symphonic Version feat. Karin)
Va-Va-Voom【Additional Track】
Pop Music (Instrumental)
Suki tte Itte yo (Instrumental)
Tsudzuiteiku STORY (Symphonic Version feat. Karin) (Instrumental)
Va-Va-Voom (Instrumental)
Limited Editions A-SP
[
]
Pop Music
Suki tte Itte yo
Tsudzuiteiku STORY (Symphonic Version feat. Karin)
Pop Music (Instrumental)
Suki tte Itte yo (Instrumental)
Tsudzuiteiku STORY (Symphonic Version feat. Karin) (Instrumental)
Limited Edition A DVD
[
]
Pop Music (Music Video)
Limited Edition B DVD
[
]
Suki tte Itte yo (Music Video)
Limited Edition SP DVD
[
]
Pop Music (Dance Shot Ver.)
Suki tte Itte yo (Dance Shot Ver.)
Event V
[
]
Pop Music (Close-up Ver.)
Suki tte Itte yo (Close-up Ver.)
Featured Members
[
]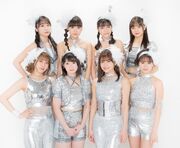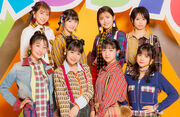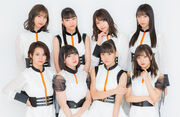 Single Information
[
]
Pop Music
Suki tte Itte yo
Tsudzuiteiku STORY (Symphonic Version feat. Karin)
Borderline
Va-Va-Voom
Performances
[
]
TV Performances
[
]
Concert Performances
[
]
Pop Music
Suki tte Itte yo
Borderline
Va-Va-Voom
Tsudzuiteiku STORY (Symphonic Version feat. Karin)
Event Performances
[
]
Chart Positions
[
]
Oricon Chart Positions

[

]
Daily & Weekly Rankings
Mon
Tue
Wed
Thu
Fri
Sat
Sun
Week Rank
Sales
-
3
9,818
3
3,221
1
21,354
3
1,939
9
3
2,938
3
39,648
3
2,922
18
19
17
28
20
21
9
3,656
23
-
-
-
-
-
-
45
332
-
-
-
-
-
-
-
79
153
-
-
-
-
-
-
-
105
144
-
-
-
-
-
-
-
114
113
-
-
-
-
-
-
-
112
135
-
-
-
-
-
-
-
97
191
-
-
-
-
-
-
-
131
153
-
-
-
-
-
-
-
134
142
-
-
-
-
-
-
-
148
126
-
-
-
-
-
-
-
150
127
-
-
-
-
-
-
-
192
99
-
-
-
-
-
-
-
Out for 3 weeks.
-
-
-
-
-
-
-
184
84
-
-
-
-
-
-
-
Out for 11 weeks.
-
-
-
-
-
-
-
189
89
Monthly Ranking
| Year | Month | Month Rank | Sales | Ref |
| --- | --- | --- | --- | --- |
| 2020 | March | 11 | 39.648 | [5] |
| 2020 | April | 28 | 4.285 | [6] |
Yearly Ranking
| Year | Year Rank | Sales |
| --- | --- | --- |
| 2020 | 79 | 45,192 |
Total Reported Sales: 45,192
Weekly Combined Ranking
| Week Rank | Points |
| --- | --- |
| 3 | 45,536 |
Total reported points: 45,536
| Week Rank | Sales | Ref |
| --- | --- | --- |
| 2 | 56,176 | [7] |
| 20 | 1,333 | [8] |
| 41 | 339 | [9] |
Total Reported Sales: 57,848
Recochoku Music Video Rankings
[
]
| Song | Daily Rank | Weekly Rank | Monthly Rank |
| --- | --- | --- | --- |
| Pop Music | 3 | 8 | 18 |
| Suki tte Itte yo | 6 | 13 | 32 |
Other Chart Rankings
[
]
Trivia
[
]
April Fools Day Covers
References
[
]
External Links
[
]
Juice=Juice
Members
Current Members
Former Members
Units & Other Groups
In-group Subunits
Associated Acts