Plastic Love / Familia / Future Smile (プラスティック・ラブ/Familia/Future Smile) is Juice=Juice's 15th single. It was released on December 22, 2021[1] in eight editions: five limited and three regular. The first press of the regular editions includes a random trading card selected from 10 member cards and one shiny group card depending on the jacket (33 in total).
The Limited Edition SP2 includes a download card for one of 10 Free Angle Video, filmed with 70 cameras, of a "Future Smile" solo dance shot video. A special Kanazawa Tomoko Sotsugyou Kinenban edition of the single, which is only available from the Pony Canyon Shopping Club, includes Kanazawa focused versions of the music videos in the Blu-ray disc, and one large sized raw photo from her graduation concert (purchasers can choose one photo from 3 types).[2]
"Plastic Love" is a cover of the 1984 song of same title sung by the artist Takeuchi Mariya and produced by Yamashita Tatsuro. More specifically, Juice=Juice covers the abridged version of the song played in its official music video.
This is the debut single for new members Arisawa Ichika, Irie Risa and Ebata Kisaki. It is also the last single to feature Kanazawa Tomoko and Inaba Manaka, who graduated from the group before and after the release of the single, respectively.[3]
Tracklist
[
]
CD
[
]
Plastic Love
Familia
Future Smile
Plastic Love (Instrumental)
Familia (Instrumental)
Future Smile (Instrumental)
Limited Edition A Blu-ray
[
]
Plastic Love (Music Video)
Plastic Love (Dance Shot Ver.)
Plastic Love (Making Eizou) (メイキング映像; Making Video)
Limited Edition B Blu-ray
[
]
Familia (Music Video)
Familia (Dance Shot Ver.)
Familia (Making Eizou)
Limited Edition C Blu-ray
[
]
Future Smile (Music Video)
Future Smile (Dance Shot Ver.)
Future Smile (Making Eizou)
Limited Edition SP1 Blu-ray
[
]
Audition Omnibus Eizou (オーディションオムニバス映像)
Limited Edition SP2 Download Card
[
]
Future Smile (Free Angle Video) (1 randomly selected out of 10)
Kanazawa Tomoko Sotsugyou Kinenban Blu-ray
[
]
Plastic Love (feat. Kanazawa Tomoko Ver.)
Familia (feat. Kanazawa Tomoko Ver.)
Future Smile (feat. Kanazawa Tomoko Ver.)
Featured Members
[
]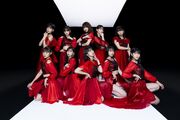 Single Information
[
]
Plastic Love
Familia
Future Smile
Concert Performances
[
]
Plastic Love
Familia
Future Smile
Chart Positions
[
]
Oricon Chart Positions

[

]
Daily & Weekly Rankings
Mon
Tue
Wed
Thu
Fri
Sat
Sun
Week Rank
Sales
-
3
36,115
4
6
4
1
4,791
3
1,354
3
46,473
12
27
-
15
25
-
-
23
961
-
27
-
25
25
-
-
73
256
-
-
-
-
-
-
-
92
182
28
-
10
-
-
-
-
36
759
-
-
-
-
-
-
-
95
211
-
-
-
-
-
-
-
93
154
-
-
-
-
-
-
-
181
91
Monthly Ranking
| Year | Month | Month Rank | Sales | Ref |
| --- | --- | --- | --- | --- |
| 2021 | December | 13 | 46,473 | [4] |
Total Reported Sales: 49,087*
Weekly Combined Ranking
| Week Rank | Points | Ref |
| --- | --- | --- |
| 3 | 48,796 | [5] |
Total reported points: 48,796*
Total Reported Sales: 72,146*
Recochoku Music Video Rankings
[
]
| Song | Daily Rank | Weekly Rank | Monthly Rank |
| --- | --- | --- | --- |
| Plastic Love | 2 | | |
| Familia | 4 | | |
| Future Smile | 3 | | |
Other Chart Rankings
[
]
Trivia
[
]
Additional Videos
[
]
References
[
]
External Links
[
]
Juice=Juice
Members
Current Members

Former Members
Units & Other Groups
In-group Subunits
Associated Acts