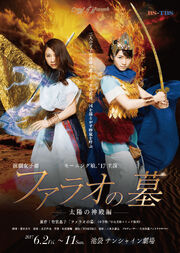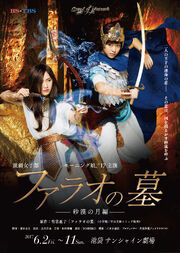 Pharaoh no Haka (ファラオの墓; Pharaoh's Tomb) is an Engeki Joshibu musical starring Morning Musume '17 and select members of Hello Pro Kenshuusei. It is an adaptation of the manga of the same name by Takemiya Keiko which was originally published from 1974 to 1976. The musical will run from June 2 to June 11, 2017 at Ikebukuro Sunshine Theater in Tokyo.
There are two performance patterns, Taiyou no Shinden Hen (太陽の神殿編; Temple of the Sun Version) and Sabaku no Tsuki Hen (砂漠の月編; Desert Moon Version), with a few of the roles double cast.
Story
About 4000 years ago, Egypt entered an era of war. The small country of Esteria was destroyed by its powerful neighbor, Urjna, ruled by Pharaoh Sneferu.
Prince Sariokis of Esteria has hidden as a slave that would help build the "Pharaoh's Tomb", and his younger sister Princess Nilekia has hidden in the enemy country Urjna as a maid in a priest's house.
Then Sariokis meets Princess Ankesen in the Urjna Palace. Although they are attracted to each other upon first meeting, she is the fiancée of the enemy Sneferu. At the same time, Sneferu also meets Nilekia, and they fall in love, unaware of each other's identity.
Before long, Sariokis becomes known as the legendary warrior "Desert Hawk" and rallies together many tribes persecuted by Urjna to begin an advance on Sneferu's palace.
Sariokis and Ankesen, as well as Sneferu and Nilekia, trifle with destiny. These two loves are to be swallowed up by the storm of war.
Cast
T = role in Taiyou no Shinden Hen, S = role in Sabaku no Tsuki Hen
From Morning Musume '17
From Hello Pro Kenshuusei
From Engeki Joshibu
Others
Shiotsuki Shuu as Priest Menep (メネプ神官; Menep-shinkan)
Ogi Kei as Minister Kes (ケス大臣; Kes-daijin)
Crew
Original Work: Pharaoh no Haka by Takemiya Keiko (published by Shogakukan)
Script: Shimizu Yuuki
Director: Ota Yoshinari
Music: Wada Shunsuke
Choreography: YOSHIKO
Producer: Niwa Tamon Andrew (BS-TBS)
Soundtrack
Engeki Joshibu "Pharaoh no Haka" Original Soundtrack

Soundtrack by

Morning Musume '17

Native title
演劇女子部「ファラオの墓」オリジナルサウンドトラック
Released
June 2, 2017 (Venue)
July 12, 2017 (General)
Format
CD
Label
UP-FRONT WORKS
The original soundtrack for the musical will be released at the venue on June 2, 2017, and released for general sale on July 12, 2017.
The venue release comes with a bonus postcard of 3 types: Main (Sariokis and Sneferu), Mural A (Ankensen), or Mural B (Nilekia).[1]
Tracklist
Itsuka Aeru Sono Hi Made (Sabaku no Tsuki ver) (いつか会えるその日まで (砂漠の月ver); Until the Day We Meet (Desert Moon ver)) - Sariokis, Nilekia
Sabaku no Taka (Sabaku no Tsuki ver) (砂漠の鷹 (砂漠の月ver); Desert Hawk (Desert Moon ver)) - Sarai, Izai, Ali, Pavi, Yuta
Ai Sae Areba (Taiyou no Shinden ver) (愛さえあれば (太陽の神殿ver); If There Is Love (Temple of the Sun ver)) - Sariokis, Ankensen
Eien no Ai (Taiyou no Shinden ver) (永遠の愛 (太陽の神殿ver); Love for Eternity (Temple of the Sun ver)) - Sneferu, Nilekia
Pharaoh no Haka (Full ver) (ファラオの墓; Pharaoh's Tomb) - All Cast
Information
Trivia
Videos
Gallery
References
External Links
Community content is available under
CC-BY-SA
unless otherwise noted.