PEACE$TONE

PEACE$TONE (2019)
Information
Origin
Tokyo, Japan
Genre
Japanese Pop, Japanese Rock, Acoustic, Indie Pop
Anniversary
February 14, 2011
Years Active
2011-present
Labels
Star Line Music (2011)
a-records (2012)
Oshechi Records (2013-present)
Associated Acts
Hello! Project, Morning Musume, Morning Musume 20th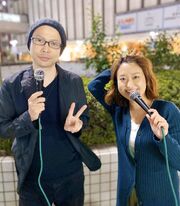 PEACE$TONE are a mixed male/female vocal group, going by the slogan "a circus of sounds". They operate mainly out of Tokyo, and are signed to the record company Osechi Records with STONE Project as their label. The band's image, stage production, and other details relating to the group are handled by their producer and president of STONE Project, Ai Minase.  
They formed on February 14th, 2011 with the belief that "the power of culture can make hearts wealthy", listing The Beatles and Jack Johnson as some of their favorites, they combine various genres matched by acoustic guitar in an "organic mixture" to produce their appealing sound. As part of their former band THETAθ (Harmony Production), Vocalist TERRA and Guitar/Prog. Yaman Chang participated in a project by the TV show "Utaban" wherein they travelled from the northernmost part of Honshu down to Aomori with no money in their pockets, pulling a cart with their sleeping bags and CDs. 
Peacestone marks Fukuda Asuka's return to the music industry after her graduation from Morning Musume and Hello! Project in 1999. They were under Star Line Music[1] in 2011, changing company to a-records in 2012,before changing to Oshechi Records and STONE Project in 2013.
They started out as a three-member band, but increased to six members when ayumi, ecchan, and aya joined after winning an audtion in August 2015. The audition was held due to Fukuda's pregancy, and her going away for maternity leave.
In 2016, Yaman chang retired from front stage to be part of back stage. PEACESTONE went on as a quartet with TERRRA, ayumi, ecchan and aya, as Fukuda was still on maternity leave. From September 2017, TERRA, Fukuda, ayumi, and etsu announced the new system of a four-piece set. Started as a mixed male and female mixed pop group.
On October 2019, PEACESTONE had a live performance at Hiroshima Club Quattro where they covered Morning Musume's Summer Night Town.[2]
asuka (vocals) (2011-)
TERRA (vocals) (2011-)
ayumi (アユミ) (2015-)
Former Members
Edit
Yaman chang (guitar) (2011-2016)
aya (2015-2017)
ecchan (えつ) (2015-?)
Discography
Edit
Singles
Albums
Other
[2012.10.03] Silent Night
[2012.11.03] Minna no Tabibito (みんな旅人)
[2012.12.03] Isu-tori Game (椅子取りゲーム)
[2013.01.21] Best Smile (ベストスマイル)
[2013] Motto, Motto (もっと、もっと)
[2013.01.15] Bakufu Tribute Complete (爆風トリビュートComplete) (BAKUFU-SLUMP tribute album) (#10 Shuukan Tokyo "Shoujo A")
[2014] Sain-iri demo CD-R
Original songs (demos)
Kokoro no Mama ni (心のままに)
That's Amore ~Datsumou Musume no Theme~ (That's Amore~脱毛娘のテーマ~)
References
Edit
External Links
Edit
Community content is available under
CC-BY-SA
unless otherwise noted.