Otsuka Aina (大塚愛菜) is a former Japanese pop singer once under Hello! Project. She is a former member of Juice=Juice and Hello Pro Kenshuusei. She was first introduced as a trainee at a fanclub event in June 2011. It was announced on July 5, 2013 that she had withdrawn from both Hello Pro Kenshuusei and Juice=Juice, subsequently leaving Hello! Project. From April 2014 to April 2018, she was active as an independent solo idol and actress.
Biography
[
]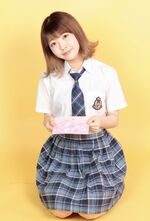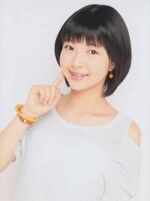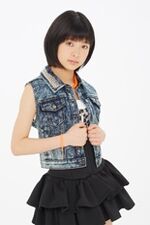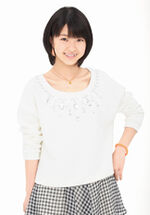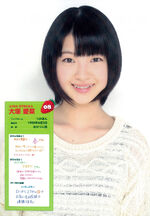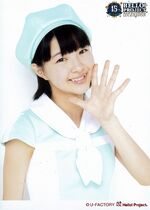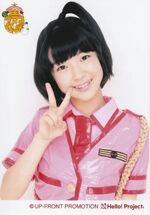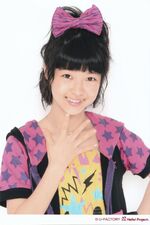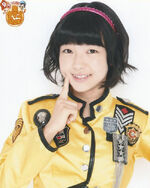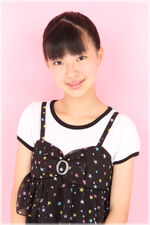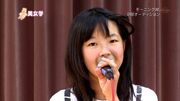 Early Life
[
]
Otsuka Aina was born on April 3, 1998 in Tokyo, Japan to a couple whose names are undisclosed.
2010
[
]
In 2010, Otsuka participated in the Morning Musume 9ki Audition. She sang "EVERYDAY Zekkouchou!" by ℃-ute, and managed to become a finalist, but was not chosen to enter Morning Musume.
2011
[
]
On June 20, as the Morning Musume 10ki Member "Genki Jirushi" Audition was occurring, it was revealed that Otsuka would be joining Hello Pro Egg alongside Ogawa Rena and Mogi Minami.[1] Later that year, she participated in the S/mileage Shin Member Boshuu! auditions, but failed to pass.
On September 11, she made her debut as a Hello Pro Egg member at the Hello Pro Egg 2011 Happyoukai ~9gatsu no Nama Tamago Show!~ concert.
2012
[
]
In summer 2012, while practicing for a S/mileage concert, Otsuka injured her ankle and was unable to participate as a back dancer.
In September 2012, Hello Pro Kenshuusei announced their first single, Kanojo ni Naritai!!!, and Otsuka was one of the chosen Kenshuusei to sing in the song alongside Miyamoto Karin, Tanabe Nanami, Taguchi Natsumi and Hamaura Ayano.
2013
[
]
On February 3, during the Bravo! concert in Fukuoka, it was announced that Otsuka would be debuting in a new unit called Juice=Juice, alongside Miyamoto Karin, Kanazawa Tomoko, Miyazaki Yuka, Takagi Sayuki and Uemura Akari.[2]
On June 8, it was announced that Otsuka had suffered a hip/lower back injury before the Hello Pro Kenshuusei Happyoukai 2013 ~6gatsu no Nama Tamago Show!~, afterwards she went to the doctors and was diagnosed with muscle strain/contusion on her left hip, because of this injury she was unable to sing and dance in an event on June 9.
On June 13, Otsuka participated in an Ikebukuro Sunshine city event, due to her hip injury she remained off stage for most of the event. Towards the end of the event, Otsuka appeared on stage and Tsunku announced Juice=Juice's major debut, while the other Juice=Juice members cheered and cried, Otsuka stood still with no reaction to the news. This was her last event as a member of Juice=Juice.
On July 5, it was announced that Otsuka withdrew from both Hello Pro Kenshuusei and Juice=Juice due to issues with her contract and family.[3]
"We truly thank you for all your support for Juice=Juice.
We had repeatedly entered negotiations with Otsuka Aina herself and her family regarding her contract but, unfortunately we could not reach an agreement for the terms of the contract, and with the refusal of the contract by her family, as of July 5th, Otsuka Aina has been withdrawn from Juice=Juice as well as Hello Pro Kenshuusei.
Here after Juice=Juice will continue activities with 5 members.
To all the fans, in addition to your understanding, we ask that you please continue your support."
Stagement from Otsuka Aina (via blog)
"Good evening.
Some of you probably already know…
As the official announcement says, I am leaving Juice=Juice and Hello Pro Kenshuusei today.
I am so sorry that I couldn't say a proper good-bye.
Everybody who cheered for us until this day…
Thank you so much!
Well then… bye-cha-ko. (*´ `*)"
Because of the withdrawal, Otsuka didn't receive a graduation ceremony.
Following her departure, the Hello! Project Store was forced to stop selling items with images of Otsuka, including Juice=Juice group items. Her profile was eventually removed a few days later.
2014
[
]
On April 24, Otsuka Aina wrote on her blog the reality of why she left Juice=Juice suddenly.[4]
Blog Post from Otsuka Aina[5]
"Good evening everyone ♪

Just as it says in the title、
There's 「something I want to convey」、
The sequence of events that led to today、 my feelings、
I think it'll get quite long、
But I think I want to tell it anyway。

Firstly、 I loved singing ever since I was a kid、
Vaguely、 I thought that、 I'd like to become a singer in the future。
And as a child、I came upon ℃-ute-san's music、
And I think that there are some who know of this、
But I looked up to Okai-san、 and liked her very much。

It was just about time when it all started
Getting to the the Morning Musume。9th generation auditions、
I was unsuccessful at that audition、
But I got called to be a Kenshuusei (Hello! Pro Egg at the time)、
So I started activities as a Hello! Pro Kenshuusei。

I'm saying this now、
But when I got to the auditions、
In the mind of 6th grade primary school student Otsuka Aina、

I'll get to meet with Okai-san if I get into Morning Musume。!

Those were my thoughts。
Basically、at the time

I'd never really seriously thought about things like、
Wanting to join Morning Musume。、
Or wanting to début、
What I had been seriously thinking about、

Was that I wanted to meet Okai-san、
I'll meet her if I pass、

That was it lol
So when I got the call to become a Kenshuusei、
If I appealed to them by working hard as a Kenshuusei、
I might just be picked for a Hello! Con and get to meet Okai-san!?
With all that going through the brain of Otsuka Aina at the time、
I practised with everything I had for it to happen。

There were also several auditions during my tenure as a Kenshuusei、
But my feelings were the same。

I was aware of débuting、
But thinking realistically、
Little by little I made appearances at Hello! Cons、
「I want to meet Okai-san!」
Having achieved that goal、
Those feelings settled down。

It might be obvious、
But the members of the Kenshuusei around me、
Had goals like
「I want to début」
「I want to be an idol」、
Having regained my composure、 I felt that conciousness around me
And became aware that
「I want to be among them too」。

Of course、up to then
In conversations with those around me
「It would be great to début」 or、
「Let's work hard so that we'll get to début」
I'd respond with
「Yup、 let's do our best」、
But I thought that it was something unrelated to myself…

Thinking about it philosophically、
「Do I want to début as an idol?」
That was the first doubt that had been born in my mind。

Everyone has their own values which may not be public、
But for me、 putting aside my preferences、
Idols are people who would be
「Thought of as cute (pretty) by anyone (by a lot of people)」。

I never thought of myself as being cute、
And I was far from the image I had of what an idol was、
So I thought that it would be impossible for myself to be an 「idol」。
Beginning from then
I started worrying about whether I should continue on as a Kenshuusei、
I recalled the feelings I had、
From my vague childhood dream
「I want to be a singer」。
And when I reflected up to then
I felt that my own singing prowess hadn't improved。

The singing prowess of myself at the time (of course, even now)
I thought that I was leagues away from being called a singer at my level。
So at the time, I'd been hanging on for several years、
And I was thinking that while I was a Kenshuusei
I'd like to build up my singing prowess, even if just by a little。

It was at that time that I was selected for a new unit。

Since I'd never thought that I'd get to début at my level of ability、
I thought it would be somebody else's problem、 and the moment my name was called out、 I got scared。

It was from then that we started talking、
That continuing in this condition would be impossible。

But on the other hand、
Since it wasn't the case that we'd début immediately、
So with everything I had up to then、
I thought positively、
That I could just satisfactorily build up my ability 。
Instead I became worried about my singing、
And I truly felt at the time that I couldn't develop in that condition。
And like that…、 in a rush、

Our major début was announced。

I got really worried。

I thought that I'd be able to develop if we got to début。
But、 at the rate I'd been developing so far、
I considered the circumstances after our début、 and had discussions、
I thought that it would be difficult to expect only reasonable growth after our début。

But then I thought that、
There are people who are cheering me on、 looking over me warmly。
I thought that I'd do my best
For the sake of those who were cheering me on。
I was praised、 by everyone、 that my singing was excellent。
Receiving such praise really made me glad。
However、 being unable to sing songs convinvingly、
It was extremely complicated for me…

And with my personality、
I thought that someday I'd be spoilt by that warmth、 that kindness。
I thought that、
If I got spoilt、
I might stop developing someday。

Worrying and worrying…、
My family and those close to me told me that、 it would be such a waste、 or、
Is it really all right?

Perhaps、 I thought that if only I had the ability for a CD début、
I wouldn't be worried。
However、 having a CD début with my abilities as they were、
I couldn't assent, no matter what。

What I had chosen、 was to sing songs convincingly、 by myself。
No matter how many years might pass、 be it 10 years or 20 years、
Though I might not be able to attain that level、
Yet、 I thought that、 until I'm satisfied、 I'd like to aim to be a singer。

Everyone who cheered me on、
I'm grateful from the depths of my heart。
Thank you so very much。
And、 for being unable to live up to your expectations、
I truly am sorry。

Otsuka Aina is presently、

Neither an idol
Nor a singer。

With my eye on becoming a singer、 I'm just a regular high school student。

No matter how many years may pass、I'll improve little by little from now on、
And someday when I have the confidence to call myself a singer、
I think I'd like to go on with musical activities。

And once again、 everyone
Even if it's only a single person who's interested、
I think I want to do my best。

It ended up being quite long、
But this is something I wanted to convey 「Something I want to convey」。

For reading until the end、
I deeply thank you very much。"
On April 20, Otsuka performed at the Shisui Deux cafe.
On April 22, Otsuka started her official Ameba blog, she mentioned in her first post that she wants to sing again, and would do her best from this point on, proceeding step-by-step. Girls News posted an article saying that Otsuka would be resuming public life.
On July 5, Otsuka held her first solo event, titled "Otsuka Aina, Otsuka de Utau ♪", at the Shisui Deux café.
2015
[
]
On April 3, she held a birthday event at Shibuya Star Lounge.
On November 15, Otsuka announced she would be releasing her first indie singles called "Dreamer", which is an original song she first performed on March 15.[6] The single will be released on November 29.[7]
2016
[
]
On November 6, Otsuka blogged that she was still supporting Juice=Juice from the shadows and wishes she could attend their Budokan concert. She, however, had her own event that evening. [8]
On November 8, Otsuka visited Budokan for Up Up Girls (Kakko Kari)'s concert. [9]
2018
[
]
On April 3, Otsuka held a birthday live event, where she announced her sudden retirement from show business.[10]
Personal Life
[
]
When Otsuka debuted as a member of Juice=Juice in February 2013, she was a second year middle school student. She graduated from high school on March 11, 2017.[11]
Otsuka's given name, "Aina", means love (愛; ai) combined with vegetables (菜; na). It's a feminine Japanese given name and surname.
Here is a list of nicknames that was used to refer to Otsuka Aina:
Tsukapon (つかぽん): Official nickname, given to her since joining Hello Pro Egg.
Profile
[
]
Name: Otsuka Aina (大塚愛菜)
Nickname: Tsukapon (つかぽん)
Birthdate: April 3, 1998
Blood Type: O
Height: 153 cm (5 ft 0.2 in)

?

Western Zodiac: Aries
Eastern Zodiac: Tiger
Hello! Project Status:
UP-FRONT GROUP Status:
Former Juice=Juice Fruit Member Color:

Orange

Hello Project Groups:
Publications
[
]
Other Books
[
]
Magazines
[
]
Works
[
]
Internet
[
]
Music Videos
[
]
[2014] Ichijiku (イチヂク) - Jitsumami Shojo (自撮少女)
Theater
[
]
[2014.12.17~21] Seven Friends Seven Minutes
Trivia
[
]
She auditioned because she wanted to meet Okai Chisato.
She became a Hello! Project fan after she saw the music video to ℃-ute's "Tokaikko Junjou".
When asked what group she'd like to debut in, she answered ℃-ute.
Her closest friend within Hello Pro Kenshuusei was Mogi Minami.
Her best sports are golf and soccer, the former of which she had played since first grade.
Wants to try bungee jumping at an amusement park.
She participated in the 9th, 10th and 11th generation Morning Musume auditions, and S/mileage's 2nd generation auditions, but failed.
She has been a back dancer in various concerts for Mano Erina.
Tsunku's comment on her: "An exceptional person left from the final round of the 9th generation Morning Musume Audition, Her voice quality through the mic is something that draws you in".
She said her favorite member in Morning Musume is Ikuta Erina.
She gave Kanazawa Tomoko a present for her 18th birthday, just three days before she left Juice=Juice.
She says her source of energy is looking at Okai Chisato and Natsuyaki Miyabi photos.
Brief glimpses of her can be spotted in the MVs for Romance no Tochuu (featured on Hello! Station), and Watashi ga Iu Mae ni Dakishimenakya ne (MEMORIAL EDIT).
A photo of Otsuka and Juice=Juice members promoting Romance no Tochuu was leaked.
Anican R YanYan made a mistake on their Vol. 11 (November 11, 2013) information, they claimed that Otsuka would be featured, instead of Kanazawa, promoting Ijiwaru Shinai de Dakishimete yo / Hajimete wo Keiken-chuu.
References
[
]
External Links
[
]
Juice=Juice
Members
Current Members

Former Members
Units & Other Groups
In-group Subunits
Associated Acts
Hello Pro Kenshuusei
Members
Current Members
Former Members
Concerts & Events

Shinjin Kouen Concerts
Happyoukai Concerts

2011
2012
2013
2014
2015
2016
2017
2018
2019
2020
2021
2022
Test Events

Other
Units & Other Acts
Sub-Units & Groups
Debuted Acts
Associated Acts
Related Acts