Otani Masae (大谷雅恵) is a Japanese pop singer. She is a former idol under Hello! Project as a member of Melon Kinenbi.
After Melon Kinenbi disbanded in 2010, Otani started as a solo singer under the name Otani Masae aka Himawari, a name she chose after announcing a competition on her blog for a new stage name. Her last release under this name is the 2013 single BOY'S.
In addition to her activities as a solo artist, she was also a member of the Korean pop cover group 4C Crew under the name MELODY from 2016 to 2017. She also worked as an instructor, in both vocals and dance, for the idol-themed café AKIHABARA Backstage pass.
Biography
[
]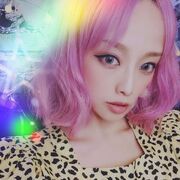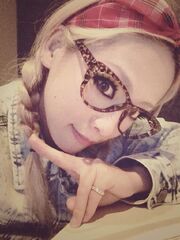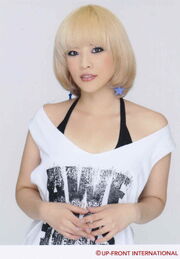 1999
[
]
Otani was recruited from the 2nd Morning Musume & Heike Michiyo Protegee Audition in 1999,along with Saito Hitomi, Murata Megumi, and Shibata Ayumi. The four winners then became the group Melon Kinenbi.
2006
[
]
In September 2006, Otani had landed a small part in the movie Sukeban Deka Codename Asamiya Saki, starring other H!P members Matsuura Aya and Ishikawa Rika.
2009
[
]
In 2009, Otani graduated with the rest of the Elder Club from Hello! Project, along with all the other Melon Kinenbi members.
From August 5-9, she appeared in the stage play "Sukoshi Hanarete, Soko ni Ite" alongside fellow Melon Kinenbi member Shibata Ayumi.[1]
2010
[
]
In May of 2010, Melon Kinenbi disbanded and she decided to leave UP-FRONT AGENCY. Having the goal of eventually performing her own music. She has yet to sign to a new agency. In December, the former idol will be performing at the IVY HALL in Shibuya for a special event called "X'mas CHAPEL LIVE & SWEETS PARTY." Currently she plans to begin her transition to a theater actress and will be in some productions next spring.
Otani also recently teamed up with another Melon Kinenbi member, Shibata Ayumi, to make the mail order only photo book, "YOU&I." The book contains original songs made by Shibata herself, and even came packaged with a CD recording of "YOU&I." The book is available through Shibata's official fan club site which also offers posters, clear files, and a cell phone strap.
2011
[
]
In 2011, Otani has so far released two digital singles for cellphone only download via the site mero.jp and will release both of those songs on CD. Her debut song "Killing My Caddy" was put out in extremely limited distribution in August, but will be coming out officially on January 12th. It will be followed up with her second release, "ENDLESS LOVE", on February 9th. A music video was also released for her second single.
Shortly after, in April, the announcement of her third single was made. It is called "Bangin'" and was marketed as mug-rock, which is a genre apparently made up by Otani herself.
After the release of her third single, she started making her own music, releasing indies singles (sold only at her live events).
2014
[
]
In 2014, she opened her own web shop, selling t-shirts, clear files, CDs and DVDs. Her first DVD Otani Masae Birthday Live Birthday + Payday = Everyone Togather could be bought from the site for 3,000 yen.[2]
She also stopped using the stage name Otani Masae aka Himawari. Her releases afterwards credit her as Otani Masae.
2015
[
]
In 2015, her online shop closed, but later re-opened.
In April, she released her first mini-album 33.
2016
[
]
As part of a Japan/Korea music exchange, Otani announced that she would be the newest member of Korean artist group named 4C CREW under the name MELODY. To be involved with a K-pop group is something that she has always wanted to do. Their first live, 4C CREW SHOWCASE, would be held at the Shin-Okubo R & B bar on February 27.[3]
On February 24 at 8:00 PM, Otani held a talk show at Official Hello! Project Shop in Akihabara in commemoration of joining 4C CREW. A janken tournament for goods was also held and a 4C CREW mini album, poster and T-shirt were sold.[4]
Her last mention as member of 4C CREW on their Twitter was in May.[5] Shortly after, the absence of MELODY and SANA was addressed.[6] 4C CREW would continue on as "JS & KyonA from 4C CREW" until their last Twitter post in June 2017 before entering an indefinite hiatus.
In 2016, Murata Megumi and Otani announced at the beginning of the year that they were going to hold a live event in the fall. They sang six songs; two cover songs in English, as well as covering Taiyou to Ciscomoon, MAX, and their Melon Kinenbi songs "Eros" and "Denwa Matteimasu". They held several live events as the duo Muratani Shimai, and announced the release of their first single in March 2017. Their group name is a combination of kanji in their last names.
2017
[
]
In 2017, Muratani Shimai released the CD Single "Reborn". It was sold exclusively at their Muratani☆Todoro no Enshuai live event at Shinjuku Loft with no plans of a general distribution. Merchandise from the event was however later made available for purchase on an online store in April.
In November, Otani, together with Matsuda Ichidai (松多壱岱) and Zushi Mitsuhiro (図師光博), formed a unit called 舞台MODS#1 (Stage MODS # 1) to create a place where actors can play seriously. The two-hour performance that combines a short and medium-sized conte group with an up-and-coming writer who has both popularity and ability and a team-based improvisation battle, shows the audience's awesomeness and distress to the audience. Tied up to the unit's play "Farewell Seishun's Light", Otani released a the theme song as a solo single called Flash in late November.
Otani wrote a post on her official instagram in November 2019, where she said she had a panic attack (anxiety disorder)[7], rested for a few months, and returned to the production of MODS#1.
2018
[
]
In 2018, Otani stopped updating her blog, focusing on her twitter account.
In AUgust 2018, Otani started using BIGO LIVE, a leading mobile LIVE streaming community to show your talents and meet interesting people. It is also called a begging venue.
In October, she was fired from the nail salon she was working in.[8] Otani answered back on her official twitter, saying the was'nt fired, but that she had to quit due to sudden deafness because of accumulated stress.[9]
2019
[
]
In May, she wrote on BIGO that she couldn't afford to pay her rent, causing her to lose sleep.[10]
On September 2, Otani announced she'd be holding a 9th anniversary concert called Otani Masae 9th Anniversary Live -Uta no Chikara- (大谷雅恵9th Anniversaryライブ〜うたのちから〜)[11].  
2020
[
]
In January, Otani announced she would be holding a birthday live event, three hours long at a price of 10,000¥ (90 USD) per ticket. The event is called "Otani Masae 38-sai Seitan-sai ~Tappuri Sugosu 3-jikan~" (大谷雅恵38歳生誕祭〜たっぷり過ごす3時間〜)[12].  
Otani announced she'd be holding live events February 15, February 24, and February 29.[13]
On February 12, Hello! Project Official Shop started selling tickets to a live event by Otani called Otani Masae Birthday Event 2020 in Hello Show (大谷雅恵バースデーイベント2020 in ハロショ). It would have been a talk event in Akihabara, Tokyo, to commemorate Otani's birthday on February 25. It was scheduled to be two parts, with part one being a One-day only Melon Anniversary revival stage from 2 PM to 4 PM, and part two MCing from 5 PM to 7 PM. However, on February 26, this event was postponed due to the COVID-19 pandemic. [14] The event was never rescheduled and is presumed to have been cancelled.
2021
[
]
On January 31, Otani appeared on the TV show "THE Karaoke ★ battle" singing on TV for the first time in a long time.[15]
On September 2, Otani appeared on Fuji TV Out Deluxe! [16]
2022
[
]
On February 25, Otani held a a birthday live called FORM JAPAN PRESENS ~Otani Masae ga Birthday LIVE wo Yattekuru yo!~.
In April, Livedoor News posted an interview with Otani where she talked about going bankrupt after trying to start up a nail salon, her endevaours on BIGO Live, and that she now lives on welfare and are selling tie-dye shirts at her online store.Cite error: Closing </ref> missing for <ref> taghttps://news.livedoor.com/article/detail/22043260/</ref> After the article was posted, Otani wrote on twitter: "Although many people are bringing up the fact that I'm a former H!P member, I'm not doing anything to damage their brand/image. I'm living my life on my own. Please don't force that sort of responsibility onto me." [17]
Profile
[
]
Name: Otani Masae (大谷雅恵)
Nicknames: Masao (マサオ), Maashii/Marcy (まあしぃ)
Former Stage Name: Otani Masae aka Himawari
Birthdate: February 25, 1982
Blood Type: O
Height: 160 cm (5 ft 2.9 in)

?

Western Zodiac: Pisces
Eastern Zodiac: Dog
Former Melon Kinenbi Color: Green
Hello! Project Groups:
Shuffle Units:
Concert Units:
Hobbies: Enjoying music
Favorite colors: Garish colors
Favorite flowers: Cockscomb
Favorite season: Summer
Favorite saying: "Dream + effort = reality"
Favorite food: Raw food, Tuna
Disliked food: Sweet and sour food
Favorite songs: Kiseki no Hana, Endless Youth, Judas
Looks up to: Beyonce Knowles, Lady Gaga
Discography
[
]
Main article: Otani Masae/Discography
Publications
[
]
Solo Photobooks
[
]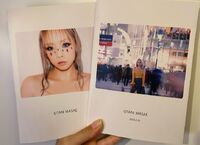 [xxxx.xx.xx] Otani Masae
[2018.xx.xx] Otani Masae 2018.2.25
[2022.xx.xx] TBA
Works
[
]
Events
[
]
[2019.09.08] Otani Masae 9th Anniversary Live -Uta no Chikara- (大谷雅恵9th Anniversaryライブ〜うたのちから〜)
[2019.12.11] Fun!Fun!Fun! (joint with AiLi, Kana Houjou, Vitamin Kiss, Kisekirei, Sakurada Manami, Nanaumi Nana)[18]
TV Programs
[
]
Theater
[
]
[2003] Musical Sougen no Hito (ミュージカル 草原の人; Musical Prairie Girl)
[2006] Girl's Knight
[2009] Sukoshi Hanarete, Soko ni Ite (すこし離れて、そこに居て)
[2010.03.07-22] Melon Kinenbi Monogatari ~DECADE OF MELON KINEN-BI~
[2010.09.01-05] Kizame, Waga Hada ni Kimi no Ibuki wo
Movies
[
]
Trivia
[
]
She said in a 2004 interview that the person she respects the most is Beyoncé. In her blog, she says that she respects Lady Gaga.
She was one of the MCs for the 2009 Hello! Project Shinjin Kouen 6gatsu ~Nakano STEP!~.
After leaving UP-FRONT AGENCY in 2010 she started to work part time at a café while working toward her new goals.
She is known for frequently changing her hair color as seen throughout the various singles, albums and performances of Melon Kinenbi.
Only one of her singles, "ENDLESS LOVE", has a music video.
She often dyes her own hair.
Her motto is "Dream+Effort=Reality"
Her favorite food is tuna.
Her favorite place is New York.
She wants to get married.
Her favorite song is "Judas" by Lady Gaga.
Her favorite artists are P!nk and Lady Gaga.
She appeared as a special guest at Shimizu Saki's 22nd birthday event to give a surprise birthday message to Saki.
On her official Instagram she says her dream is to sing in Korea (written in Korean and Japanese).[21]
References
[
]
External Links
[
]
Melon Kinenbi
Discography
Singles
Albums
DVDs
Units & Other Acts
Associated Acts