Onoda Saori (小野田紗栞) is a Japanese pop singer under Hello! Project as a member of Tsubaki Factory. She is a former member of Princess♪Ribbon. She joined Hello Pro Kenshuusei in November 2014 and was formally introduced as a member at the Hello Pro Kenshuusei Happyoukai 2014 ~11gatsu・12gatsu no Nama Tamago Show!~.[1]
Biography
[
]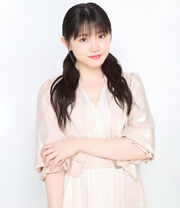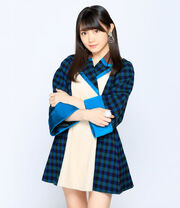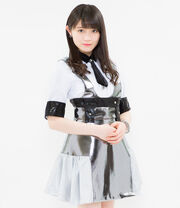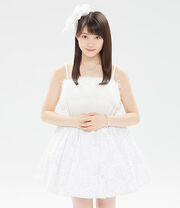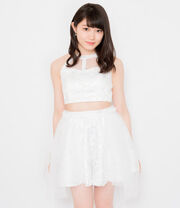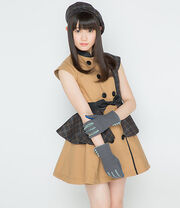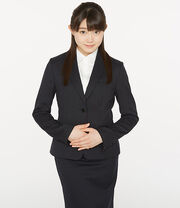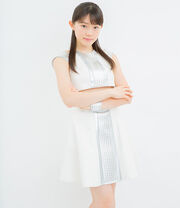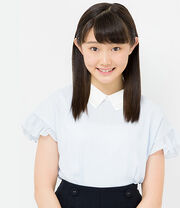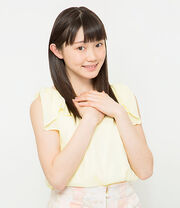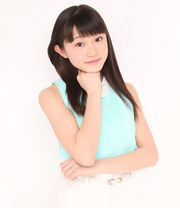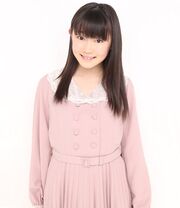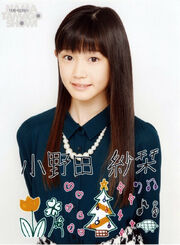 Early Life
[
]
Onoda Saori was born on December 17, 2001 in Shizuoka, Japan.
2010-2013
[
]
On October 31, 2010, Onoda joined the newly formed idol group, Princess♪Ribbon.
From 2012 to early 2014, Onoda modeled for JS Girl magazine.
2014
[
]
In 2014, Onoda applied for the Morning Musume '14 <Golden> Audition!, but didn't pass. After that, she decided to start from square one and apply for Hello Pro Kenshuusei.
On October 25, Onoda graduated from Princess♪Ribbon[2] and Hero's Academy after successfully applying for Hello Pro Kenshuusei.[3] She was officially announced as a member on November 18,[1] and was formally introduced during the Hello Pro Kenshuusei Happyoukai 2014 ~11gatsu・12gatsu no Nama Tamago Show!~ on November 29 alongside Hashimoto Nagisa, Horie Kizuki, Ogata Risa, Shimano Momoko, Hirose Ayaka, Tanimoto Ami, Asakura Kiki, Inoue Rei.[1][4]
2015
[
]
On October 14, it was announced that Onoda would sing the 10th opening song "Sayonara Chuu" for the SATV show Kopinks! and would also voice the main character of the renewed Kopinks! program, starting in April 2016.[5]
2016
[
]
On March 12, Onoda participated as a special act at the PINK!SS & Kopinks! Last Live 2016 MOMENT memories/memorize, which also featured Juice=Juice and Kobushi Factory as performers.[6] During the event, she performed "Sayonara Chuu" with Miyamoto Karin.
On March 31, the title of the renewed Kopinks! program was announced to be Kopinks COSMOS and would premiere on April 5.[7] Onoda would voice one of the two main characters and sing a new version of the opening theme "Carina Notte" together with SUPER☆GiRLS member Abe Yumeri.[8]
Onoda was one of the Hello Pro Kenshuusei members who participated as the opening act for the Morning Musume '16 Concert Tour Haru ~EMOTION IN MOTION~ and Juice=Juice LIVE MISSION 220 ~Code3 Special→Growing Up!~.
On August 13, it was announced at Tsubaki Factory's fanclub event that Onoda had joined the group as new member, alongside Ono Mizuho and Akiyama Mao.[9]
2017
[
]
On December 18, Onoda was scheduled to celebrate her 16th birthday at a fanclub event titled Tsubaki Factory Onoda Saori Birthday Event 2017, with two shows at Square Ebara Hiratsuka Hall. However, due to her being diagnosed with the flu two days before, the event was postponed to January 15, 2018.[10][11]
2018
[
]
On July 25, the comedian duo Joujou Gundan released their debut single "Nakama", which features Onoda in the B-side "Kansha Kangeki Maji Manji" as a member of the fictional group Otome Manji Gakuen along with Sawayaka Goro and Kishimoto Yumeno.[12][13]
On December 17, Onoda celebrated her 17th birthday at a fanclub event titled Tsubaki Factory Onoda Saori Birthday Event 2018, with two shows at TOKYO FM HALL.
2019
[
]
On April 27, the Fami Hello! PHOTOBOOK② was released, which includes Onoda and Asakura Kiki's joint gravure that was originally published in a March 2017 issue of Weekly Famitsu.[14]
On October 5, the Hello Tsu PHOTOBOOK① was released, including Onoda's gravure that was originally published in a November 2018 issue of Weekly Famitsu.[15]
On December 17, she celebrated her 18th birthday at a fanclub event titled Tsubaki Factory Onoda Saori Birthday Event 2019, featuring two shows at TOKYO FM HALL.
2020
[
]
On July 12, she opened up an official Instagram account.
Personal Life
[
]
Her mother is a dentist for small children.
When Onoda joined Tsubaki Factory, she was a third middle school student.
Onoda graduated from high school in March 2020.
[16]
The following list are notable friendships Onoda Saori has acquired:
Onoda was given the name Saori because it is a pretty name and her father wanted her to be a refined girl.[17] Her parents originally wanted to give her the name "Satsuki", which is the old reading for the month of May (五月), but because she was born in December, her name became Saori.[18]
Here is a list of nicknames that was used to refer to Onoda Saori:
Saorin (さおりん): Official nickname, given her since Princess♪Ribbon.
Ika-chan (イカちゃん; Squid-chan): Her nickname with the PINK!SS and Kopinks COSMO cast and staff,[19] given to her by comedian Sawayaka Goro. When she first met Sawayaka in 2015 for PINK!SS, he exclaimed that he had never met someone with skin that looked so translucent like fresh squid before, and started calling her "Ika-chan".[20][21][22]
Profile
[
]
Name: Onoda Saori (小野田紗栞)
Birthdate: December 17, 2001
Blood Type: O
Height: 152.3 cm (4 ft 11.9 in)

?

Western Zodiac: Sagittarius
Eastern Zodiac: Snake
Hello! Project Status:
UP-FRONT PROMOTION Status:
Princess♪Ribbon Member Color: Yellow
Tsubaki Factory Member Color: Peach
Hello! Project Groups:
Shuffle Units:
Other Groups:
Special Skills: Piano, jazz dancing, abacus 2nd dan, singing, impersonating Kaonashi eating the frog
Hobby: Listening to music
Favorite Music Genre: J-Pop
Favorite Food: Sweets, macaroons, natto, Konbu snacks
Strength: She can be friendly and speak to anyone
Weakness: She does things roughly
Favorite Color: Pink
Favorite Sport: Sprinting
Favorite Subject: Music
Charm point: Her dimples and her straight brown hair
Motto: Isshin furan (一心不乱; With heart and soul)
Favorite Tsubaki Factory Song:
Uruwashi no Camellia
Favorite Hello! Project Song: "GOOD BYE Natsuo", "♡Momoiro Kataomoi♡"
Looks Up To: Miyamoto Karin, Sayashi Riho, Okai Chisato
Discography
[
]
See also: List:Onoda Saori Discography Featured In
Solo Songs
[
]
Solo Fanclub DVDs
[
]
Fanclub DVDs
[
]
Publications
[
]
Photobooks
[
]
Catalogs
[
]
[2011] Innocent - Shichigosan Style Collection
Works
[
]
TV Programs
[
]
Theater
[
]

Internet
[
]
Trivia
[
]
She is the fifth Hello Pro Kenshuusei member who came from a local idol group.
If she could boast about one thing, it would be that she can do mental calculation.
If she saw an alien, she'd ask it where they buy its clothes.
She is the youngest in her Kenshuusei generation.
She shares the same birthday as former Morning Musume member Fukuda Asuka.
She mostly likes Hello! Project's cool-sounding songs.
Her rival in Hello Pro Kenshuusei was Takase Kurumi.
Her dream was to become an idol that also does modeling.
Her future goal is getting to work on TV or as a fashion model.
She has stated during an interview that she almost know nothing about France but somehow, she would like to go there.
She likes shoujo manga. Though she initially didn't read manga at all, after joining Tsubaki Factory, she decided to read Tsubaki-Chou Lonely Planet because of the title, and from there became a fan of shoujo manga[23].
She has the same last name as Hello Pro Kenshuusei member Onoda Karin.
See Also
[
]
References
[
]
External Links
[
]
Hello Pro Kenshuusei
Members
Current Members
Former Members
Concerts & Events
Shinjin Kouen Concerts
Happyoukai Concerts

2011
2012
2013
2014
2015
2016
2017
2018
2019
2020
2021
Test Events

Other
Units & Other Acts
Sub-Units & Groups
Debuted Acts
Associated Acts
Related Acts