Onigo Musume

2018
General Information

Origin

Tokyo, Japan

Genre

J-pop

Years active

2012-present

Website

none

Associated acts
Onigo Musume (おにごっ娘; also known as Onigokko) is an indie idol group from Akihabara created by Akiba On Stage (now Love Mark Stage) / Atena Muisc.
Yamada Ichigo and Kubota Nanami were members of the group before joining Hello Pro Kenshuusei.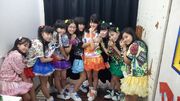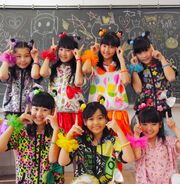 Current Members
Edit
Hanasaki Miharu (花咲美春; Blue) Leader
Kotoha (ことは; Purple)
Kozaki Rino (神崎りの; Pink)
Asahina Ran (朝比奈らん; Yellow)
Trainees
Kagura Rie
Kagura Emi
Inagaki Yumeno
Former Members
Edit
Hoshina Haru (星名はる)
Tsukishima Meru (月島メル)
Kawahara Kana (川原かな)
Tsukishima Ai (月島あい; Purple)
Kisaki Ayuki (希咲あゆき)
Kisaki Sakura (希咲さくら)
Kosakura Ichigo (小桜苺; Red ) (graduated early October, 2016)
Ichikawa Nana (市川奈々; Blue ) (graduated)
Minami Mikuru (南みくる; Orange) (graduated)
Kamiki Nozomi (神来希; Blue) (graduated)
Sakura Rin (桜りん; Yellow) (graduated)
Sakura Kae (桜かえ; Pink) (graduated)
Kira Hazuki (葉月きら; Green) (graduated)
Discography
Edit
[2012.05.03] Powerful Girl
[2012.07.29] Cute Land
[2012.12.08] Flying Heart
[2013.06.16] Running Fighter
[2013.11.03] Onigokko!!
[2014.03.29] Toy Box
They were being promoted as the youngest idol group when the group first formed on February 9, 2012.
Community content is available under
CC-BY-SA
unless otherwise noted.